« Judge Alisa Hadfield's Commitment to Families and Children in New Mexico | Main | Their View: A Simple Solution to an Urgent Problem »
Thursday, August 30, 2012
Sarita Nair To Run For Lujan Grisham Seat On Bernalillo Co Commission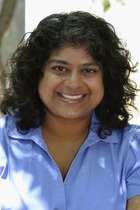 Albuquerque attorney Sarita Nair announced her campaign for the District 1 Bernalillo County Commission seat that Michelle Lujan Grisham will vacate on September 7th. Sarita stated:
"I am grateful to Michelle Lujan Grisham for her service to the County and I congratulate her on the thoughtful, courageous decision to step away from the Bernalillo County Commission as she continues her momentous campaign to represent New Mexico's 1st Congressional District.
"I am enthusiastic about putting my experience as a community planner, lawyer, and advocate for families and small businesses to work for the people of Bernalillo County. In meeting with the people of our District, I hear again and again that they want an energetic, solution-oriented advocate who understands the challenges of the County. Now is the time to pull together with our neighbors to tackle our infrastructure, economic development and planning issues. I am that candidate.
"For the past 15 years I have had the privilege of working on a wide range of issues: from multi-million dollar public-private partnerships to preservation of environmentally sensitive areas; from counseling non-profit, political and faith-based organizations to advocating for land grant water rights; and from community garden preservation to voter protection. These opportunities have given me the skills, experience and network to get the job done for the people of the County."
The first step in Sarita's campaign will be to win the votes of the Democratic Party County Central Committee members who live in District 1, about 150 people, in order to appear on the ballot in the general election. The winner of that election will go on to run against the Republican nominee. Sarita's experience and enthusiasm for campaign work makes her ideal for this intensive ten-week process. "It would be a joy and an honor to work on the coordinated campaign with the other Democratic candidates on the ballot," explained Sarita. "My commitment to raising the money necessary for a successful campaign and getting out the vote will be critical as we head to this pivotal election in November."
Sarita is a graduate of the University of New Mexico School of Community and Regional Planning and School of Law. She received her undergraduate degree at Wesleyan University in Connecticut. She has been recognized nationally for her work in business law and for her efforts to increase diversity in the legal profession. She also enjoys pro bono and board service to a diverse group of organizations. Prior to becoming a lawyer, she worked in international development, focusing on environmental planning. She worked on her first issue campaign - to save an open space lot from development - before she was old enough to vote, and has been involved in issue and candidate campaigns ever since. She was a founding board member and served as President of Emerge New Mexico, which trains Democratic women to run for public office and win.
August 30, 2012 at 01:00 PM in 2012 Bernalillo County Commission Race, Bernalillo County, Candidates & Races | Permalink
Comments