« July 2012 | Main | September 2012 »
Sunday, August 19, 2012
NM State Supreme Court Candidates at Bernalillo Co Dem Forum - Part 2
On Thursday August 16, 2012, the Bernalillo County Democratic Party hosted a candidate forum for the 5 individuals vying to be the democratic nominee for the newest New Mexico Supreme Court Justice.
This is Part 2 a continuation of a previous post.
Question 3: What do you think is the most important responsiblity of the NM State Supreme Court justice and how do you plan to fullfill this responsibility?
Michelle Hernandez response to question 3 below:
John Kelly response to question 3 below:
Victor Lopez response to question 3 below:
Cate Stetson response to question 3 below:
Chief Judge Vigil response to question 3 below:
Question 4: What is your position on campaign finance reform?
Chief Judge Vigil response to question 4 below:
Cate Stetson response to question 4 below:
Victor Lopez response to question 4 below:
John Kelly response to question 4 below:
Michelle Hernandez response to question 4 below:
Question 5: What is your experience as a lawyer or a Judge prepares you to be the next Supreme Court Justice?
Michelle Hernandez response to question 5 below:
John Kelly response to question 4 below:
Victor Lopez response to question 5 below:
Cate Stetson response to question 5 below:
Chief Judge Vigil response to question 5 below:
August 19, 2012 at 11:00 AM in 2012 Judicial Races, Candidates & Races, Democrat | Permalink | Comments (0)
Saturday, August 18, 2012
NM State Supreme Court Candidates at Bernalillo Co Dem Forum - Part 1
On Thursday August 16, 2012, the Bernalillo County Democratic Party hosted a candidate forum for the 5 individuals vying to be the democratic nominee for the newest New Mexico Supreme Court Justice.
In mid June 2012 Supreme Court Justice Patricio Serna announced he is retiring from the state's highest court after serving 16 years. There are currently five Justices serving on the NM Supreme Court. The existing court is comprised of one woman and 4 men. Both political parties have until Sept. 11 to nominate a candidate to be on the November 6 election ballot.
It is the Democratic State Central Committee consisting of slightly over 400 members who will be deciding on who will be on the ballot in November. The democratic candidates to replace Justice Serna are all superb.
Following are abbreviated synopsis of the 5 candidates. Listen to the videos for detailed information.
At the forum there were five questions asked as well as an opening and closing statement. Below is part 1 of the coverage - including opening statements and questions 1 and 2.
Opening Statements each 2 min: 
Intro Michelle Hernandez below:
Intro John Kelly Below: 
Intro Victor Lopez below:
Intro Cate Stetson below:
Intro Judge Barbara Vigil below:
Question 1:  Do you believe that the Judicial nominating process is a good way for selecting judges? If so why and why not?
Q1 Michelle Hernandez below:
Q1 John Kelly below:
Q1 Victor Lopez below:
Q1 Cate Stetson below:
Q1 Judge Barbara Vigil below:
Question 2: What limits do you believe exist on the power of the judiciary and on the NM Supreme court justices?
Q2 Judge Vigil below:
Q2 Cate Stetson below:
Q2 Victor Lopez below:
Q2 John Kelly below:
Q2 Michelle Hernandez below:
August 18, 2012 at 07:27 PM in 2012 Judicial Races, Candidates & Races, Democrat | Permalink | Comments (0)
DISORDERLY CONDUCT
Following is a guest blog by Dr. William Pratt.
Nations seem to move from order to disorder and back to order. The transitions may be rapid or slow. The processes are more or less violent. It appears to me that , at present, the Republican Party of the USA has become an agency of disorder. Good governments have found a balance between order and disorder. Too much order brings oppression of individual fulfillment. Too little order brings loss of a foundation for personal achievement. Collapse of a society or nation may occur when there is too much order and oppressed people rebel against tyranny or when not enough people participate in a democracy. Order is then restored by force by stronger, better organized groups. A foreign power may also intervene and take control.
The Republican Party now represents disorder.
Regulation of the financial system is order. Deregulation is disorder.
Union representation is order. Unorganized workers is disorder.
Economically secure families is order. Hungry children in deprived neighborhoods is disorder.
Peace is order. War is disorder.
Environmental regulation is order. Pollution is disorder.
Treatment for drug abuse is order. The illegal drug trade is disorder.
A comprehensive immigration policy is order. Chaotic immigration policies is disorder.
Available health care insurance and health care is order. Millions without health care insurance is disorder.  
The dominant message of the Republican Party now is to oppose efforts to restore a reasonable degree of order. Disorder does benefit those with more power and wealth, at least for a while. Republicans with a longer view know that increasing disorder will have tragic consequences. The people who provided our US Constitution were well aware of the problem of disorder. They had just created disorder by rebelling against the British Empire. They saw the loss of lives and the disruption of social structure.
The right balance of order and disorder can happen in a liberal democracy. There can be innovation and free expression on a base of mutually agreed stability. Our Constitution and our better traditions show the way.
August 18, 2012 at 01:42 PM in Guest Blogger, Republican Party | Permalink | Comments (1)
Thursday, August 16, 2012
New Mexico Needs Jobs and Leadership to Restore the American Dream
Following is an op-ed from Sam Bregman - Restore the Dream
What is Governor Martinez doing? Where are the jobs and where is the leadership she promised with the private sector and federal government to generate good paying, long term jobs? They're not in Tampa, site of the Republican National Convention and a top destination for this Governor since she took office in January 2011. Now that the panic is over about whether she will be allowed to speak or not, maybe the priority can be finding and creating jobs. Maybe. What has she done to create one, single job? Absolutely nothing.
So far, the Governor's agenda consists of bringing up divisive social issues, blaming our teachers for failing schools, placing incompetent, discredited political hacks in charge of government agencies and allowing her chief political consultant to run a shadow government that is obsessed with furthering her political ambitions, whatever the cost.
Meanwhile, the worst economic crisis in 80 years continues to destroy jobs as New Mexico working families struggle for their slice of the American dream. After 20 months in office, they expect strong leadership from their Governor, someone that will fight and work hard to create jobs. Sadly, the result is failed leadership, starting with the Governor and continuing with do nothing political appointees, while repeated excuses assigning blame, play like a scratched, broken record.
As a concerned citizen and proud New Mexican , I believe that state government can and must take the lead in promoting and encouraging job growth in the private sector as well as in government. We must have strong, committed leadership that reaches out to both parties and is willing to use every tool available to help New Mexicans.
I have traveled thousands of miles throughout New Mexico and listened to voices in communities large and small, young and old, Democrats and Republicans. No one cares about personal political agendas or how to tear down your opponent in the next election—they care about providing a home to their children, good schools, safe streets and holding on to the American dream. They look to the future and want their Governor to support them. Nothing else matters if you cannot provide economic security for your family.
Recently, the Republican National Committee sent out a press release quoting Governor Martinez:" …Americans want to work. They want to build their businesses, compete and succeed in order to create more jobs and a secure future for their families."
Really? Could you start doing something that would create jobs and provide a secure future in the state that elected you Governor?
New Mexican working families are waiting for Governor Martinez, her political appointees and consultants to stand up, provide leadership and fight for jobs in New Mexico, instead of looking for opportunities to tear down yet another opponent in the next election.
Because hard work, a good job and hope for the future is the American dream. For New Mexico and the USA.
August 16, 2012 at 09:59 PM in Economy, Populism, Jobs, Susana Martinez, Unemployment | Permalink | Comments (7)
Clean Energy Victory Bonds: We have a bill!
From Green America:
We have a bill!
On August 2, our Clean Energy Victory Bond bill was introduced in Congress. And as of today, the Library of Congress has published the Clean Energy Victory Bonds Act of 2012, the culmination of several years of hard work here at Green America, and the support of clean-energy advocates like you all across the country.
Just like World War II era victory bonds enabled ordinary Americans to raise billions of dollars for the war effort, these new bonds are projected to raise enough money to generate 1.7 million new jobs manufacturing, deploying, and maintaining renewable energy projects. This bill ends the financial uncertainty around current federal programs, extending the imperiled Production Tax Credit for wind energy -- and other renewable energy incentives -- for as long as a decade.
Big thanks to Rep. Bob Filner (D, CA), who is sponsoring the bill, along with 10 co-sponsors, and big thanks to more than 40 other organizations* who are backing the bill with us. Now we need to get this bill passed. Here's where your support is crucial. This is what we need you to do:
1. Call your representative -- Look up your representative's telephone number here, give their office a call, and tell them that you enthusiastically support H.R. 6275, the Clean Energy Victory Bonds Act of 2012. If you would be willing to to buy some of these savings bonds (as little as $25 is enough), tell them that too. We need to rapidly bolster bi-partisan support for this job-creating, renewable-energy-boosting bill.
2. Pledge to buy the bonds -- If you haven't already signed on at cleanenergyvictorybonds.org as a future purchaser of the bonds after the legislation passes, please do so right now. We need to be able to show clearly that these bonds have the support of the American people in every congressional district in the country. It's a win-win-win. You support clean energy and American jobs, you put some of your money away in a savings bond, and when they mature in 10 years, you'll get back the purchase price plus interest.
3. Tell your friends -- This part is key! We need to rapidly spread awareness of this bill. Everyone who hears about this strategy loves it, because the bonds advance goals that both Republicans and Democrats can get behind. If you have ever thought about forwarding an e-mail from Green America to your entire address book, this is the email to forward. Tell your friends to sign on at cleanenergyvictorybonds.org, and post a link to the site on your Facebook page. Tweet about it, blog about, tell your neighbor over the fence. However you communicate with others, please share the news of this bill.
This might just be the most exciting project Green America has ever worked on. Thank you so much for being a part of it. Here's to a clean-energy victory,
August 16, 2012 at 10:18 AM in Energy, Environment, Green Economy | Permalink | Comments (0)
Spend it like Water Art Exhibit and panel discussion at SBCC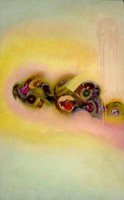 Liquid Currency 2012: Spend it like Water an Art Exhibit and Dialogue about our most essential resource.
ALBUQUERQUE, NM- Art exhibit opening June 28th features the work of 15 artists and opens a dialogue about our most essential resource. Begin the exploration into our relationship with water; the costs associated with how we use and abuse it, and how we can conserve it in our coming crisis. Featuring work by: Jane Abrams, Sally Condon, Barbara Grothus, Becky Holtzman, Joseph Lambert, Mary Lambert, Stephanie Lerma, Suzanne Marshall, David Ondrik, Valerie Roybal, Carol Sanchez, Janet Shagam, Marilyn Stablein, Harriette Tsosie, Jennifer A. Zona.
A panel discussion led by Amigos Bravos will take place on August 18th from 1-4 PM at the South Broadway Cultural Center as well.
Gallery hours are 8 a.m. – 5 p.m. Tuesday through Saturday, and during evening events held at South Broadway. Entry to the Gallery is always free.
South Broadway Cultural Center is managed by the Cultural Services Department, City of Albuquerque, Richard J. Berry, Mayor. The facility is a multi-cultural, visual, performing and literary art center that promotes, preserves and educates the community about the cultures and ethnicities that define Albuquerque. Located at 1025 Broadway SE, the unique architecture and colorful design of the building's exterior is an attraction in the area. SBCC shares the facility with the South Broadway Library and collaborates with the library on a number of events and activities. There is free parking immediately adjacent to the facility. 
August 16, 2012 at 07:43 AM in Arts, Events, Water Issues | Permalink | Comments (0)
Wednesday, August 15, 2012
8/28: Water Movie at NHCC: Screening - Last Call at the Oasis
Burque Bioneers hosts a monthly screening series focused on inspiring social and scientific innovation in our community that respects and fosters well-being for the web of life in the mid-Rio Grande valley. We partner with a number of local organizations and businesses to show thought provoking films and build an ongoing dialogue about the environmental, social and economic challenges we face and the creative ways we can address them.
Screenings are typically held at the National Hispanic Cultural Center and are free of charge.
Last Call at the Oasis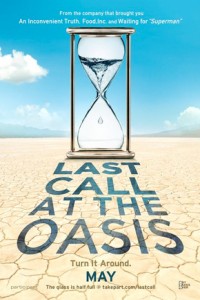 On August 28th, 7PM At the National Hispanic Cultural Center in the Bank of America Theatre, 1701 4th Street
Less than 1 percent of the world's water is fresh and potable—and no more will ever be available. Thanks to pollution, global warming, and population growth, water access is poised to become today's most explosive global issue. No resource on earth is more precious—or more endangered—than water. Last Call at the Oasis is a powerful tool for learning about the water challenges we face as well as the remarkable solutions available to us—if we have the will to use them.
This event is sponsored by National Hispanic Cultural Center, La Montanita Coop and KUNM 89.9 FM
This screening is free and open to the public; donations for the Last Call at the Oasis and Burque Bioneers gratefully accepted.
August 15, 2012 at 07:03 PM in Climate, Environment, Events, Film, Water Issues | Permalink | Comments (0)
Tax Policy in New Mexico
Guest blog provided by Alicia Manzano. Alicia is the Outreach Director at New Mexico Voices for Children and also leads the New Mexico Fairness Project.
In her June 29 column, "Apples and Activism," Sherry Robinson dismissed a proposal to close a New Mexico tax loophole that only benefits profitable out-of-state corporations. One of the main problems with her column is that she demonstrates a basic lack of understanding regarding what the proposal—called mandatory combined reporting (MCR)—actually does and does not do. It does not allow New Mexico to tax the profits a company makes in another state. That would be illegal—and the legality of MCR, which has been adopted by most other western states, has been upheld by the Supreme Court. That said, it's hard to give much credence to the rest of her assertions—particularly her argument that our state's corporate tax rate is too high. An Ernst and Young study released earlier this year showed that New Mexico's effective tax rate was among the lowest in nine of our western state neighbors.
In addition, Winthrop Quigley, a business writer for the Albuquerque Journal, recently pointed out that when studies take into account the effect of New Mexico's wide range of tax incentives, our state's effective tax rate shrinks by more than 62 percent. The devastating impacts of so many unfair and ineffective loopholes also mean cuts to essential programs and services like education.
When it comes to comparing our state budget to other states, we found especially troubling a report on MSNBC a few weeks ago that listed New Mexico as #1 in the country for "states cutting the most to schools and cities." Beggaring our schools and infrastructure undermines the foundation for future job growth.
These realities are re-igniting a conversation among New Mexicans about our state's budget priorities. It has become increasingly hard for defenders of trickle-down economics to justify loopholes and tax breaks that only benefit the wealthiest and big, profitable corporations. That goes for the 2003 state income tax cuts that gave a huge tax cut to New Mexicans in the top income bracket, while providing New Mexicans in the bottom 40 percent with no tax reduction.
The old trickle-down dogma has repeatedly failed. The legacy of both the Bush and New Mexico's failed tax cut polices for the top 1 percent are plain to see. A sagging economy coupled with the increased transfer of wealth to the richest New Mexicans leaves the rest of us to ponder the value of those tax breaks as vital services are cut and teachers, police officers, and firefighters are laid off.
How much bigger can New Mexico's class sizes get as teachers are let go? How much longer can we stretch public safety response times due to under-funding for police and firefighters? How much more disinvestment can Main Street New Mexico handle before their small businesses close up shop? How many more hungry children will be turned away from underfunded summer lunch programs? How many more thousands of our toddlers will end up on a child care waiting list?
The executive's refusal to close this tax loophole, along with the veto of important transparency measures, only harms our ability to make smart decisions regarding our state budget. New Mexicans deserve transparency and hard data about the job creation effectiveness of tax breaks, like those enjoyed by out-of-state corporations.
In tough times like these, New Mexico's wealthiest 1 percent should be contributing their fair share. New Mexicans also deserve to know how out-of-state corporations have gamed New Mexico's tax system while not being held accountable for promised job creation that never happened.
At the end of the day, New Mexico needs a tax system that exemplifies the values of fairness, transparency, and accountability.
August 15, 2012 at 02:30 PM in Economy, Populism, Education, Guest Blogger, Taxes | Permalink | Comments (1)
ONE VOTE 2012 Kick-Off Event
The following announcement is provided by Samantha Kerley; Field Organizer, ONE VOTE 2012.
What is ONE Vote 2012? Read this aboutONE and this ONE Vote 2012.
Vote 2012 kick off event in New Mexico. There will be free food, guest speakers, and great opportunities to learn about ONE, ONE Vote, and how to get involved in an awesome campaign. We focus on issues such as preventable diseases and breaking the cycle of poverty and hungry through smarter agricultural improvements in countries within Africa. Our main goal is to create smarter federal policy priorities for foreign aide and assistance by educating and engaging Senate candidates, elected officials, and members of the community. Learn more and get involved!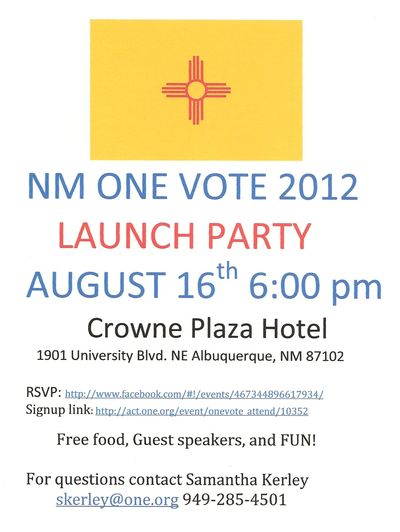 August 15, 2012 at 12:27 PM in Events, International Relations, Poverty | Permalink | Comments (0)
Commissioner Maggie Hart Stebbins & UNM Area Residents Celebrate Partnership with UNM to Preserve North Golf Course
Agreement with University of New Mexico Protects Open Space for 15 Years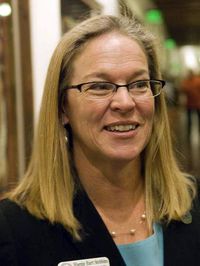 Bernalillo County – District 3 Commissioner Maggie Hart Stebbins tonight celebrated a new partnership with the University of New Mexico that will protect the UNM North Golf Course as green open space.
The 76-acre course is now protected from development for 15 years and becomes the first Open Space property in Bernalillo County located in Commission District 3.
"Today we celebrate the actions of two public entities, UNM and Bernalillo County, who have come together in a true partnership to do something great for the people of this community," said Commissioner Maggie Hart Stebbins. "Preserving this last, best open space in the urban core of Bernalillo County is a major accomplishment and I'm grateful to the many people from our UNM area neighborhoods, my fellow commissioners, and the UNM Board of Regents who helped make this possible."
The University of New Mexico Board of Regents and the Bernalillo County Commission both unanimously approved the agreement in respective meetings held today. The county will invest $1.5 million from the voter-approved Open Space fund to upgrade the outdated and inefficient irrigation system, replace aging tree stock, and improve the popular pedestrian path around the course. The improvements to the irrigation system could save up to 20 million gallons of groundwater every year.
"UNM is pleased to partner with Bernalillo County and the North Campus neighborhoods in this innovative approach to preserving a treasured piece of green space enjoyed by the campus community," says UNM President Dr. Robert Frank. "This agreement is a prime example of how the University is committed to working closely with our communities to enrich the quality of life we all share."
Bernalillo County's Open Space program currently manages approximately 1,000 acres at 12 properties around the county. The properties are located in the North and South Valleys and the East Mountains. UNM will continue to own and operate the golf course which is the first open space to be located in County Commission District 3.
August 15, 2012 at 01:05 AM in Bernalillo County, Land Issues, Recreation/Open Space | Permalink | Comments (0)
Monday, August 13, 2012
Repub Gov Martinez Used to Prosecute Guys Like These Now She Surrounds Herself with Them.
The following article is from ISPAC and was released and published on August 10, 2012.  You can find the complete story by following this link. In the spirit of full disclosure Mary Ellen Broderick the co-founder of this blog is currently in a Legislative race against Republican Nate Gentry.
Susana Martinez is a former prosecutor who has professed deep concern about violence against women. Yet her "top advisor" Jay McCleskey left an Albuquerque woman with bruises, according to a police report and criminal complaint, and a closer look at the governor's inner circle reveals an alarming pattern of aligning herself with men who mistreat women.
Martinez, who is married to a career law-enforcement officer, has surrounded herself with the sorts of rogues she once prosecuted. Martinez has said she opposes expunging criminal records, and for good reason. In her memorandum vetoing a bill calling for expunging these records, dated March 2, 2012, Martinez acknowledged employers should have the right to examine not just criminal convictions, but non-conviction records of those they employ.
Martinez recognized that because a person is not convicted of a crime does not mean they are innocent. She wrote, "however, there is a litany of other reasons why someone could be charged for a crime, but not convicted. For example, it is sadly not rare for someone arrested for domestic violence or another serious crime to find a way to pressure or intimidate a victim or other material witness into not testifying at the offenders' trial, often allowing the offender to avoid a conviction of a crime he/she committed." (Read her Memorandum here)
That sensible stand is not a guiding principle of Martinez's, unless she simply failed to vet the people she's chosen to help run and enforce the actions of state government. Politics breeds hypocrisy, but that hypocrisy is more unseemly when it involves men using their power (whatever kind of power that is) to intimidate and threaten women.
Not all of those listed here fall into that category and not all of this conduct resulted in criminal charges. But the pattern is there and it calls into question Martinez's commitment to protecting victims, especially of abusers.
Put simply, Martinez should be judged by the "bad boys" whose company she chooses to keep: Jason "Jay" McCleskey, Paul Pacheco, David C. Chavez, David Doyle, Jr., Bob Wooley, and Nate Gentry. If Martinez knows these men's histories and conducts business with them anyway, then her law-and-order image is just that—image. And if she doesn't know what they've done, then our governor does not do her homework.
Below is the name of each of her "bad boys" and the ISPAC research and write up about them. What comes across is the flagrant entitlement each of these republican men have, bullies. The republicans can break any laws they want and have no repercussion. The only other bad boy I see missing from this list is Darren White. Please click on each name below and see if you would want them over for dinner at your house.
August 13, 2012 at 05:01 PM in Independent Source PAC, Susana Martinez | Permalink | Comments (2)
09/08: Michael Padilla for State Senator BBQ
From the Michael Padilla for NM Senate Campaign:
August 13, 2012 at 03:13 PM in 2012 NM Senate Race, Candidates & Races, Events | Permalink | Comments (0)