« 8/30: End of Summer Party/Fundraiser for Mary Ellen Broderick Campaign for HD30 | Main | Sarita Nair To Run For Lujan Grisham Seat On Bernalillo Co Commission »
Thursday, August 30, 2012
Judge Alisa Hadfield's Commitment to Families and Children in New Mexico
Guest blog by Shannon Enright-Smith.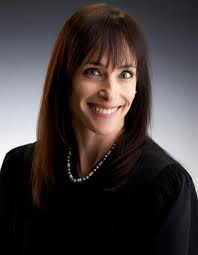 Most of us thankfully have never and will never appear before a Judge in the Family Court Domestic Violence Division, but we should not be distracted from electing the right person for the job.
We have all known, worked with or been acquaintances with someone who has gone through Family Court and have been impacted by the outcome whether it was a divorce, a custody battle or domestic violence situation. None of us are immune.
The Right Judge for the Job
Judge Alisa Hadfield is currently a Family Court Judge in the Second Judicial District Court presiding over the Domestic Violence Division. She was appointed to the bench on December 8, 2010 by Governor Richardson after being selected by a Judicial Nominating Commission. By State law, Judges must stand for election in one partisan contest after appointment. Judge Hadfield is the best qualified candidate for this specialized position and needs your vote this November.
Judge Hadfield began her career in the area of criminal law, first as a prosecutor and then as an assistant public defender, assigned to Children's Court representing minors. She later expanded her practice into the area of family law as a private practitioner. Her experience in these practice areas contributed to her successful service as a Domestic Violence Special Commissioner prior to her appointment as a judge.
What Most Voters Never to Get to Experience or Know about a Judge
I came to know Judge Hadfield in her capacity as a Domestic Violence Special Commissioner when I was Executive Director of Resources, Inc., the largest domestic violence and legal advocacy program in the State of New Mexico. The advocates and I worked on very difficult family violence and family law cases and were continuously impressed by Judge Hadfield's leadership ability, vast knowledge of law and procedure, sensitivity and professionalism. In her capacity as Special Commissioner, Judge Hadfield was exposed to the most violent and difficult parts of our society and yet remained fresh and enthusiastic in her work. As you know, crime victimization does not discriminate. Domestic violence is NOT a partisan issue. I have seen Judge Hadfield work with some of the most difficult personalities in their most difficult times. She has worked with diverse cultures, and gained a respect and sensitivity to the unique problems that they face. Judge Hadfield exhibits an ability to work in a situation where she is surrounded by raw emotion which she can then mold into reason resulting in a decision that is appropriate for the best interests of children.
Since Judge Hadfield's appointment to the bench, I have had the opportunity through my private practice to learn of her rulings in over a dozen cases and I continue to be impressed, especially with her decisions in custody matters where children are profoundly impacted. I do believe that what Judge Hadfield offers the citizens of Bernalillo County is a stable forward-looking jurist. She is well intentioned and has a judicial philosophy well-grounded in the law and tempered with compassion for the rights of the individual and the well-being of children.
Judge Hadfield's Commitment to Families and Children in New Mexico
"Having a strong background in family law in general, coupled with my work and experience in the area of domestic violence and services related to that issue, makes me uniquely qualified for this position. As a judge, I offer the bench my strong sense of personal integrity, my proven history of commitment to service, and my experience exercising judicial responsibilities in a knowledgeable, fair and impartial manner. My balanced experience and strong sense of justice make me well-suited for the district court bench." Judge Alisa Hadfield
August 30, 2012 at 08:39 AM in 2012 Judicial Races, Candidates & Races, Children and Families | Permalink
Comments
She is fair and compassionate but has no tolerance for BS. She's also been at this awhile and knows what does and doesn't work.
Posted by: Derek Bill | Aug 30, 2012 10:43:48 AM
Judge Hadfield works hard to keep her courtroom efficient and moving forward while taking the safety of all those, especially children, into consideration. Her decisions are based in the law, not her personal beliefs or dogma.
Posted by: Allen | Sep 2, 2012 6:00:29 PM