« Year of the Women 2012? Happy Women's Equality Day! | Main | 8/30: End of Summer Party/Fundraiser for Mary Ellen Broderick Campaign for HD30 »
Monday, August 27, 2012
GOP Push Poll in House District 30 by Mary Ellen Broderick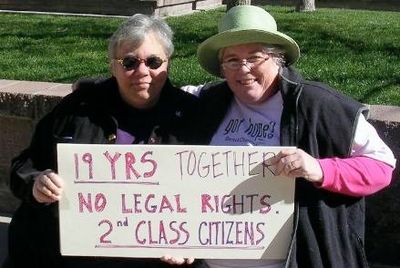 Barb Wold and Mary Ellen in 2008 after the CA Prop 8 passed.
Earlier this week it was reported by many voters in House District 30 that they received a push poll regarding my race against Republican Nate Gentry.
The topic of the push poll – Mary Ellen Broderick is a lesbian! 
Voters heard questions such as "Would you vote for Mary Ellen Broderick if you knew she was a lesbian?" and "Would you vote for Mary Ellen if you knew that she is going to try to get Gay Marriage passed?"
Earlier this year, as I was mulling my run for the House, knowing full well that there was a good chance that the Republican smear machine would come after me, I decided to be a candidate because the problems we face as a state and as a community are too great to sit on the sidelines. My decision was and still is "the time is now."
Think of all the issues that are so critical to make progress on right now, this is my platform:
People out of work and the jobs they lost are not returning
Big tax giveaway's to out of state corporations while local small businesses get a cold shoulder
Education spiraling continually downwards, underfunded, and with reform ideas that simply don't work.
Protecting and preserving our natural environment
Providing affordable healthcare for children and seniors
A woman's right to choose what is best for her is being challenged and a redefinition of rape by the GOP is happening right now.
Working families are under attack
Whether or not we solve these problems as a state with forward-looking vision is what this election is about. I have the fresh perspective of an average person that the Roundhouse absolutely needs as we work towards the solutions to these issues.
But let's talk about my sexual orientation. Yes I am gay, I am a lesbian. I had a wonderful soul mate for 23 years who passed away in December of last year after a short 3 month battle with colon cancer. We were never married, but I am a widow. Would I have loved to have been married to Barb and share all the same rights as heterosexual married couples? You bet. Did I live the vows we were never able to speak in front of our peers and community? Yes I did. I helped Barb with the hardest part of the traditional marriage vows taken – " In sickness and in health til death do us part." We were together longer than many married couples and it hurt deeply to pick up Barbs remains and have the words "Never Married" on the death certificate.
So, it is with the inspiration of my life experience that I am running for House District 30 exactly because there are many more urgent matters facing us as women and men, girls and boys.
Barb worked til her dying day trying to affect some outcome of all the troubles facing us now and I hope that I will be able to do so as well in my own way. I am doing what I think is right and what I have every right to do. To whomever is responsible for this push poll, listen up - I am ready for the onslaught of disparaging remarks and fliers because I loved another woman. I run for this NM House of Representatives seat with a deep seeded worry about many issues and matters facing all of us.
To my friends and supporters - I need your help right now. Don't let the Republicans define my candidacy. I am ready for whatever comes my way.
Please visit my website, http://www.electmaryellenbroderick.com/, and sign up to volunteer or make a contribution on my actblue page to show those who wish to run a campaign of misinformation and bigotry that this is not what New Mexico stands for.
August 27, 2012 at 08:00 AM in 2012 Legislature Races, Candidates & Races, Civil Liberties, GLBT Rights | Permalink
Comments
I hope the Journal will cover this blatant act of bigotry. (I know they won't). I just made an Act Blue contribution to my fellow bay stater to show my distaste for Gentry's push poll.
Posted by: Mike | Aug 27, 2012 1:29:18 PM
I am shocked, SHOCKED, I tell you, to learn about your orientation. Words are unable to express the unimportance I attach to this news. I can barely care about my own sex life, so forgive me for not particularly caring about yours. The political issue (as opposed to the personal one), that issue I do care about.
I can't come to your event Thursday, so I've sent a modest check instead. Good luck. If you need anything else, you know how to reach me.
Posted by: Michael H Schneider | Aug 27, 2012 4:59:40 PM
For me, the answer to both questions is a resounding YES!! Of course, I don't live in your district. Good luck, Mary Ellen. Insiders I talked to at the SCC meeting think you can win this race. I hope they give you the resources you need to do it.
Posted by: Proud Democrat | Aug 27, 2012 5:43:37 PM
Is N8 Gentry a H8er?
Do you want a H8er representing you/your family in Santa Fe?
Go Mary Ellen! Fight for what is right!
Posted by: bg | Aug 27, 2012 8:38:25 PM