« 9/14: Women Wine and Chocolate - Emerge NM Annual Celebration | Main | Dem State Central Committee and Dem NM Supreme Court Candidate Decision »
Thursday, August 23, 2012
08/30: End of Summer Party for Mary Ellen's Race for NM HD30
Mary Ellen Broderick is running as a democrat for the NM House of Representatives District 30. "The more I am in this race the more I am committed." Mary Ellen needs your commitment as well.
Please attend Mary Ellen's August 30th, Thursday evening O'Neill's Fundraiser Party you can download the invite here.
There is so much at stake!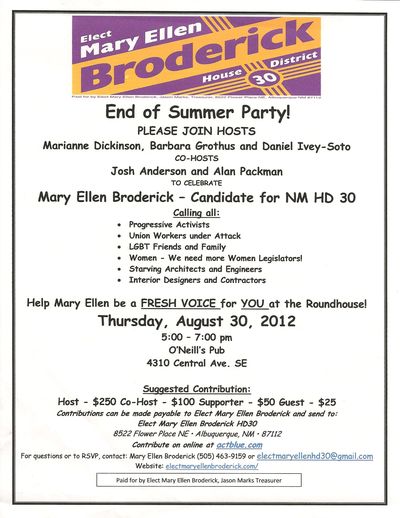 August 23, 2012 at 03:49 PM in 2012 Legislature Races, Candidates & Races | Permalink
Comments