« Repub Gov Martinez Used to Prosecute Guys Like These Now She Surrounds Herself with Them. | Main | ONE VOTE 2012 Kick-Off Event »
Wednesday, August 15, 2012
Commissioner Maggie Hart Stebbins & UNM Area Residents Celebrate Partnership with UNM to Preserve North Golf Course
Agreement with University of New Mexico Protects Open Space for 15 Years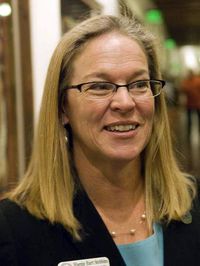 Bernalillo County – District 3 Commissioner Maggie Hart Stebbins tonight celebrated a new partnership with the University of New Mexico that will protect the UNM North Golf Course as green open space.
The 76-acre course is now protected from development for 15 years and becomes the first Open Space property in Bernalillo County located in Commission District 3.
"Today we celebrate the actions of two public entities, UNM and Bernalillo County, who have come together in a true partnership to do something great for the people of this community," said Commissioner Maggie Hart Stebbins. "Preserving this last, best open space in the urban core of Bernalillo County is a major accomplishment and I'm grateful to the many people from our UNM area neighborhoods, my fellow commissioners, and the UNM Board of Regents who helped make this possible."
The University of New Mexico Board of Regents and the Bernalillo County Commission both unanimously approved the agreement in respective meetings held today. The county will invest $1.5 million from the voter-approved Open Space fund to upgrade the outdated and inefficient irrigation system, replace aging tree stock, and improve the popular pedestrian path around the course. The improvements to the irrigation system could save up to 20 million gallons of groundwater every year.
"UNM is pleased to partner with Bernalillo County and the North Campus neighborhoods in this innovative approach to preserving a treasured piece of green space enjoyed by the campus community," says UNM President Dr. Robert Frank. "This agreement is a prime example of how the University is committed to working closely with our communities to enrich the quality of life we all share."
Bernalillo County's Open Space program currently manages approximately 1,000 acres at 12 properties around the county. The properties are located in the North and South Valleys and the East Mountains. UNM will continue to own and operate the golf course which is the first open space to be located in County Commission District 3.
August 15, 2012 at 01:05 AM in Bernalillo County, Land Issues, Recreation/Open Space | Permalink
Comments