« Dem State Central Committee and Dem NM Supreme Court Candidate Decision | Main | Year of the Women 2012? Happy Women's Equality Day! »
Sunday, August 26, 2012
Chief Judge Barbara Vigil Democratic Nominee for NM Supreme Court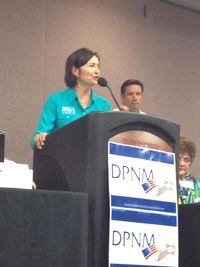 Photo to the right was on Michael Padilla's fb page. Thank you Michael Padilla.
On Saturday August 25, 2012, the Democratic Party of New Mexico nominated Chief Judge Barbara J. Vigil as its nominee to the NM Supreme Court for the November 6 General Election ballot at a Special State Central Committee meeting. This Supreme Court position is to replace retiring Justice Patricio M. Serna, who retired on August 24.
"Justice Serna has honorably served New Mexico as a Justice of the Supreme Court for 16 years," said Judge Vigil. "I hope to continue his legacy of admirable leadership by serving in the important and honorable position."
Justice Serna's retirement was effective midnight August 24. The Governor will appoint a replacement to his seat. However, voters will ultimately choose the person for the position in the General Election which is November 6. The winner of the election in November will fill the remainder of Serna's term which runs through 2016.
"Having served on the First Judicial District Court for 12 years, currently as Chief Judge, the State Central Committee today recognized me as the most qualified candidate for this position," said Vigil. "I have presided over thousands of court cases and have over 27 years of extensive legal experience in both the public and private sectors. I look forward to traveling the state over the next two months to earn the support of the voters in November."
Judge Barbara J. Vigil is the Chief Judge of the First Judicial District Court in New Mexico. The First Judicial District encompasses the counties of Santa Fe, Rio Arriba and Los Alamos counties in northern New Mexico. Judge Vigil is respected across the state of New Mexico as being a fair, dedicated and experienced Judge.
Judge Vigil has served as District Court Judge for over 12 years and has presided over thousands of cases in the areas of complex civil litigation, family and domestic relations matters, child abuse and neglect cases, juvenile delinquency cases, criminal proceedings and appeals of administrative decisions.
While serving as District Court Judge, Judge Vigil also served 10 years as a Children's Court Judge. Judge Vigil was instrumental in the creation of Juvenile Justice Boards in Santa Fe, Rio Arriba and Los Alamos counties. These boards served as a vehicle for the receipt of state and federal funds for many social programs serving at-risk youth.
As a licensed lawyer for over 27 years, Judge Vigil has served on many community and legal boards and commissions, including the New Mexico Drug Court Advisory Board and the New Mexico Women's Bar Association.
Prior to being elected to the bench, Judge Vigil owned her own law office, handling a cross spectrum of cases for individuals and institutions. As a Judge and lawyer for nearly three decades, Judge Vigil has extensive legal experience in both the public and private sectors in virtually every aspect of the law. This includes legal representation of both Plaintiffs and Defendants in state and federal courts.
Judge Vigil earned a Bachelor's Degree in Accounting from New Mexico State University and a Juris Doctorate from the University of New Mexico School of Law. Judge Vigil was raised in Santa Fe, NM, and has resided in New Mexico her entire life.
August 26, 2012 at 10:13 PM in 2012 Judicial Races, Democratic Party | Permalink
Comments
We have not looked at her record nor have any idea of her thoughts on the judiciary since, as a sitting judge, she was unable/unwilling to talk about anything she believes.
We hope she will serve with distinction.
Congratulations to her.
Posted by: bg | Aug 27, 2012 2:50:55 AM