« Tax Policy in New Mexico | Main | Spend it like Water Art Exhibit and panel discussion at SBCC »
Wednesday, August 15, 2012
8/28: Water Movie at NHCC: Screening - Last Call at the Oasis
Burque Bioneers hosts a monthly screening series focused on inspiring social and scientific innovation in our community that respects and fosters well-being for the web of life in the mid-Rio Grande valley. We partner with a number of local organizations and businesses to show thought provoking films and build an ongoing dialogue about the environmental, social and economic challenges we face and the creative ways we can address them.
Screenings are typically held at the National Hispanic Cultural Center and are free of charge.
Last Call at the Oasis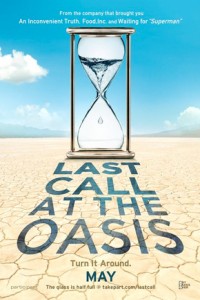 On August 28th, 7PM At the National Hispanic Cultural Center in the Bank of America Theatre, 1701 4th Street
Less than 1 percent of the world's water is fresh and potable—and no more will ever be available. Thanks to pollution, global warming, and population growth, water access is poised to become today's most explosive global issue. No resource on earth is more precious—or more endangered—than water. Last Call at the Oasis is a powerful tool for learning about the water challenges we face as well as the remarkable solutions available to us—if we have the will to use them.
This event is sponsored by National Hispanic Cultural Center, La Montanita Coop and KUNM 89.9 FM
This screening is free and open to the public; donations for the Last Call at the Oasis and Burque Bioneers gratefully accepted.
August 15, 2012 at 07:03 PM in Climate, Environment, Events, Film, Water Issues | Permalink
Comments