« Help Me Fight The War on Women!, Guest Blog by Marci Blaze | Main | Heather Wilson "Proud" Of Votes To Protect Special Tax Breaks for Companies Shipping Jobs Overseas »
Wednesday, August 01, 2012
2 - 4 - 6 - 8 How Do You Know Your Kids are Straight? Chick-Fil-A Protest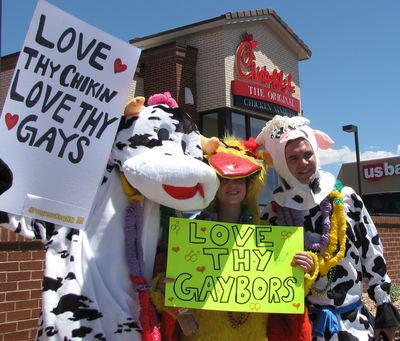 At mid day in Albuquerque New Mexico the sun is real hot. But that did not keep the friends of the LGBT community from showing up to protest the latest bigoted anti-LGBT company Chick Fil-A. And it also did not keep the friends that support Chick Fil-A's bigotry and discrimination from showing up either.
There were many customers driving up to the drive thru and waiting in-line for their chicken sandwiches, I would assume in support of the Dan Cathy statement opposing same sex marriages. Then there were the pro-LGBT supporters maybe 150 on the sidewalk with signs and chicken costumes and free chicken sandwiches being handed out! 
The anti-LGBT bigots complaint is "they have a right to disagree with whomever they want to disagree with" and that the pro-LGBT agenda is being intolerant. If actions like educating the public about anti-LGBT issues stated by big businesses in our communities and deciding not to spend my own money at those places of business and urging others to not spend there money their is in tolerant.....in the words of Dan Cathy below "well- guilty as charged."
However what Dan Cathy says below: "I think we are inviting God's judgement..." now that is appears to be a tad intolerant!
The Chick Fil A President Dan Cathy who makes gobs of money selling processed chicken sandwiches started the furry recently when he went on about his family values. The following is from the Huffpost:
"Cathy's somewhat glib response: "Well, guilty as charged."
He went on to note, "We are very much supportive of the family -- the biblical definition of the family unit. We are a family-owned business, a family-led business, and we are married to our first wives. We give God thanks for that...we know that it might not be popular with everyone, but thank the Lord, we live in a country where we can share our values and operate on biblical principles."
Cathy then reiterated his stance during an appearance on "The Ken Coleman Show," Good as You blogger Jeremy Hooper reported.
"I think we are inviting God's judgment on our nation when we shake our fist at Him and say, 'We know better than you as to what constitutes a marriage,' and I pray God's mercy on our generation that has such a prideful, arrogant attitude to think that we have the audacity to try to redefine what marriage is about," Cathy said in that interview, which can be heard here. 
Needless to say, Cathy's remarks quickly sparked the ire of a number of lesbian, gay, bisexual and transgender (LGBT) advocates and bloggers. "Regardless of where you stand, the placement of LGBT people within our societal picture and within our body of laws is the conversation at hand," wrote Hooper. "That is not the same thing as 'support for the traditional family,' no matter how aggressively the self-appointed values movement attempts to (mis)name reality!"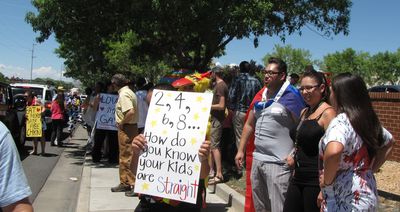 So another day goes by when the right to love is held back by those who claim they have the special God given right to love. I appreciated the sign 2-4-6-8 how do you know your kids are straight. What if one of these pompous rich asses fanning the fire of this anti-LGBT fight ends up with a gay kid or grandkid?
On the positive side; the LGBT side of the brick wall was light hearted and fun. We ate our own Chick fil-gay sandwiches provided by  Roma Bakery and Deli and they were very great simple chicken sandwiches made with TLC not stick it in your face HATE.
Below is a short video from Bruce co-owner of Roma Bakery and Deli:
And below a video of Pat Davis, Executive Director of ProgressNow NM. ProgressNow NM were the organizers of the protest event.
August 1, 2012 at 04:23 PM in GLBT Rights, ProgressNow New Mexico, Right Wing | Permalink
Comments