« June 2012 | Main | August 2012 »
Monday, July 23, 2012
Darren White Being a Close Friend of Susana and Jay McCleskly Pays-off
Darren White continues to be passed around for some position in the Martinez administration. And currently the Racino Downs is part of the Martinez/McCleskly administration. Maybe Pat Rogers will be hired as deputy GM under White?
In the days that we are living in of hard to find jobs, and tough scrutiny over applicants it is aggravating to see such favoritism and out right cronyism from the Governor of New Mexico. Governor Martinez ran on a platform of " NO Corruption", "NO cronyism", "NO favors". The response to this accustation will surely be it is not my administration appointing and running the Downs, it is not Susana's NM Government, it is her NM Shadow Goverment.
Following is a good recap of Darren Whites history provided by ISPAC.
Darren White Is New Downs General Manager. REALLY ???
In the latest chapter of the "Dirty Downs Deal" saga, Darren White has been selected as General Manager for the Racino.
So what are Darren White's qualifications for the General Manager position at The Downs? How critical is this position for the operation of the Racino? And what does this say about the perfect score of 300, lead evaluator Charles Gara awarded the Downs for "managerial expertise"?
Darren White is best buddies with Jay McCleskey. The two of them spend a lot of time sitting around the swimming pool together. White is also very close to Downs lobbyists/lawyers Pat Rogers and Mickey Barnett.
Barnett's law firm has represented both White and McCleskey in some family law matters.
Oh yeah, and Charles Gara contributed money to Darren White's failed congressional race and also hired Jay McCleskey to run a political operation for him. Think they are all tight?
According to the Response to RFP submitted by the Downs on August 25, 2011, the General Manager position "has been created in anticipation of the new facility". So White was given a job that did not previously exist, despite the fact that the Downs has operated as a racino (racetrack and casino) since 1999.
The job appears to be one of the most critical to the operation of the racino: "the General Manager serves as the head of the administrative department. Reporting to the General Manager will be the accounting, human resources, audit/compliance and marketing divisions, as well as the Casino Manager and the Racing Manager. The General Manager will be responsible for the day-to-day operations of The Downs, including implementing and monitoring policies, establishing and managing the budget, hiring and training the management team, ensuring managers are actively monitoring compliance with all regulatory requirements and providing overall operational support."
Here is what Darren White brings to the job:
2011 - 2012 White has no gaming management experience. His only involvement with the racino before this was as a "security consultant" helping the Downs at Albuquerque prepare its response to the RFP. White then briefly worked as the Project Manager at the Downs for the construction of the updated racino. As of the last several weeks, however, there does not appear to be any actual construction going on at the Downs.
2011 Before the Downs, White served as the Public Safety Director for the City of Albuquerque. When White intervened at the scene of his wife Kathy's one-car accident, his brief stint in this position ended with "No-Confidence" votes by members of the Albuquerque Police Department (85%) and the Albuquerque Fire Department ("overwhelmingly").
2008 In February 2008, as Bernalillo County Sheriff, Darren White helped TruTouch Technologies secure a sole-source contract in the amount of $379,995 to "supply alcohol screening and testing prototype equipment." White notified the County Commission that "the Sheriff's Department fully supports the Sole Source contract award to TruTouch Technologies of Albuquerque." White was also running for US Congress, and received campaign contributions from TruTouch officers during a prohibited time. (Disclosure: Michael Corwin of ISPAC initially unearthed that these contributions were made during the prohibited time in the procurement process. This discovery later led to Bernalillo County severing ties with the company.) The current Bernalillo County Sheriff, Dan Houston, has requested an investigation by the New Mexico AG, as this equipment was never put into service.
1999 - 2001 Darren White was the crime reporter at KRQE.
1999 The two no-confidence votes in 2011 were not the first of White's management career. While serving as secretary of the New Mexico Department of Public Safety, members of the New Mexico State Police Officers Association voted 243 - 31 "No Confidence" against White. The state police officers accused White of improperly supplying equipment and cars to its officers, which they felt was an officer safety issue.
1999 White was investigated by the New Mexico AG for possibly committing two felonies, 1) violation of the anti-donation clause and 2) unauthoried destruction of a cultural property (property located on state land). While secretary of DPS, White called the State Land Office and arranged to have state Highway Department workers demolish, without a permit, buildings located on state land at the behest of his buddy Don Imus's brother, Fred Imus. Imus had called White to see if the state could remove some "dilapidated ranch buildings" on the state land adjoining the Imus Ranch, claiming they negatively impacted their property. The investigation was stopped when Imus agreed to pay the state $6,696 reimbursement for the use of state workers to tear the buildings down.
These are but a few of the situations that raise serious concerns over White's selection as the General Manager of the Downs. Not only does he lack any relevant experience to managing a racino, he has yet to prove himself as a competent manager at all. He has done very well at proving he is someone willing to engage in ethically and legally questionable behavior.
July 23, 2012 at 10:56 AM in Darren White, Government, Independent Source PAC, Jobs, Susana Martinez, Transparency | Permalink | Comments (1)
Saturday, July 21, 2012
Native American Democratic Caucus Fundraiser for the Delegates
Great cause! Please help our Native American Dem Caucus get their delegates to North Carolina.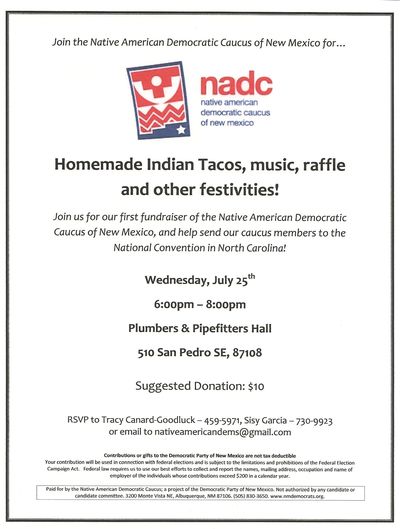 July 21, 2012 at 03:50 PM in Democrat, Events, Native Americans | Permalink | Comments (0)
Once Again New Mexico Posts Worst Job Losses In West
From ProgressNow NM:
3,800 fewer workers on payrolls in June, 7,400 fewer than April.
Numbers just released from the US Department of Labor show that New Mexico again lost jobs in June –with 3,800 fewer New Mexicans on payrolls in June 2012 than May 2012, and still 2,100 fewer than a year ago.
"New Mexico, Vermont, and Wisconsin experienced the largest over-the-month percentage declines in employment" according to the BLS release. Other Western states added 65,000 jobs last month.
While New Mexico's unemployment rate dropped slightly since last month, the civilian labor force also shrunk by 4,000 people, an indicator that many New Mexicans have simply given up on finding work.
June's decline in employment continues a trend that ProgressNow NM has been chronicling for months. New Mexico has seen three straight months of job loses – and three straight months of having the worst job growth in the West.
Since April, New Mexico has lost 7,400 jobs.
"The administration in Santa Fe doesn't seem to have a jobs plan," says Pat Davis, Executive Director of ProgressNow New Mexico, a public interest watchdog group. "They won't even talk about jobs and we are living the consequences."
According to the governor's website, she has issued just one news release relating to new jobs in the past two months, while making 29 political appointments. And the consequence is that fewer New Mexicans are working.
Read more at ProgressNowNM.org/blog
July 21, 2012 at 08:40 AM in Jobs, ProgressNow New Mexico, Susana Martinez | Permalink | Comments (1)
Wednesday, July 18, 2012
Struggling New Mexicans Demand Leaders End Outrageous Tax Giveaways to Big Oil Companies
Following release is from OLÉ Education Fund is a 501(c)3 non-profit organization committed to empowering and improving the economic well-being of working New Mexicans.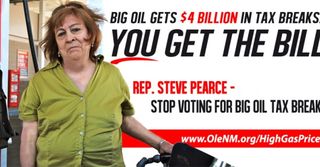 Billboard campaign in Albuquerque highlights how taxpayers foot the bill for billions in big-oil tax breaks
New Mexicans who are struggling to fill their tanks today unveiled a billboard campaign calling attention to Big Oil receiving $4 billion in tax breaks despite raking in $137 billion in pure profits in 2011 alone.
Standing under a billboard featuring a frustrated driver and the message "Big oil gets billions in tax breaks … we pay the price. Why?!" New Mexicans called on elected officials and candidates to take a stand and outline their positions on whether they support preserving tax giveaways for the oil and gas industry.
The billboard campaign is sponsored by the Organizers in the Land of Enchantment (OLÉ) Education Fund.
"We pay high prices and the oil and gas companies get away with huge profits at our expense," said Luis Garcia who works as a waiter in Albuquerque. "What's worse? They also get $4 billion in tax breaks rubber stamped by Congress. Oil companies are robbing us at the pump and on tax day."
Representative Steve Pearce, who represents southern New Mexico in Congress, has voted to preserve these tax giveaways for big oil 8 times since February of 2011 alone.
U.S. Senate Candidates Heather Wilson and Martin Heinrich have issued the following statements on the issue:
Heather Wilson: "Heather Wilson supports a balanced long-term energy policy that will create American jobs and reduce energy prices."
Martin Heinrich: "At a time when big oil companies are pulling in record profits, taxpayer dollars should not be padding the deep pockets of CEO's."
  "It's nice that we have something from our Senate candidates, but New Mexicans deserve to know what Heather Wilson and Martin Heinrich's clear positions are on these tax breaks," said Marie Aragon, resident of Albuquerque. "And with these statements, we're not quite there yet."
The billboards aim to call attention to how ordinary New Mexicans are paying the price for oil-company tax breaks and educate the public about politicians who are consistently voting to preserve tax breaks for an industry that raked in $137 billion in profits in 2011 alone.
July 18, 2012 at 02:38 PM in 2012 NM Senate Race, Candidates & Races, Children and Families, Corporatism, Taxes | Permalink | Comments (3)
Tuesday, July 17, 2012
New Mexico Got Bain'd, too: Romney took $2.5M in NM Taxpayer Funds to Outsource 1,100 NM Jobs
From ProgressNow New Mexico:
Mitt Romney's Bain Capital duped New Mexico more than a decade ago when it set up a Silver City call center, promising more than 1,000 local jobs, only to have it close just two and half years later in a wave of off-shore outsourcing, laying off almost 800 middle-class workers and taking New Mexico taxpayers for more than $2.5 million in the process.
ProgressNow New Mexico recently reviewed the record of Bain Capital in New Mexico and discovered that Romney's Bain Capital bought Stream International, a Chicago business services company, just as the company was in the midst of a large US-based expansion. One of those expansion sites was Silver City where Stream promised to create more than 1,100 full-benefits career track local jobs in Grant County.
Among the findings:
New Mexico taxpayers provided Bain with more than $2.5 million in free rent and job training to lure the company to Silver City
The company promised to create more than 1,100 career track jobs for Silver City
As Bain was telling New Mexico it was creating long-term jobs, it simultaneously stopped US expansion and rapidly expanded overseas with new facilities in Spain, Canada, Ireland and France.
When Bain sold Stream and its Silver City facility just over two years later, the company was positioned for the new buyer to transfer all of its jobs overseas.
Just two years later, the new buyer suddenly closed Streams two large US call centers, laying off more than 800 in New Mexico, and told a newspaper the jobs were likely going overseas.
In their short tenure in New Mexico, Bain Capital took more than $2.5M in free rent and taxpayer-funded subsidies to fund the building of foreign call centers which would house the jobs those funds were supposed to create in New Mexico.
"In Silver City, Bain created almost a thousand American jobs just to siphon the profits from that work to build overseas facilities where our jobs would go to die," says Pat Davis of ProgressNow New Mexico.
"What Mitt Romney and Bain did to Grant County is unconscionable. They told those people that they were building life-long careers, all the while knowing they were taking their taxpayer-subsidized profits to move our jobs overseas."
July 17, 2012 at 06:51 PM in Mitt Romney, ProgressNow New Mexico | Permalink | Comments (4)
Most Polls Show Most Americans Want to End Bush Tax Cuts for Richest 2%
Following article was provided by the Americans for Tax Fairness.
(Washington, D.C. – July 17, 2012) A new McClatchy-Marist poll showing the majority of Americans want the Bush-era tax cuts to be extended for everyone conflicts with other polls, and probably is erroneous because the wording confused voters, according to a prominent pollster for Americans for Tax Fairness.
The McClatchy poll asked: "Which statement comes closer to your view: Congress should extend the tax cuts only for the middle class, but not for the top 2%, that is, households earning $250,000 or more, OR Congress should extend the tax cuts for everyone, including the top 2%, that is, households earning $250,000 or more."
"In the first statement, survey respondents can't tell whether 'earning $250,000 or more' is defining the 'middle class' who receive the tax cuts or 'the top 2%' who do not, so it sounds to many people like the tax cuts are being extended only for the rich," said Guy Molyneux, a partner and senior vice president with Hart Research Associates, which recently conducted polling for Americans for Tax Fairness and has done extensive polling on the Bush tax cuts issue.
"That ambiguity explains McClatchy's shocking, and implausible, finding that low-income and minority voters are most supportive of extending tax cuts for the richest 2 percent," concluded Molyneux.
Other recent polls show the majority of Americans oppose extending the Bush tax cuts for the richest 2 percent. They include:
Americans for Tax Fairness (ATF) is a diverse campaign of national, state and local organizations united in support of a tax system that works for all Americans. It has come together based on the belief that the country needs comprehensive, progressive tax reform that results in greater revenue to meet our growing needs. This starts by ending the Bush-era tax cuts for the richest 2 percent and by making critical investments that create and sustain jobs while taking a balanced approach to addressing America's fiscal challenges.
July 17, 2012 at 11:50 AM in Taxes | Permalink | Comments (0)
Monday, July 16, 2012
NM CD1: Michelle Lujan Grisham Out-raises Opponent 5-to-1 in Last Quarter
Democratic Congressional nominee Michelle Lujan Grisham raised more than $459,000 during the last three months in the race for New Mexico's 1st District, with nearly $900,000 million raised since the start of the race. Lujan Grisham won a competitive, three-way primary race on June 5 against two well-known Democrats.
"Michelle's impressive primary-election victory has energized people throughout the district who embrace her fight to restore the Middle Class," campaign manager Dominic Gabello said.
Michelle Lujan Grisham campaign-finance report, filed with the Federal Election Commission, shows that her campaign raised $459,024.57 for the 2nd quarter of the year (April-June). The campaign raised $353,232.04 since the last reporting period in mid-May, nearly a 5-to-1 advantage over her general election opponent. The campaign has $203,606.70 cash on hand, a nearly 3-to-1 advantage over her opponent, despite the fact that Michelle had a competitive primary race.
New Mexico's 1st Congressional District, which has traditionally been held by Republicans, has earned a spot on the Democratic Congressional Campaign Committee's highly competitive Red-to-Blue program. The DCCC recognizes that Lujan Grisham surpassed demanding fundraising, organizing, and infrastructure goals and skillfully demonstrated to voters that she is a problem-solver who will protect the middle class when elected to Congress.
July 16, 2012 at 08:55 PM in Candidates & Races, Michelle Lujan Grisham, NM-01 Congressional Race 2012 | Permalink | Comments (0)
Sunday, July 15, 2012
Another Strong Fundraising Quarter for Heinrich in New Mexico
Brings In Nearly $1.1 Million In Last Six Weeks, Totaling $1.76 Million in the Bank
Tuesday, July 10, 2012, the Martin Heinrich for U.S. Senate campaign released a preview of its latest financial report, which includes more than $1.76 million cash-on-hand and $1.41 million raised for the quarter. Heinrich has gained significant state-wide momentum since the primary election for New Mexico's open senate seat, bringing in nearly $1.1 million in the last six weeks alone. Since the beginning of his campaign, Heinrich has raised more than $3.89 million from 8,732 individuals.
"I'm grateful to receive the backing of so many New Mexicans from every corner of the state," said Heinrich. "Moving our country forward requires fresh ideas and hard work. I've covered thousands of miles traveling the state meeting with voters. Together, we are building the largest grassroots campaign New Mexico has ever seen."
Highlights from the Federal Election Commission (FEC) report include:
Cash on Hand: $1,763,770
Raised Since Last Reporting Period (May 16, 2012): $1,087,800
Raised for Quarter: $1,417,742
Total Number of Contributions (for Quarter): 5,629
 Percentage of Contributions Under $100 (for Quarter): 80%
Total Raised Cycle to Date: $3,893,883
Public polls have consistently put Heinrich in the lead ahead of Republican Heather Wilson. Since announcing his candidacy, Heinrich continues to receive overwhelming support from Indian tribes, pueblos, and nations across the state and a variety of organizations such as labor unions, environmental groups, and advocates for senior citizens.
"One thing is certain, Congresswoman Wilson has always put herself and the special interests ahead of the people she was supposed to represent," said Heinrich. "My campaign is about standing with New Mexico's working families and fighting for what matters most to the middle class." The FEC report, which will be filed in the coming days, covers money raised between May 17, 2012 and June 30, 2012. The deadline to file is July 15, 2012.
July 15, 2012 at 06:45 PM in 2012 NM Senate Race, Candidates & Races, Rep. Martin Heinrich (NM-01) | Permalink | Comments (0)
Friday, July 13, 2012
Heather Wilson Wants to Protect the Rich at the Expense of New Mexico's Middle Class
From Martin Heinrich for Senate:
U.S. Senate candidate Republican Heather Wilson has a history of putting herself and special interests first. In Congress, she voted for the Bush tax cuts for millionaires and billionaires at the expense of New Mexico's middle class.
Martin Heinrich refuses to allow New Mexico to go down that dark road again.
"There are several reasons that we must end the Bush tax cuts for millionaires and billionaires, but chief among them is the simple reason that we can't afford it," said Heinrich. "We followed Heather Wilson and George W. Bush down that road already, and America's middle class paid the price while the wealthy consolidated their grip on power."
Heather Wilson has always put herself and the special interests ahead of the people she was supposed to represent. While Congresswoman Wilson was voting against raising the minimum wage for New Mexico's workers, Heinrich was leading the fight on the Albuquerque City Council to raise it. Wilson took six pay raises during her time in Congress, while Heinrich rejected every congressional pay raise since he's been in office. Furthermore, Wilson has refused to reject the Republican plan that would end Medicare as we know it.
"The truth is, Washington needs to get its priorities straight," said Heinrich. "Moving our country forward requires fresh ideas and hard work. This campaign is about standing with working families and fighting for what matters most to New Mexico's middle class."
Wilson Voted Against Raising The Minimum Wage Six Times. In 2006 and 2007, Wilson voted six times against minimum wage increases or to kill Democratic attempts to even be allowed to offer a minimum wage increase. [CQ Floor Votes; HR 2206, Vote 333, 5/10/07; CQ House Action Reports, No. 110-3, 3/20/07; HR 1591, Vote 186, 3/23/07; Leadership Document, "Democrats are Fighting for a New Direction: A Pay Raise for Millions of Americans," 7/19/06; HR2389, Vote 382, 7/19/06; HR2990, Vote#364, 7/12/06; HR4411, Vote 360, 7/11/06; HR5672, Vote 319, 6/27/06]
Albuquerque Tribune Editorial Called On Wilson To Support Minimum Wage Increase While Allowing Her Own Pay To Go Up. In July 2006, the editorial board of the Albuquerque Tribune criticized Wilsonfor allowing a congressional pay raise to take effect while not supporting a meaningful increase in the minimum wage. They wrote, "The minimum wage has been stagnant at a mere $5.15 per hour for nearly 10 years now. That's just shy of $11,000 per year and well below the poverty line for a family of three. For more than half of that time, Republicans - including Wilson, Bush and Sen. Pete Domenici of Albuquerque - have controlled the federal government. During the same period in which the minimum wage has been stuck below the poverty level, Congress has managed to give its own members more than $30,000 in wage raises, to the current $165,200 per year. That salary is scheduled, based on cost-of-living arguments that apparently affect only federal legislators, to automatically rise to $168,500. Domenici and Wilson supported the raise. Wilson voted for it last week, while the state's other congressional Republican representative, Steve Pearce of Hobbs, continued his admirable practice of voting against congressional pay raises for himself and his colleagues…So why have Domenici and Wilson - often quick to support tax cuts for the wealthy, including repeal of the estate tax - been essentially AWOL on an issue that has gained substantial support among local lawmakers, despite its controversial nature and opposition by businesses? [Albuquerque Tribune, Editorial, 7/4/06]
Heinrich Led the Fight To Raise The Minimum Wage On The Albuquerque City Council. On April 20, 2006, the Albuquerque City Council approved a phased-in minimum wage increase by a 6-3 vote. The ordinance (COUNCIL BILL NO. O-06-20), sponsored by then City Councilor Martin Heinrich, was enacted on April 27, 2006. [Albuquerque Official City Website, "Minimum Wage to Increase 31% on January 1, 2007"]
Wilson Voted Six Times To Allow Congressional Pay Raises. In the House, Wilson voted six times to allow her own salary to increase. [CQ Floor Votes, 6/13/06; H RES 865, Vote #261, 6/13/06; CQ Floor Votes, 6/28/05; HR 342, Vote #327, 6/28/05; CQ Floor Votes, 9/14/04; H Res 770, Vote #451, 9/14/04; CQ Floor Votes, 9/04/03; H. Res. 351, Vote #463, 9/4/03; CQ Floor Votes, 7/18/02; H. Res. 488, Vote #322, 7/18/02; CQ Floor Votes, 7/25/01; H Res. 206, Vote #267, 7/25/01]
Heinrich Rejected Every Congressional Pay Raise Since He's Been In Office. Heinrich is a cosponsor of H.R.156, the Stop the Congressional Pay Raise Act and H.R.4255, the Stop the Automatic Pay Raise for Members of Congress in Fiscal Year 2011 Act.
Wilson Consistently Supported Bush-Era Tax Cuts That Overwhelmingly Benefited Millionaires. In 2001,Wilson supported President Bush's first round of tax cuts. In 2003, Wilson supported another round of tax cuts that overwhelmingly benefited the wealthy. In 2004, Wilson supported President Bush's budget that permanently locked in multitrillion-dollar tax breaks that mostly benefit the nation's wealthiest. In 2005, Wilson backed a Republican bill that extended capital gains and dividend tax breaks for the rich. And in 2006 Wilson backed another Republican tax break package that the Washington Post dubbed a "windfall for the rich, and a hole in the federal budget." [HR 1836, Vote 149, 5/26/01; HR 2, Vote 225, 5/23/03; Center for Budget & Policy Priorities, 5/28/03;; H Con Res 393, Vote 92, 3/25/04; Vote 621, 12/8/05; Chicago Tribune, 12/9/05; HR4297, Vote 135, 5/10/06; Washington Post, 5/11/06]
2006 Study: 99% of New Mexicans Taxpayers Are Net Losers Under the Bush Tax Cuts. According to a study conducted by Citizens for Tax Justice, 99% of New Mexican taxpayers were net losers under the Bush tax cuts. For the wealthiest one percent of New Mexico residents, who have an average income of $720,500, the tax breaks outweigh the added debt burden accumulated from 2001 through 2006 by an average of $14,450 per family member. They have received an average tax break of $50,630 per family member, which exceeds their added debt burden of $36,179 by $14,750. In contrast, the added debt burden accumulated from 2001 through 2006 outweighs the tax breaks for the other 99 percent of New Mexico residents by an average of $7,589 per person. They have received a tax break of $2,305, but their added debt burden is $9,894 per person. [Citizens for Tax Justice, "99% of New Mexicans Are Net Losers Under Bush Tax and Spending Policies," June 2006]
Heinrich Urges Vote to Make Middle-Class Tax Cuts Permanent. On September 27, 2010, Martin Heinrich released a letter he signed with 45 other House members to then Speaker of the House Nancy Pelosi urging that the Congress vote on permanent tax cuts for the middle-class before adjournment in October 2010. The letter also called on the Speaker for a vote to allow the Bush-era tax cuts for the wealthiest two percent of Americans to expire, using the additional revenue to close the federal budget deficit. [09/27/2010, Heinrich Letter]
Tax Cuts: Heinrich Fights For The Middle Class. Heinrich voted for H.R. 6467, the Middle Class Tax Relief Act of 2010, aimed at permanently extending the 2001 and 2003 income tax cuts for families making $250,000 or less and individuals making $200,000 or less. [12/02/2010, Roll no. 604]
Wilson Refuses to Take Position on Ryan Budget. In a March interview with the Albuquerque Journal's Michael Coleman, Wilson dodged the question of whether she would support the Republican plan. "For the second year in a row, Republican U.S. Senate candidate Heather Wilson declined to take a clear position," reported Coleman. "When I interviewed her last year, Wilson similarly refused to take a stand on Ryan's 2011 proposal." [3/24/12, Albuquerque Journal]
432 Days of Sidestepping. Heather Wilson has consistently dodged questions on the Ryan Budget since it was introduced in the House of Representatives on April 11, 2011. In an interview with POLITICO, Wilson stated, "I'm not in the House of Representatives. This is not something that I have to vote on." [7/8/11, POLITICO; 4/11/2011, H.CON.RES.34 Library of Congress, THOMAS]
New Report: The Republican Budget Showers The Wealthy With Close To $300,000 In Tax Breaks While Increasing The Burden On Middle Class Families. In June 2012, the Washington Post reported, "The tax reform plan that House Republicans have advanced would sharply cut taxes for the wealthiest Americans and could leave middle-class households facing much larger tax bills, according to a new analysis set to be released Wednesday … Households earning more than $1 million a year, meanwhile, could see a net tax cut of about $300,000 annually … Roberton Williams, a senior fellow at the Tax Policy Center, reviewed the Joint Economic Committee report. Although the numbers are rough, he said, the conclusions are largely accurate." [Washington Post, 6/19/12]
July 13, 2012 at 12:25 PM in 2012 NM Senate Race, Candidates & Races, Economy, Populism, Heather Wilson, Rep. Martin Heinrich (NM-01) | Permalink | Comments (1)
Community Members Announce Racial Profiling Complaints in San Juan County
From Somos Un Pueblo Unido: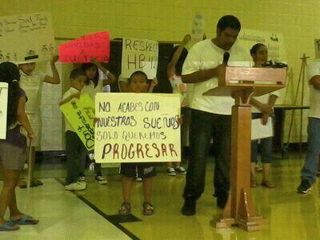 IMMIGRANT GROUP CALLS ON SAN JUAN COUNTY TO STOP ARIZONA-STYLE LAW ENFORCEMENT POLICIES Community Members File Racial Profiling Complaints Against City, County, and Federal Agencies. Photo above from Somos
On Wednesday July 11, 2012, residents of San Juan County and members of Somos Un Pueblo Unido (Somos) announced the filing of several racial profiling complaints against local and federal law enforcement agencies. In the complaints made to the City of Farmington and San Juan County, six individuals alleged that the Farmington Police Department and the San Juan County Sheriff's Department changed the scope of investigation based on race, national origin, and language in order to inquire about immigration status-a violation of New Mexico's Prohibition of Bias Based Policing Act of 2009.
"We have lived in this area for many years, contributing to the local economy and paying taxes. Like most families, we want a better future for our children," said Veronica Perez, a spokesperson for Families United for Justice a recently formed group of immigrants and allies in Farmington. "We used to live in peace, but in the last year, many of our families have been victims of racial profiling and discrimination as result of the collaboration between the local law enforcement, jail and immigration officials. We live in constant fear and no longer feel safe calling the police. How is that good for public safety?"
Somos also submitted a complaint to the Department of Homeland Security's Office of Inspector General and its Office for Civil Rights claiming that local DWI checkpoints have become de facto immigration checkpoints. The complaint stated "It is our understanding that ICE should not be conducting immigration checkpoints beyond 100 miles from the border and local law enforcement shouldn't be questioning individuals about immigration status at a DWI checkpoint, the purpose of which is to prevent and apprehend drunk drivers."
The complaint also alleged that area ICE agents were disregarding ICE's own policies by placing ICE Detainers an individuals in order to hold them at the San Juan County Detention Center despite these individuals not having been arrested for a criminal violation and at the County's expense.
"We are working with these brave community members in Farmington to stand up for civil rights and public safety," said Rayos Burciaga, Board Member of Somos Un Pueblo Unido. "Based on eye witness accounts, it seems that ICE agents are colluding with local law enforcement officials and the local jail to racially profile individuals and violate their constitutional rights. New Mexico is better than that."
"My parishioners deserve to live without fear and intimidation," said Father Vigil, pastor of St. Mary Parish in Farmington. "We live in a country where due process rights should be respected. We should be integrating Latino families, not separating children from their parents."
"In the past year, I have witnessed the devastating effects of this country's broken immigration system and the violation of immigrants' civil rights in the Farmington community," said Iris Calderon, an immigration attorney from the Calderon Law Firm based in Albuquerque. "US citizen children are separated from their fathers only for failing to provide evidence of legal status at a DWI checkpoint. DREAMers have been put into deportation proceedings for speeding tickets and other minor traffic violations. When the civil rights of immigrants are violated, the consequences are dire."
Residents also complained that the Farmington, Bloomfield, and Aztec Police Departments, as well as the San Juan County Sheriff's Department, do not have written policies and complaint forms that are updated and compliant with the bias-based policing ban, as is required by the 2009 law.
"These agencies need to take the community's concerns about racial profiling more seriously," added Perez, "It's the only way that trust can be restored."
Somos Un Pueblo Unido: is a statewide civil and immigrants' rights organization that worked along side the NAACP and other groups to pass the Prohibition of Bias-based Profiling Act in 2009 at the State Legislature. Somos is also part of a national campaign called "Restoring Trust" that will host events nationwide on Wednesday to call attention to the public safety hazards of collaboration between local jails and ICE.
July 13, 2012 at 10:02 AM in Civil Liberties, Hispanic Issues, Human Rights, Immigration, Minority Issues, Racial Minorities | Permalink | Comments (0)
Thursday, July 12, 2012
State Disclosure Policies, Oversight of Natural Gas Fracking Are Inadequate Protection for Water Supplies, Public Safety, New Report Finds
In a new report issued on July 9, 2012, OMB Watch finds that state oversight laws requiring disclosure of the chemicals used in natural gas fracking are in need of an overhaul. Disclosure of the chemicals used in hydraulic fracturing, or "fracking," is spotty and incomplete, and essential safeguards are missing.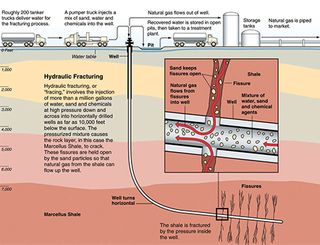 Image above from OMB and Al Granberg/ProPublica
"Public officials in state government are struggling to find a way to protect water supplies and public health in the wake of the rapid expansion of natural gas drilling and extraction. They haven't gotten it right yet," said Katherine McFate, president of OMB Watch. "Some of the chemicals used in natural gas fracking have been linked to serious health problems, including cancer and kidney, liver, and neurological damage, so it is imperative that local water supplies be carefully monitored and protected."
The report, The Right to Know, the Responsibility to Protect: State Actions Are Inadequate to Ensure Effective Disclosure of the Chemicals Used in Natural Gas Fracking, examines state disclosure laws and rules and identifies the gap between effective policy and existing practice. The analysis is especially timely given the ongoing boom in natural gas extraction: almost half a million natural gas wells are operating in at least 30 states, and more are planned.
The report asserts that an effective chemical disclosure policy should contain the following elements:
Before receiving a drilling permit, the owners and operators of natural gas wells should gather baseline information on nearby water sources and water and air quality. They should disclose the chemicals they intend to use in the fracking process and commit to regularly monitoring the water and air near the gas wells and near wastewater storage facilities for potential contamination for as long as the well is operating and for some period after operations have ceased.
Information on the chemicals used in fracking should be collected from drilling companies, well operators, and manufacturers and should include specific information on the unique chemical identification numbers, concentrations, and the quantity of the chemicals used.
States should have clear guidelines limiting "trade secrets" exemptions from disclosure laws to prevent companies from invoking this loophole to avoid disclosure.
Information about the chemicals used at each individual well where fracking occurs should be posted on a public website in a way that allows users to easily search, sort, and download data by chemicals used, companies involved, and well location.
"Some states, like Colorado, do a better job than others of making chemical information available to the public, but no state is requiring enough upfront collection of baseline data and ongoing monitoring to adequately protect local water supplies and public health. Citizens need to have adequate information to evaluate the potential risks and rewards of allowing natural gas fracking in their communities," said Sean Moulton, Director of Information Policy at OMB Watch and an author of the report.
Because of a major loophole written into the Energy Policy Act of 2005, natural gas fracking activities have been exempt from federal oversight under the Safe Drinking Water Act. As a result, oversight of fracking has shifted to the states.
Over the past three years, 13 of the states with natural gas extraction activities have established rules or laws to require some level of public disclosure of the chemicals used in fracking. Seven states with significant amounts of fracking have no public chemical disclosure requirements, even though a few of them do regulate drilling to a certain extent.
"We hope this report will encourage state and local authorities to improve their chemical disclosure standards, especially in those regions of the country most involved in and affected by natural gas fracking," McFate concluded.
The Right to Know, the Responsibility to Protect is available online at www.ombwatch.org/naturalgasfrackingdisclosure.
July 12, 2012 at 07:16 PM in Energy, Environment, Fracking, Water Issues | Permalink | Comments (1)
ABQ Fair Redistricting Committee Initiates Public Records Inquiry Concerning Partisan Violations of Open Meetings Act and Hispanic Voting Rights Dilution
Following is a press release provided by Lora Lucero.
This afternoon, community leaders representing the ABQ Fair Redistricting Committee submitted a public records inspection request to the City of Albuquerque, inquiring about back-door partisan communications that reduced the number of the City Council's Hispanic Voting Age Majority districts to just two of the city's nine council districts. Since 2000, 75% of the city's new growth has been Hispanic, now comprising 47.2% of the city's whole population. The National League of United Latin American Citizens (LULAC) is assisting the group with its IPRA request and potential litigation.
"There's simply too much at stake for Albuquerque's Hispanic population and core historic neighborhoods to let this injustice go unaddressed," said Lora Lucero, a north valley activist working with the group. "The five councilors might have scored a ten-year partisan majority, but they did so at the cost of diluting the voices of many minority and impoverished communities."
Partisan power-grabs like that achieved by the five city councilors on February 22, and signed by Albuquerque Mayor Richard Berry on March 5, were the target of Section 2 of the Voting Rights Act of 1965. In addition to Hispanic voting dilution, the decision also packed into one district many communities of interest, including most of the city's federally designated "pockets of poverty," areas in need of street improvements, communities desperate for revitalization, and areas with crumbling infrastructure.
Although the Albuquerque City Council is a non-partisan body and the redistricting committee process was mandated to be public, the ABQ Fair Redistricting Committee wants to know what communications were not made available to the public but might have had a significant impact on the outcome of the city council redistricting. For that reason, the group's letter requests copies of all documents and communications (correspondence, e-mails, and attachments) related to the City Council redistricting process since June 1, 2010. Recipients of the IPRA request will have 15 days to respond and the information garnered will inform the ABQ Fair Redistricting Committee's decision to pursue legal recourse.
July 12, 2012 at 04:00 PM in City of Albuquerque, Legal Issues, Lora Lucero, Contributing Writer, Redistricting | Permalink | Comments (1)