« New Sierra Club Ad Targets Heather Wilson for Votes to Protect Big Oil Campaign Donors | Main | Luján: House Republicans' Partisan Agenda to Repeal Health Care Ignores Need to Create Jobs »
Tuesday, July 10, 2012
Michelle Hernandez for Supreme Court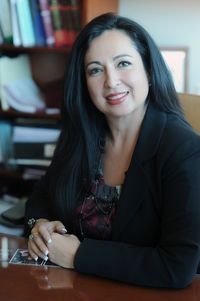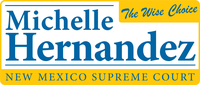 Lifelong Democrat Michelle Hernandez Announces Bid for Supreme Court
Native New Mexican Michelle Hernandez will seek election to the New Mexico Supreme Court to replace retiring Justice Patricio Serna.
Michelle grew up in Taos, Gallup and Albuquerque. Living under modest circumstances, she learned the value of hard work and a great education. She has deep family roots throughout New Mexico.
Michelle graduated from the University of New Mexico, magna cum laude, attended the University of California Los Angeles law school, and received a scholarship in recognition for pioneering women in the law.
Following law school, Michelle served as a judicial clerk for the Supreme Court and Justice Joseph F. Baca where she assisted in numerous opinions. Justice Baca and Michelle became lifelong friends, and he has endorsed her candidacy. As a law clerk, she worked on several landmark decisions including the Johnson case, where the Court held former Governor Gary Johnson in contempt of court for unlawfully forcing poor people off public assistance.
In endorsing Michelle, Justice Baca said, "I have known Michelle Hernandez since she was my law clerk in 1997. I am proud to call her my good friend. She is uniquely qualified to serve on our Supreme Court. She works hard, listens to people and is a brilliant lawyer. She cares deeply about her community and will make an excellent Supreme Court Justice."
After working at the Supreme Court, Michelle began a career at the prestigious Modrall Sperling Law firm where she gained valuable experience as an appellate and trial attorney. She has become a nationally recognized expert in complex health care law matters. She also represented women seeking to escape abusive relationships.
Michelle believes her hands-on experience at the Supreme Court, combined with her many years in private practice make her an excellent candidate for New Mexico's highest court. "The Supreme Court needs Justices who have been in the trenches representing clients, and who have been involved in drafting opinions. I bring a unique combination of both to the job."
Michelle is active in her community, having worked on democratic campaigns, as a Member of the Hispanic National Bar Association and as a founding director of Emerge New Mexico.
On August 25, the New Mexico Democratic Party State Central Committee will select a candidate for Supreme Court, who will appear on the November ballot opposite whomever Governor Martinez appoints to fill the vacancy. Michelle draws on her humble beginnings and her hard working family as inspiration.
"I was born in Albuquerque, but my family is from Taos, which is where I started school. Growing up my father worked as a high school teacher, laid adobes in the summer and later managed fast food restaurants. After living in a trailer in Gallup for a short time, we moved back to Albuquerque, and I graduated from Del Norte High School. My mother returned to work outside the house after I graduated and retired from the Communications Workers of America (CWA) union as a secretary about four years ago. I will never forget my responsibility to remember those who are working their way out of poverty like my parents did."
At UNM, Michelle served as a recruiter for the Minority Recruitment and Retention Office. She served on the local advance team for the Clinton Gore Campaign for several events.
Michelle was active at UCLA as member of the La Raza Law Students Association. She advocated for the admission of Latino law students and worked against the discriminatory California ballot propositions of the mid-1990s.
Michelle was inspired to run by Justice Baca's and Justice Serna's humble beginnings, love of New Mexico and enormous achievements. She looks to Justice Petra Maes as a trailblazer and the first Latina Justice of the Supreme Court.
Please visit http://www.hernandezforsupremecourt.com/ for more information or to contact Michelle Hernandez email HernandezforSupremeCourt@gmail.com.
July 10, 2012 at 09:00 AM in 2012 Judicial Races, Candidates & Races, Democrat, Justice | Permalink
Comments
Go Michelle!!
Posted by: Steve! | Jul 10, 2012 10:21:59 PM
As an SCC member, I have to question whether an attorney with only 15 years of experience is really qualified to serve as a Justice of the NM Supreme Court.
Posted by: Proud Democrat | Jul 10, 2012 11:00:35 PM
And who apparently has never been a judge at any level before.
Posted by: Michelle Meaders | Jul 10, 2012 11:19:31 PM
Neither Justice Daniels nor Justice Chavez had experience as a judge before joining the Supreme Court and both are highly respected and effective members. Knowing the law and being a clear thinker is more important on the Supreme Court than having presided over trials.
Posted by: Mike | Jul 11, 2012 9:13:21 AM