« NM Retiree Leader Slams Rep. Pearce & US House for Voting Against Seniors, Medicare | Main | ABQ Fair Redistricting Committee Initiates Public Records Inquiry Concerning Partisan Violations of Open Meetings Act and Hispanic Voting Rights Dilution »
Thursday, July 12, 2012
Martinez Repos Economic Development Secretary Barela's Super Computer
The following press release is from ISPAC:
Governor Susana Martinez to repo New Mexico's super computer. So says the Albuquerque Journal article today by Kevin Robinson-Avila.
The state claims that the operator of the super computer, the New Mexico Computer Applications Center (NMCAC), who Martinez intends to repo the computer from owes money primarily due to the default by Cerelink, the largest customer who owed the operator NMCAC $934,000.
What the Journal article failed to mention, just as KRQE's Larry Barker failed to mention back when he did a story last year blaming the Richardson administration for the costs of the computer, is that John Barela, Martinez's Economic Development Secretary, has had a key role in Cerelink. It is believed that Barela helped to found the company while Barela was still with Intel.
Barela's 2011 financial disclosure form lists him as a "shareholder" of Cerelink. Barela also sits on the board of the NMCAC. So he is both debtor and creditor.
So why was there no mention of Barela's involvement by either media outlet? The Journal did mention that Martinez has wanted to privatize the state computer since she took office.
Did Barela's involvement with Cerelink have anything to do with the company's failure to pay its debts to the operator? Was Cerelink's failure to pay the operator a convenient mechanism for Martinez to repo and privatize the computer?
DFNM did a little more research on this topic.
It sure smells bad, but again if gone unchallenged the republican administration which has touted itself as anti-corruption will get yet another pass by main stream media.
Is it corruption? That decision is above my pay grade for sure. However, researching briefly I found this article in The Independent (rip, still a bummer) written by Marjorie Childress on 10/11/10; Barela ducks questions about state film rebate program.
Hypocrisy at its best. A quote in the Independent article; "Republican Jon Barela continues to avoid questions posed by The Independent about the business his company gets due in large part to government programs."
How can this be so, that NM Economic Secretary John Barela can rise to wealth on government welfare subsidies for this super computer?
Remember back when Heinrich and Barela debated in October 2010? No? Well read this other great article; Heinrich challenges Barela on film rebate program written on the Independent by Marjorie Childress to refresh your memory.
An excerpt of Marjorie's article is here:
"You know, it's funny that the small business, the high tech business that my opponent just mentioned, Cerelink, it's a business that relies, actually, on a tax-payer funded super-computer, to do the work for them, to render movies here in New Mexico," Heinrich said.
"They couldn't do that work if they had to do it on their laptop at home. They utilize our taxpayer resources to do that work. In addition, they wouldn't be competitive if they didn't have a 25 percent tax credit to do that work here rather than somewhere else."
Barela repeated his position that government doesn't create jobs and that regulation and taxes should be reduced. Heinrich said Barela couldn't "wag your finger on one side and have your hand out on another," in reference to the use by Barela's company of New Mexico's supercomputer and the state's film tax credit program to acquire business.
Heinrich said he didn't have a problem with those policies, that public/private partnerships are good policy, but that Barela can't "wag your finger on one side and have your hand out on another." 
That last line somes up so many of the matters facing us.
Here we are in our the richest country in the world (supposedly) and in New Mexico. Barela uses this supercomputer for movie graphics, while we need energy research to mention one extreme need that our country could be researching and NM profiting from the research and knowledge weaned from this supercomputer.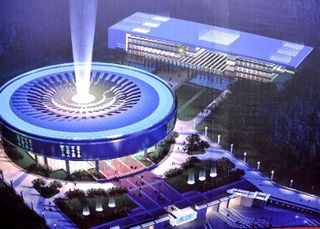 The above image is from Computer World the article is: China breaks ground on futuristic supercomputer complex. China will be using its supercomputing capability for scientific research such as climate models, but also for military purposes
July 12, 2012 at 01:57 PM in Government, Independent Source PAC, Jon Barela, Susana Martinez | Permalink
Comments