« More Netroots Nation 2012 Keynote Speech by Van Jones | Main | Wild Wildfires in Colorado and New Mexico »
Tuesday, June 12, 2012
Pride Blog on HIV by Marshall Martinez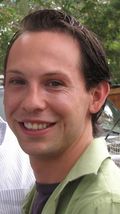 Marshall Martinez is a fairly frequent blogger here at DFNM, and we are grateful. Again Marshall takes his passion to writing and educating us in this Pride Blog post. Thank you Marshall!
"It's time to come together and get to work!"
This was the rallying cry many of us active New Mexico Democrats received in our email inboxes Wednesday Morning of this past week. The primary is over and we must come together, work hard to defeat Mitt Romney, Heather Wilson and Janice Arnold-Jones etc.
At the same time, to those of us who are GLBT, The beginning of June means something else entirely! "Pride is about Unity" "Pride is about Community!" "Pride is about being comfortable, safe, expressing love, being who we truly are!" And these statements are all true. I, for one, love Pride Month!
But over the last couple of years, I have seen a darkening cloud over both of these exciting sets of events. As a lifelong active Democrat who enjoyed the coming together of the party after a primary, and as a relatively Young Gay Man who enjoyed the party and the excitement and the feeling of welcome-ness of Pride, My mind often wonders now, about something that seems to be left out of the discussions.
It is estimated that more than One Million people are living with HIV/AIDS in the United States today. Almost 35,000 new infections are diagnosed every year since 2005.
Why do I bring this up now? Why do I constantly bang this drum? Because not enough other people are!
The story may be different in other parts of the country, certainly in larger cities. But in Albuquerque, NM, we are behind the game, and we need to step it up!
The conversation about condoms and abstinence has been going on for a couple of decades in the US. And though we definitely could setup up our programs in Public Schools nationwide, it doesn't seem to be as effective as we thought it would be in slowing the number of new infections. So what's next?
The year is 2012. And unless the world really ends in December, (or August) we need to be rethinking our messaging and our approach to HIV Prevention. Arguments have been happening nationwide about offering a drug currently used for treatment of HIV, to people possibly exposed to HIV. The arguments have included the notion that this will allow people to be more reckless about their sexual activity, knowing there is a pill they can take. (By the Way - The same argument made about the morning-after pill, and other forms of contraception in the past) Maybe we should be talking about Risk Assessment and Harm Reduction not "prevention." Maybe we should acknowledge that people like to have sex without condoms, and regardless of how irresponsible we may think it is as advocates, talk to them about other steps they can take to protect themselves. Maybe its time to have different conversations at PRIDE, and other venues. Let's talk about how to discuss Viral Load, and its implications on risk; or about the use of lubricant and, other tools to help reduce risk of sex without a condom.
Maybe we should work harder to take the stigma out of the statement "I'm HIV Positive." I have too many friends, loved ones, who do not reveal their status to potential partners, or friends and family even, because of all the baggage that goes along with that. Maybe if we started teaching gay men especially how to react with compassion rather than disgust when they hear that, then maybe we can start to open those lines of dialogue and allow people to feel more comfortable discussing the risks.
I don't know the answers; I don't know what direction we should take. But I know we have to come together to make a change. In this highly charged political atmosphere for Republicans and Democrats, in this time of celebration and memorials for a Queer community, we have to find a new approach to a problem that has plagued us for far too long. I propose that the first step is to put aside our ideologies about treatments, about messages, about methods, and become more willing to discuss all options. Only with the widest of approaches and most open of minds can we truly defeat HIV. Remember, as I have sad before, this is our Sons and Daughters, our Brothers and Sisters we are talking about. Don't they deserve some new energy and effort on their behalf? Yes, yes they do.
June 12, 2012 at 11:02 AM in AIDS/HIV, GLBT Rights, Guest Blogger, Healthcare | Permalink
Comments