« May 2012 | Main | July 2012 »
Wednesday, June 20, 2012
Senators Bingaman and Udall Stand Up for Public Health, Vote Against Toxic Legislation
The following is from the Sierra Club; Shrayas Jatkar, Organizing Representative
New Mexico Groups Thankful that Senate Decided to Affirm EPA Mercury and Air Toxics Standard
Today, June 20, 2012, Senators Jeff Bingaman and Tom Udall stood up for the health of New Mexico' children, seniors, pregnant women, and other vulnerable populations by voting against Senator James Inhofe's dangerous legislation that sought to overturn the Environmental Protection Agency's (EPA) recently-finalized Mercury & Air Toxics Standard for power plants. Thanks in part to Senators Bingaman and Udall, the Senate rejected the measure. Had it passed, Senator Inhofe's legislation would not only bar the implementation of these new safeguards, but would also prevent the EPA from ever issuing similar standards to protect New Mexico families and communities from toxic mercury in the future.
Mercury is a potent brain poison that threatens prenatal babies and young children, and is linked to severe learning disabilities, developmental problems, and lower IQ. Today's vote on Senator James Inhofe's CRA resolution, which was introduced two months ago, means that New Mexico children, seniors, families, and communities – particularly on the Navajo Nation – will continue to be protected from the harmful amounts of mercury, arsenic, acid gases and other toxics that pour out of dirty power plants. The Four Corners Power Plant near Farmington ranks among the worst coal-fired power plants in the nation for high levels of mercury emissions.
"By defeating this cynical measure, Senator Inhofe and his supporters failed to kill the EPA mercury and air toxic standard, which means thousands of Americans, particularly children, will thankfully continue to be protected under the standard," said Dr. Robert M. Bernstein, an endocrinologist practicing in Santa Fe and President of the Physicians for Social Responsibility-New Mexico.
According to the EPA, the mercury and air toxics standard will save as many as 11,000 lives, prevent as many as 130,000 asthma attacks among children, and prevent as many as 4,700 heart attacks each year. In New Mexico, the new standard will prevent up to 24 premature deaths while creating up to $200 million in health benefits in 2016.
"I believe today's Senate vote is a big victory for New Mexicans, and puts the health and welfare of our children and our communities ahead of polluter profits," said Shrayas Jatkar with the Sierra Club in Albuquerque. Senators Jeff Bingaman and Tom Udall should be commended for putting our children's health first."
Additionally, these protections make economic sense – for every dollar spent cleaning up dirty power plants, Americans are estimated to receive between $3 and $9 in health benefits in return. In total, that means as much as $90 billion in savings on health care costs each year.
"America should be at the forefront of public health and environmental protections, not subjected to polluters and their allies in Congress attempting to overturn landmark toxic safeguards," said Sanders Moore with Environment New Mexico. "Thankfully, Senators Bingaman and Udall and the majority of the U.S. Senate stood with the American people and voted in favor of clean air and healthy families."
June 20, 2012 at 06:47 PM in Environment, Sen. Jeff Bingaman, Sen. Tom Udall | Permalink | Comments (0)
06/30: HEALTH CARE FORUM Understanding the Patient Protection and Affordable Care Act
HEALTH CARE FORUM; Understanding the Patient Protection and Affordable Care Act
WHEN: Saturday, June 30, 2-4 PM
WHERE: First Unitarian Church, 3701 Carlisle NE
Purpose: The Forum is intended to increase understanding of the Affordable Care Act. Our health care system continues to struggle! We have 50 million people without health insurance. As a nation, we pay more for our health care than other country, and have less to show for it. The Patient Protection and Affordable Care Act emerged as a serious attempt to respond to our challenges. Because of its complexity, most people do not fully understand it. However, it is of critical importance that we all comprehend and be able to utilize new directions.
Format: Four speakers with expertise in various areas of the new health program will summarize their areas, followed by an hour of questions. The speakers are: Dan Derksen, M.D. (Workforce Issues), Nandini Kuehn, Ph.D. (Health Economics), Derrick Nelson, M.D. (Rural Health Care), and State Senator Jerry Ortiz y Pino (Public/Private Interface).
Questions: will be submitted in writing, either in advance or on cards available during the Forum. References to readily available information will be provided.
Sponsorship: The Forum is sponsored by Progressive Democrats of America, Central New Mexico Chapter in collaboration with other organizations (List available at the Forum)
THE IMPORTANCE OF DISCUSSING THE PATIENT PROTECTION AND AFFORDABLE CARE ACT
A health care forum will be held June 30, 2-4 PM at the First Unitarian Church on Carlisle and Commanche, focused on the Patient Protection and Affordable Care Act(ACA). While the Supreme Court may act before that date, it is likely that much of the Act will remain intact if not the whole. It is of great importance that we all understand the Act in as much detail as we can, for the following reasons:
1] The ACA is, at present, the law of the land
2] While maintaining the health insurance industry largely unaffected, it contains a myriad of very positive components
3] It represents a meaningful step towards universal health coverage
Some of the very positive sections of the ACA deal with:
1] Preventive practices focused on legitimate and reachable goals
2] Improving access to primary health care services, in rural and urban settings
3] Improve the ratio of primary care providers to specialists
4] Using technology to improve communication between health care resources and patients
5] Enhancement of the effort to use evidence-based medical practice and procedures
6] Channeling and conserving medical technological devices
7] Leveling the playing field in terms of coverage by health insurance companies
8] Deny exclusion of patients with pre-existent illnesses
9] And many other sections
The Forum is being sponsored by Progressive Democrats of America, Central New Mexico Chapter, as a public service.
June 20, 2012 at 03:56 PM in Events, Healthcare, Jerry Ortiz y Pino, Progressivism | Permalink | Comments (0)
Senator Bingaman Honored for Conservation Leadership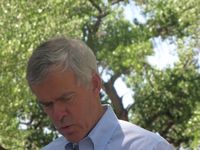 Conservation Lands Foundation Bestows Highest Honor on U.S. Senator
DC (June 18, 2012) - U.S. Senator Jeff Bingaman (D-NM) received the Stewart Udall Award from the Conservation Lands Foundation for his leadership on public lands issues, particularly for his role in spearheading the Omnibus Public Lands Management Act of 2009. This bill protected over 2 million acres of public land and made permanent the National Conservation Lands, the Bureau of Land Management's system of protected public lands.
"Throughout his career, Senator Bingaman's persistence and dedication have played an important role in protecting our natural and cultural heritage for future generations," said Bruce Babbitt, former Secretary of the Interior, and member of the board of the Conservation Lands Foundation. "His leadership in the Senate has resulted in the protection of millions of acres of pristine wilderness, scenic areas and historic treasures."
"As Chairman of the Senate Energy and Natural Resources Committee, Sen. Bingaman has consistently highlighted the importance of protecting some of our most special places, both in New Mexico and around the country," said Richard Moe, board member of the Conservation Lands Foundation and Santa Fe resident. "It is fitting that he should receive the highest honor from the Conservation Lands Foundation, as his efforts in Congress embody the leadership that Stewart Udall displayed in protecting America's natural, historic and cultural resources."
Sen. Bingaman has served in the Senate since 1983 and has been the chair and ranking member of the Energy and Natural Resources Committee since 1999. He helped secure the passage of the Ojito Wilderness Act, which protected a phenomenal landscape in New Mexico and designated the first new wilderness area in the state in 15 years.
He also sponsored the National Landscape Conservation System Act, which passed as part of the Omnibus Public Lands Management Act of 2009. The package established the Prehistoric Trackways National Monument, which protects 290 million-year old fossilized animal tracks in the Robledo Mountains in Doña Ana County and the Fort Stanton-Snowy River Cave National Conservation Area (NCA), a one-of-a-kind geological treasure in Lincoln County. The bill was an historic success for BLM public lands, creating or expanding over two dozen wilderness areas, monuments and NCAs managed by the BLM in six states and codifying the National Conservation Lands, which protects nationally significant landscapes for current and future generations because of their outstanding cultural, ecological and scientific importance.
The award that Bingaman received is named for former Secretary of the Interior, Stewart Udall, who was a tireless advocate for safeguarding the nation's natural heritage. Prior winners of the Stewart Udall Award include former Senate Majority Harry Reid (D-NV) and retired BLM California State Director Ed Hasty.
The Conservation Lands Foundation (CLF) is the only organization dedicated solely to conserving the 27 million acres included in the National Conservation Lands. Our mission is to protect, restore and expand the National Conservation Lands through education, advocacy and partnerships.
June 20, 2012 at 12:22 PM in Environment, Sen. Jeff Bingaman | Permalink | Comments (0)
McCleskey and Martinez Should Come Clean to the Voters: Guest Blog by Eli Lee
Following is a guest blog by Eli Yong Lee, Consultant, Albuquerque, NM.
New Mexico's primary election is over, and what a bruising season it was.
From my days as a political consultant and as the former Executive Director of the Center for Civic Policy, I am no stranger to giving and receiving attacks. I believe strongly in the right of any nonprofit to highlight the wrongdoings and achievements of elected officials. Similarly, I believe in the right of candidates and political committees to point out differences and make one's best case for why a candidate should be elected or defeated.
However, I believe it is essential that everyone play by the rules. That is where Governor Susana Martinez and her campaign operative, Jay McCleskey, may have done a tremendous disservice to the voters.
The Center for Civic Policy and I were involved in a series of court cases against New Mexico's Attorney General about the right of nonprofit organizations to hold elected officials accountable for their voting records. The Center meticulously followed the state and federal rules of civic engagement for nonprofits. A New Mexico district court judge, New Mexico's Court of Appeals, and the federal courts agreed that our actions were in full compliance with state and federal law. Many disagreed with our approach, but the indisputable fact is that we followed the rules.
Last month, McCleskey and Martinez created a new political action committee with an innocuous-sounding name: the Reform New Mexico Now PAC. This PAC is run by McCleskey and shares an office with Susana PAC office.
Reform New Mexico Now quickly raised $205,000, primarily from two of Governor Martinez's largest campaign donors – the Chase Oil Corporation with a $130,000 contribution and the Mack Energy Corporation with a $50,000 contribution.
McCleskey originally reported these contributions as received on April 24th. If true, then McCleskey failed to report these contributions to the State on May 14th, when all other candidates and political committees were required to do so. Further, McCleskey did not report the existence of his PAC until May 29th, when state law requires filing as a political committee within ten days of raising or spending $500. If those contributions did arrive on April 24th, then McCleskey and Martinez's PAC would have violated state law.
After several media reports, Reform New Mexico Now filed an amended report on June 2, changing the dates of these contributions – and three other contributions – to late May. McCleskey's PAC stated, "There was a typo in the initial report filed with the Secretary of State by listing all contributions as 4/24/12….We were instructed on how to file an amended report and did so. The Secretary of State's office has informed us that we are in total compliance with the law."
McCleskey and Martinez's PAC spent over $100,000 in last minute attack efforts via mailers and radio ads during the final weekend of the Democratic Primary election.
Governor Martinez and Jay McCleskey have the right to criticize candidates with whom they disagree, and even to set up a front group so that the attack seems to be coming from someone other than Governor Martinez. Both activities are well within the rules. But Governor Martinez and McCleskey do not have the right to hide PAC information from the voters, as required by law. Their actions are a slap in the face to all voters. We all have to play by the rules, no matter one's political persuasion.
Several candidates have filed ethics complaints and the Secretary of State has opened an official investigation into the McCleskey/Martinez PAC. McCleskey and Martinez have until June 21 to answer the charges. The Attorney General should act even more quickly and demand notarized copies of all bank statements from Wells Fargo, Reform New Mexico Now's bank, to find out what the truth is, rather than simply taking McCleskey's word for it.
The voters deserve to know that everyone – even Governor Martinez and Jay McCleskey– have to play by the rules.
June 20, 2012 at 07:46 AM in Ethics & Campaign Reform, Guest Blogger, Susana Martinez | Permalink | Comments (1)
Tuesday, June 19, 2012
Luján Bill to Strengthen Santa Fe Indian School Passes in the U.S. House
Congressman Ben Ray Luján of New Mexico's Third District spoke on the House floor today in support of H.R. 1556, his legislation to encourage educational sovereignty by providing Santa Fe Indian School with the tools to generate income for its own academic and cultural programs. The bill passed the House with unanimous support and will now move to the Senate to await further action. Below are Luján remarks as prepared. Click below to watch his speech.
"Mr. Speaker, I would like to thank Chairman Hastings, Chairman Young, Ranking Member Markey, and Ranking Member Boren for working with me in the Natural Resources Committee to help address the many issues impacting Indian Country and the tribes I represent in New Mexico.
"I also want to recognize the hard work of the Superintendent of Santa Fe Indian School and Former Governor of Kewa Pueblo, Everett Chavez, and former AIPC President and former NCAI President Joe Garcia on this bill. They worked with the Pueblos and the All Indian Pueblo Council to support this legislation which will help Santa Fe Indian School and New Mexico's 19 Pueblo's achieve educational sovereignty for Native American students across New Mexico.
"Santa Fe Indian School and the 19 Pueblos approached my office early last year seeking the introduction of a technical change to the Omnibus Indian Advancement Act to allow certain lands designated to the school to be used to generate income to provide funding for academic and cultural programs at the Indian School. Knowing the importance of what Santa Fe Indian School provides to Native American students in New Mexico, I was very interested in this approach to move toward true financial independence and educational sovereignty for Santa Fe Indian School and its students.
"I want to point out the importance of sovereignty and what it means for our tribal brothers and sisters to be able to provide a quality education for their own children. Education is truly empowering – especially when Native American students are able to get an education that embraces their cultural and traditional identities – and that is the type of education Santa Fe Indian School provides.
"I worked with Superintendent Chavez and Santa Fe Indian School to draft a bill that would make a technical amendment to allow the school to explore economic opportunities so that students at the Indian School can attain the best possible education and to be able to support their mission.
"Santa Fe Indian School provides a challenging, stimulating, and nurturing learning environment that shares educational responsibility with Native communities, parents, and students to develop the students' true potential to meet obligations to themselves and their tribal communities.
"In this time of financial uncertainty and the limitations of the federal government to assist in federal education programs, it is important to give Santa Fe Indian School the tools they need to help their students receive a quality education regardless of the political and financial climate in Washington. H.R. 1556 would achieve that goal.
"I am proud to be able to assist Santa Fe Indian School in amending the Omnibus Indian Advancement Act to allow the school to achieve new heights in educating Native American students. This technical amendment will help make Santa Fe Indian School more self sufficient and create greater opportunities for students attending the Indian School by ensuring the financial capability to maintain and expand the level of academic and cultural education for Native American students.
"This is a common-sense amendment that will help Native Americans students in New Mexico and I urge the support of my colleagues, and I thank the Chairman for his support as well."
June 19, 2012 at 07:40 PM in Education, Native Americans, Rep. Ben Ray Lujan (NM-03), Santa Fe, video | Permalink | Comments (1)
Monday, June 18, 2012
Ready for the Next Step of this Journey
Ready for the next step of this journey from Michelle Lujan Grisham's campaign for Congessional District 1.
It was because of your support and your votes that I have the honor and privilege of being your Democratic nominee for New Mexico's First Congressional District. I was considered the third-place candidate in what, last March, was being called a 2-man race, but our message rang true with voters. I had two formidable candidates who want the best for New Mexico, but, I believe my history of advocacy, of doing what is right for others - whatever the political climate - made the difference in this election.
Now, we have a new challenge: beating the Republican hopeful for this Congressional seat. Make no mistake, Janice Arnold-Jones and the GOP will be tough opponents. I will continue to need your strong support throughout this race. This is a watershed moment for America - one where we could be faced with an empowered Republican Party fulfilling their agenda of dismantling Social Security, Medicare and Medicaid, and creating even more roadblocks for Americans trying to live the American Dream.
Working together, we can create a renewed strength - one where we develop an even stronger country based on compassion, shared sacrifices and shared opportunities., and a country where we put people first. I will be asking for your time, your votes and your donations over the next few months, and, in turn, I pledge to work tirelessly for you and for New Mexico.
Meet our Summer Interns

Leilei, Hannah, Christina, Addie and Jane
We've been fortunate to bring on board five exceptional young women to help with our campaign this summer.
Leilei, from the Sichuan province of China, was an exchange student at UNM this last year. Her interest is in international relations and working at our office is her opportunity to learn about how the American political system works. She has been impressed with how Michelle engages with people, noting that, in China, politicians seldom interact with the public.
Christina is from Albuquerque and is a Sophomore at UNM majoring in Journalism and Mass Communications. She wanted to find an internship in the political field, and wanted to work for someone she could believe in. She put together a Thank-You video for us after the election.
Jane, a graduate of Eldorado High School, is now a Junior at Whitman College majoring in Politics. Jane was attracted to Michelle because of where she stands on the issues. Her mother is a nurse so she understands well the the challenges facing our healthcare system and is impressed with Michelle history of getting things done.
Hannah and Addie are friends entering their Senior years at Eldorado High School. Michelle met them at an announcement party for MaryEllen Broderick. Democratic Candidate for State House District 30. Hannah is interested in public relations, and Addie brings an unbounded energy to do whatever task is asked of her.
June 18, 2012 at 07:01 PM in Candidates & Races, Michelle Lujan Grisham, NM-01 Congressional Race 2012 | Permalink | Comments (3)
Resolution to Amend the U.S. Constitution and Reverse the Supreme Court's Citizens United Decision debated at the Albuquerque City Council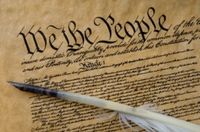 Tonight the Albuquerque City Council will debate City Councilor Rey Garduno's resolution calling on the U.S. Congress to pass a constitutional amendment to reverse the U.S. Supreme Court's controversial decision in Citizens United v. the Federal Elections Commission.
A sharply divided Supreme Court decided that the American people are powerless to stop corporations from using corporate funds to influence state and federal elections. The 5-4 decision ruled that the restrictions on corporate expenditures in elections contained in the federal Bipartisan Campaign Reform Act (known as "McCain-Feingold") violated the First Amendment protections of free speech.
The ruling dramatically expands the new "corporate rights" doctrine that has transformed the First Amendment in recent years, reduces transparency and exposes our elections to a new flow of billions of dollars of corporate money. The Citizens United ruling has already resulted in an explosion of unlimited, and often undisclosed, Super PAC spending, as we have seen in the current New Mexico state legislative races, as well as in the Republican presidential nominating process.
The Court's action seriously threatens to overwhelm the voice and vote of individual American citizens. The decision unleashes a torrent of corporate money in our elections and reduces transparency in political advertising. It has invalidated state laws and even state Constitutional provisions separating corporate money from elections; And, along with the Supreme Court's ruling that money equals speech, it grants excessive power to corporate interests.
Advocate Viki Harrison of Common Cause New Mexico praised the resolution as "a definitive statement of the City of Albuquerque's intent to correct the egregiously wrong Citizens United decision that allowed wealthy individuals and corporations to spend millions on electing politicians in hopes they will do their bidding." And LeMoyne Castle of Albuquerque Move to Amend says the "City Council resolution makes it clear that money is just an amplifier of speech and that granting human rights to corporations inevitably violates the principle of equal protection."
79% of Americans support passage of an amendment to overturn the Citizens United ruling, showing that this issue truly transcends political ideology. According to the 2010 Hart Research survey, 82% of Independent voters, 68% of Republican voters and 87% of Democratic voters support a constitutional amendment to overturn the ruling. Additionally, John McCain has called this the "worst decision in this Supreme Court's history."
June 18, 2012 at 02:17 PM in Citizens United, City of Albuquerque, Corporatism | Permalink | Comments (0)
Saturday, June 16, 2012
Luján Recognizes Local Efforts to Call for an End to Corporate Influence in the Electoral Process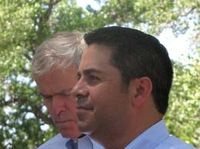 Congressman Ben Ray Luján of New Mexico's Third District recognized efforts of local governments to call for the end to corporate influence in the electoral process. With localities nationwide this week highlighting resolutions calling for a constitutional amendment to overturn the U.S. Supreme Court's Citizens United v. Federal Election Commission ruling, Luján applauded the efforts of the cities of Santa Fe and Taos.
Earlier this year, the City of Santa Fe and the Town of Taos passed resolutions expressing strong opposition to the Citizen United decision and urging Congress to take action to reduce the influence of corporate money in the democratic process. The City of Albuquerque is expected to have a similar resolution on the agenda on Monday, June 18.
"Citizens United has opened the floodgates for special-interest corporate money that seeks to influence elections and drown out the voices of the American people. Third party groups can spend unlimited amounts of money and hide their donors to prevent the American people from finding the truth behind where their money comes from," Congressman Luján said. "I welcome the efforts of local communities around the country, especially those in New Mexico, that are standing up this week to call for action that removes corporate influence in our elections and reaffirms the bedrock principles of our democracy by giving voice back to the people. It is time to restore accountability and transparency, which are so vital to the electoral process, and take steps to get corporate money out of politics."
Luján is cosponsoring legislation to amend the Constitution to overturn the decision in Citizens United. He has signed onto the House version of legislation introduced by Senator Tom Udall in the Senate. Luján has also cosponsored the DISCLOSE Act, which increases transparency by: enhancing public reporting of campaign-related activity by corporations and other outside groups; requiring corporations and other outside groups to stand by their ads; requiring corporations and other outside groups to disclose campaign-related spending to shareholders; and requiring lobbyists to disclose campaign-related expenditures in conjunction with their lobbying activities.
June 16, 2012 at 01:00 PM in Citizens United, Corporatism, Rep. Ben Ray Lujan (NM-03), U.S. Constitution | Permalink | Comments (3)
NM AG King Asked To Investigate PED'S Larry Behren's Email to Political Director Jay McCleskey
Using our tax dollars Governor Susana Martinez uses her senior administrative staff in the Public Education Dept. as her own private work force for political gain in the state. Or she is using her political office and our public workers to push her political agenda of busting unions, and blaming teachers and dividing teachers, or worse things like blackmailing the teachers for their own job protection. Anything can be fair game for our Governor Martinez, after all we saw her go after her own Repub. Legislators who did not agree with her fully. So one could expect the same kind of strong arming will go on with the already battered down teachers across the state.
Bear in mind this all comes from a Governor who ran on no corruption and restoring trust in the state government. Attorney General King should pick this matter up and dig into it, there is no automatic entitlement for any elected officials at any level.
ISPAC has broke and researched much of this story, Steve Terrell of the Santa Fe New Mexican was the first to pick it up, read Steve's article here.
Press release below from the Senate Democrats.
Senate Rules Committee Chairman Linda M. Lopez and House Education Committee Chairman Rick Miera have asked Attorney General Gary King to open an investigation into possible violations of the New Mexico Government Conduct Act by high government officials, including the Governor and her top political advisor. The request is in response to an email sent from Public Education Department (PED) spokesman Larry Behren's private e-mail account to Governor Susana Martinez' Political Director Jay McCleskey. The e-mail was also sent to the Governor's Chief of Staff Keith Gardner and her spokesman Scott Darnell, using their private email accounts at the Governor's Political Action Committee, and copied to PED Secretary designate Hanna Skandera and her Chief of Staff, also on their private e-mail accounts. According to the e-mail, and reports in the Santa Fe New Mexican and Albuquerque Journal, PED's Information Technology Division and budget staff compiled a list of all New Mexico teachers that contained their e-mail accounts, a list of which school districts have union contracts, and another list of nonunion teachers' emails.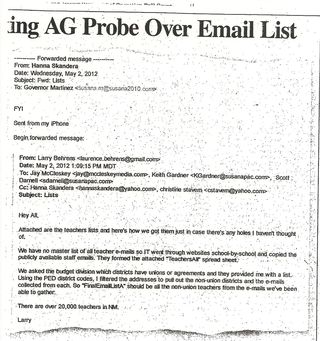 Email above from Behren to McCleskey
"It is very clear from this e-mail that government employees were ordered to spend their time and state tax dollars on behalf of the Governor's private political consultant," said Senate Rules Committee Chairman Linda M. Lopez. "Use of government resources for political purposes is strictly forbidden under the Government Conduct Act."
"Today we are asking the Attorney General to investigate violations of state law by what can only be described as a Who's Who of New Mexico's most powerful government officials," said House Education Committee Chairman Rick Miera. "The Governor's creation of a list of union teachers versus non-union teachers, using state resources, is a divisive act that will create discord among our state educators at a time when we should all be working together to improve our educational system."
"There is no doubt in my mind," said Senator Lopez, "that these data bases developed by PED employees is intended for the Republican Super PACs, who will use them to anonymously inundate our hardworking educators' school e-mail accounts with mountains of ugly political spam. We are further asking that Governor Martinez direct her Political Manager to immediately put a halt to this activity."
Attached is the letter that was sent to Attorney General King.
June 16, 2012 at 06:53 AM in Linda Lopez, Susana Martinez, Transparency, Unions | Permalink | Comments (1)
Friday, June 15, 2012
DREAM Act Realized Finally for Some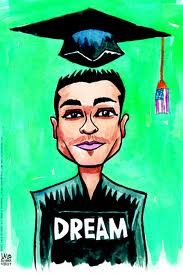 Image to the right is from Lalo Alcaraz; artist, cartoonist, writer.
The DREAM Act (Development, Relief, and Education for Alien Minors) is an American legislative proposal first introduced in the Senate on August 1, 2001. To read the history of the DREAM Act please see this wikipedia link.
This new direction will affect nearly 800,000 humans who live with fear of deportation from the US. In 2011 ICE deported 396,906 people and is exceeding that record high this year. While researching how many young immigrants have been deported since 2008 I came across this website; We Dream, We act with this article Undocumented Youth Sit-In at OFA Denver Office. Their demand was finally heard: "We need the strength of an executive order to stop our deportations. Prosecutorial discretion has not stopped them."
Thank God for elections so some of these injustices can be acted on finally. Obama is addressing the National Association of Latino Elected and Appointed Officials' annual conference next week. The hispanic/latino vote is critical to Obama's re-election. For whatever reason the President's administration decided to act on this sensible legislation and pass an executive order, he is to be commended. Just imagine the joy running through so many hearts today that their DREAM now can be realized.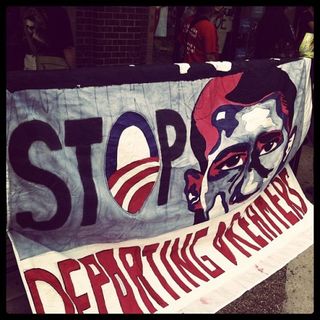 Image above from We Dream We Act by J. Valas
Below is the press release from the DHS:
Secretary of Homeland Security Janet Napolitano today announced that effective immediately, certain young people who were brought to the United States as young children,  do not present a risk to national security or public safety, and meet several key criteria will be considered for relief from removal from the country or from entering into removal proceedings. Those who demonstrate that they meet the criteria will be eligible to receive deferred action for a period of two years, subject to renewal, and will be eligible to apply for work authorization.
"Our nation's immigration laws must be enforced in a firm and sensible manner," said Secretary Napolitano. "But they are not designed to be blindly enforced without consideration given to the individual circumstances of each case. Nor are they designed to remove productive young people to countries where they may not have lived or even speak the language. Discretion, which is used in so many other areas, is especially justified here."
DHS continues to focus its enforcement resources on the removal of individuals who pose a national security or public safety risk, including immigrants convicted of crimes, violent criminals, felons, and repeat immigration law offenders. Today's action further enhances the Department's ability to focus on these priority removals.
Under this directive, individuals who demonstrate that they meet the following criteria will be eligible for an exercise of discretion, specifically deferred action, on a case-by-case basis:
1.)    Came to the United States under the age of sixteen;
2.)    Have continuously resided in the United States for a least five years preceding the date of this memorandum and are present in the United States on the date of this memorandum;
3.)    Are currently in school, have graduated from high school, have obtained a general education
development certificate, or are honorably discharged veterans of the Coast Guard or Armed Forces of the United States;
4.)    Have not been convicted of a felony offense, a significant misdemeanor offense, multiple misdemeanor offenses, or otherwise pose a threat to national security or public safety;
5.)    Are not above the age of thirty.
Only those individuals who can prove through verifiable documentation that they meet these criteria will be eligible for deferred action.  Individuals will not be eligible if they are not currently in the United States and cannot prove that they have been physically present in the United States for a period of not less than 5 years immediately preceding today's date.  Deferred action requests are decided on a case-by-case basis.  DHS cannot provide any assurance that all such requests will be granted. The use of prosecutorial discretion confers no substantive right, immigration status, or pathway to citizenship. Only the Congress, acting through its legislative authority, can confer these rights.
June 15, 2012 at 12:01 PM in Civil Liberties, Hispanic Issues, Human Rights, Immigration, Obama Administration | Permalink | Comments (0)
Thursday, June 14, 2012
Advertisement Falsely Accused Organizations of Illegal Activities
Legal counsel representing New Mexico's Center for Civic Policy (CCP) and the SouthWest Organizing Project (SWOP), two non-profit nonpartisan civic engagement organizations, sent letters to Senator Phil Griego and the Albuquerque Journal calling for a public apology and retraction of a defamatory advertisement.
The advertisement, paid for by the Committee to Elect Phil Griego, ran in the Albuquerque Journal North on Saturday, June 2nd, 2012 and falsely accused both organizations of illegally funding the work of the campaign of Senator Phil Griego's opponent in the June primary election. See ad here Journal North P. Griego Ad
"The blatantly false allegations made by Phil Griego's campaign are unacceptable. To accuse us of these kinds of illegal electoral activities is malicious and requires public correction," said Stephanie Maez-Gibson, CEO of the Center for Civic Policy. "Our organizations have extensive track records of non-partisan civic engagement. This is an example of Senator Griego's apparent intent to obstruct and retaliate against our efforts to educate New Mexicans on important legislative issues.
Phil Griego's half-page advertisement dishonestly alleged that CCP and SWOP secretly paid the campaign manager of one of Griego's opponents in the June election. Those flagrant falsehoods contain serious charges, implying that CCP and SWOP have been engaged in criminal conduct. The actual facts in the matters concerned, which contradict those charges, could have been easily obtained and verified by both Griego and the Albuquerque Journal.
"Our history of non-partisan civic engagement year in and year out, including directly communicating to the public about voting records of public officials, is well established." said Bineshi Albert, Co-Director of the SouthWest Organizing Project. "To see an ad like this that attempts to paint our non-partisan work as electioneering strikes us as a low-blow, especially in light of the media's extensive coverage of the recent 10th Circuit Court ruling that established irrefutably our right to such free speech."
With regard to the Albuquerque Journal's role in the matter, both organizations are inquiring about the newspaper's process for fact-checking the material that it publishes. In this instance, it is particularly troubling that the Journal appeared to have run these ads without verifying the truth or falsity of these accusations, given that the Journal is well aware of the free speech protections that have been accorded to the civic engagement work of CCP and SWOP.
As recently as April 13th of this year, an article in the Journal recognized the 10th Circuit District Court affirmation of the organizations' free speech right to engage New Mexicans in the public policy process – a piece of reporting that effectively refuted previous false accusations that the work instead was a prohibited form of "express advocacy." Electioneering, or coordinating with any campaign, would jeopardize the non-profit statuses of each organization. Conspiring to hide campaign donations would also subject them to various criminal penalties.
June 14, 2012 at 09:10 AM in 2012 Legislature Races, Legal Issues, Political Ads | Permalink | Comments (0)
Wednesday, June 13, 2012
New Mexico In Depth, a New Organization Receives Kellogg Foundation Grant
Great news for New Mexico; a new organization will focus on public-interest journalism in N.M.
As some of you may know DFNM received a DFA/NN scholarship to attend the Netroots Nation where many online journalists of all sorts gather to share ideas of what works and does not work. DFNM attended with the specific interest of finding out how current online media earn revenue. How are others doing this work of getting important information out to citizens being able to make ends meet? Basically the answers were not very promising.
Then there is this fabulous news this morning!
"The W. K. Kellogg Foundation has awarded $525,000 to New Mexico In Depth, a new organization whose goal is to foster, promote and publish journalism in the public interest."
Two veteran journalists – Trip Jennings and Heath Haussamen –will lead New Mexico In Depth as it produces its own investigative reports and forges partnerships with existing media outlets around New Mexico in a bid to nurture a culture of ambitious journalism that tackles big questions and complex issues. Our focuses will include education, poverty, health and politics.
Jennings will serve as executive director and Haussamen will serve as deputy director. The two-year funding commitment from the Kellogg Foundation means New Mexico In Depth will begin publishing later this year. NewMexico In Depth is also funded in part by the McCune Charitable Foundation.
Jennings is an award-winning veteran journalist who has worked at newspapers across the nation, including in California, and Georgia. Besides working at the Albuquerque Journal and Santa Fe NewMexican, Jennings was part of a team that started the New Mexico Independent, an influential online newspaper.
Haussamen, a former award-winning newspaper reporter who worked with Jennings at the Independent, is the editor and publisher of the political news website NMPolitics.net. He plans to continue operating NMPolitics.net while working with New Mexico In Depth.
"We are inspired by Kellogg's belief in the importance of probative journalism that ventures beyond the daily events to seek to explain what it all means to New Mexicans," Jennings said.
"We're excited by the potential New Mexico In Depth has to foster a stronger journalistic culture in our state," Haussamen said. "We're thrilled to be able to devote time and resources to building partnerships that make that a reality."
This is such exciting news for New Mexico. Heath Haussamen NMpolitics.net has a great write up on this award. Heath also provided DFNM with the following statement:
"Deep, probative journalism is essential in our democracy, and our media desperately needs help in this area. Just today, The New Orleans Times-Picayune announced 200 layoffs as it struggles to adapt to the new world of Internet publishing. We hope to be part of the solution in New Mexico."
A huge Thank You to Trip Jennings and Heath Haussamen for stepping up for New Mexico's people and going the extra effort to apply for and receive this grant. And a huge Thank You to the Kellogg Foundation for seeing the need for investment in online media in the Land of Enchantment! We in New Mexico need the online media sources to continue to educate the people, bring fresh awareness to complex topics. Remember: Knowledge is power!
June 13, 2012 at 10:45 AM in Journalism, Media | Permalink | Comments (4)