« DREAM Act Realized Finally for Some | Main | Luján Recognizes Local Efforts to Call for an End to Corporate Influence in the Electoral Process »
Saturday, June 16, 2012
NM AG King Asked To Investigate PED'S Larry Behren's Email to Political Director Jay McCleskey
Using our tax dollars Governor Susana Martinez uses her senior administrative staff in the Public Education Dept. as her own private work force for political gain in the state. Or she is using her political office and our public workers to push her political agenda of busting unions, and blaming teachers and dividing teachers, or worse things like blackmailing the teachers for their own job protection. Anything can be fair game for our Governor Martinez, after all we saw her go after her own Repub. Legislators who did not agree with her fully. So one could expect the same kind of strong arming will go on with the already battered down teachers across the state.
Bear in mind this all comes from a Governor who ran on no corruption and restoring trust in the state government. Attorney General King should pick this matter up and dig into it, there is no automatic entitlement for any elected officials at any level.
ISPAC has broke and researched much of this story, Steve Terrell of the Santa Fe New Mexican was the first to pick it up, read Steve's article here.
Press release below from the Senate Democrats.
Senate Rules Committee Chairman Linda M. Lopez and House Education Committee Chairman Rick Miera have asked Attorney General Gary King to open an investigation into possible violations of the New Mexico Government Conduct Act by high government officials, including the Governor and her top political advisor. The request is in response to an email sent from Public Education Department (PED) spokesman Larry Behren's private e-mail account to Governor Susana Martinez' Political Director Jay McCleskey. The e-mail was also sent to the Governor's Chief of Staff Keith Gardner and her spokesman Scott Darnell, using their private email accounts at the Governor's Political Action Committee, and copied to PED Secretary designate Hanna Skandera and her Chief of Staff, also on their private e-mail accounts. According to the e-mail, and reports in the Santa Fe New Mexican and Albuquerque Journal, PED's Information Technology Division and budget staff compiled a list of all New Mexico teachers that contained their e-mail accounts, a list of which school districts have union contracts, and another list of nonunion teachers' emails.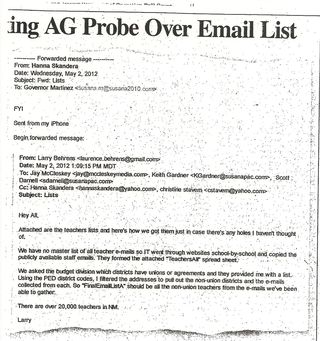 Email above from Behren to McCleskey
"It is very clear from this e-mail that government employees were ordered to spend their time and state tax dollars on behalf of the Governor's private political consultant," said Senate Rules Committee Chairman Linda M. Lopez. "Use of government resources for political purposes is strictly forbidden under the Government Conduct Act."
"Today we are asking the Attorney General to investigate violations of state law by what can only be described as a Who's Who of New Mexico's most powerful government officials," said House Education Committee Chairman Rick Miera. "The Governor's creation of a list of union teachers versus non-union teachers, using state resources, is a divisive act that will create discord among our state educators at a time when we should all be working together to improve our educational system."
"There is no doubt in my mind," said Senator Lopez, "that these data bases developed by PED employees is intended for the Republican Super PACs, who will use them to anonymously inundate our hardworking educators' school e-mail accounts with mountains of ugly political spam. We are further asking that Governor Martinez direct her Political Manager to immediately put a halt to this activity."
Attached is the letter that was sent to Attorney General King.
June 16, 2012 at 06:53 AM in Linda Lopez, Susana Martinez, Transparency, Unions | Permalink
Comments
I agree with Senator Lopez assessment of why the Governor did what she did. Is there no protection for our teachers? I also think this is an abuse of power. The Governor ran on routing out of corruption and bringing transparency of Government. I don't think what has been done is very tranparent. You lead by example. Identifying non-union members from union members to me smacks of McCarthism. Big brother is watching. I don't know at this point if any action will or can be taken against the Governor but I do think she is riding on a very slippery slope. She and her administration, including her Secretary designate Skandera have a very skewed idea of how government operates. Being spied on by your own government would make me ,if I was a teacher look for other employment. But if all teachers left the profession, I believe that is the intent of all republicans so they can privatize public schools and bring back vouchers to create religious schools with only one religion. There is more to this action by Susana than just getting a list. It seems to me it has far reaching consequences. I hope the AG's office takes whatever steps it can to stop this and prosecute if necessary.
Posted by: Stephanie DuBois | Jun 17, 2012 10:49:54 AM