« Gay Marriage; Guest Blog by Bill McCamley | Main | Equal Time with Martha Burk This Saturday »
Thursday, June 07, 2012
Netroots Nation 2012 Day 1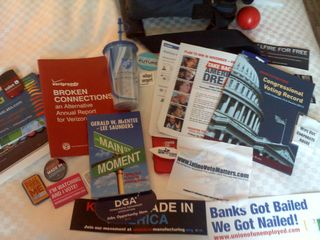 Chum in NN12 goodie bag

Netroots Nation is always one of the most invigorating conventions to attend. This year 2012 in Providence Rhode Island is living up to the other two times that Barb and I came here together. What a wealth of information and dedicated people of all ages, and shapes and sizes. I had forgotten how many in the LGBT community are bloggers too.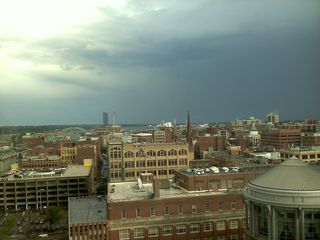 The weather is expectedly damp. 100% humidity and lots of puddles.
I have ran into many old friends which Barb and I have developed over the years as well. Like Joaquin Guerra who married the beautiful Anathea Chino, and Steve Olson who ran Udall's campaign and all the great folks of Democracy for America, and even Markos the creator of the infamous Dailykos.
The panels I have attended have been full of great information. This morning I attended "Taking the Offense in State Elections" perfect for what we have ahead of us in NM, and a panel about winning smarter. Then a great lunch with the other DFA scholars. For the afternoon I attended the Blog Content Bootcamp, and a panel on Marriage Equality Past, Present, and Future.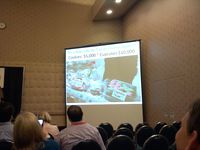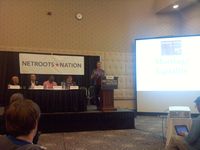 Then this evening we heard from great speakers: Cecile Richards the President of Planned Parenthood, was describing how powerful the netroots was in saving the Planned Parenthood "throw it under the bus attempt by the right wing and Komen" which happened a few months back.
We heard from Bill McKibben the founder of 350.org, telling us about the severity of preventing the Keystone pipeline and other issues. We heard from the Mayor of Providence about the importance of rebuilding cities and economic viability, Tammy Baldwin running for Senate, who would be the first open lesbian in senate if she wins.
We heard from the vice president of the NEA Lily Eskelsen, describing the attack on eductaion and teachers and that whole nightmare. Lastly, we heard from Senator Sheldon Whitehouse atlking about Citizens United among other topics, and then from Eric Schneiderman, New York States Attorney General who is leading the charge on investigating the Wall Street breakdown. Wow huh!?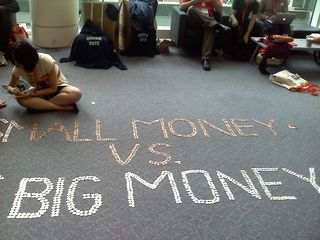 My favorite impromptu art piece, made of pennies and quarters
June 7, 2012 at 09:41 PM in Current Affairs, Netroots Nation | Permalink
Comments
I saw that there would be some kind of disruption or accounting for the lack of funding/action for Schneiderman's committee to investigate bank fraud/foreclosure fraud.
Anything notable?
Posted by: bg | Jun 8, 2012 9:46:37 AM