« Mitt Romney's Decision to Skip a Visit to New Mexico | Main | One Hour til Our NM Primary Polls Close and Live Blog Here After with NMPolitics.net »
Tuesday, June 05, 2012
June 5th; Primary Election Day Voting Information
Today is the long awaited primary election day for New Mexico. In Bernalillo County please click on the following link to find out all about where to Go Vote.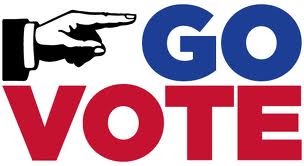 Go to the following link, my voter info; and all you have to do is enter your name and date of birth and you can find all the information you need to know about who your choices are to vote for at your registered voting address.
The turnout is low, real low, pitifully low. As of the end of early voting we are at a 6% turnout. There are a total of 406,093 registered voters in Bernalillo County and 25,859 have voted.
We spend millions and millions of tax dollars setting up vote centers and monitoring the elections. We go to other sides of the world to supposedly fight for democracy, for people to have the right to vote for their leaders. And this is the best we can do Albuquerque?  GO VOTE! It matters!
June 5, 2012 at 08:00 AM in 2012 Primary Election, Bernalillo County | Permalink
Comments
Those are terrible turnout numbers. I know people feel like big money has ruined our democracy, and it has.
I am still fighting, if democracy is worth dying for, we better show that it matters by getting out to vote.
Posted by: bg | Jun 5, 2012 11:12:23 AM
Willful ignorance. Here it is. The voting process is confusing what with all the precinct and district designations. But, things are better now that you can research the candidates on the internet, given your address, getting a sample ballot and polling place.
Posted by: qofdisks | Jun 5, 2012 4:57:34 PM
Voters need to be informed, to counter the advertising that big money buys. By the way, you can avoid most of it by going to public radio and TV.
One the one hand, you don't need the Internet to find out who to vote for. Organizations and campaigns send mail and bring flyers to your house. Newspapers and other publications interview the candidates and carry information about them and endorsements. In the General elections, the League of Women Voters issues a voter guide in some cities. And you probably know people you trust who follow these things. Of course, you must consider the source.
On the other hand, I'm amazed more internet users don't think to go to the candidate's website, which is easy to find by Googling their name and maybe the office. There you can read what their issues are and who has endorsed them.
Also, you can go to their events, and to candidate forums, live and televised. Sometimes you can submit questions for them. There's nothing like seeing and hearing the candidates for yourself. And you can go to their campaign office and see who's there and how it is run.
If people were willing to invest some of the resources thay now spend on following sports, they might be much better informed voters. And the US's voter turnout wouldn't be one of the worst in the world.
Posted by: Michelle Meaders | Jun 5, 2012 7:14:49 PM