« Eric Griego's Grassroots Campaign is Full Steam Ahead in Closing Days of Race | Main | David Coss Files Ethics Complaint Against Republican Front Group Reform New Mexico Now and Urges Immediate Investigation »
Saturday, June 02, 2012
CD1 Candidate Eric Griego at HQ with PCCC and Volunteers GetOutTheVote
At 10:30 on Saturday morning the parking lot was full and the energy was high down at the Eric Griego for Congress Campaign Headquarters. Lots of volunteers eager and ready to go. It is a very very close race and the winner will be the one who turns out the vote.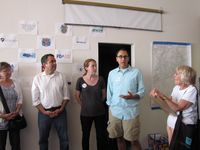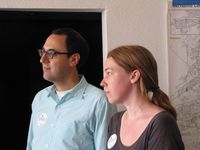 The Progressive Change Campaign Committee (PCCC) was in the house. Putting their feet where their money and mouths are and going door to door for Eric. Stephanie Taylor and Adam Green both co-founders of the PCCC, made statements on behalf of their supporters believe in Eric Griego. Paraphrasing: "Eric is running on holding Wall Street accountable, can a true progressive get elected saying he will not cave to the pressures of the fat cats."
Below is the co-founders of the PCCC introducing Eric Griego and Eric's powerful speech to his volunteers and supporters. Eric gets emotional 3/4 of the way into his speech when he is talking about people on fixed incomes giving $10 to his campaign, because they know he will not mess around with social security and medicare. Ten dollars is alot to people these days and Eric knows that. Also, if you do not have time to watch the whole video; watch from minute 5 to minute 7 most importantly . This is the quintessential Eric Griego " One human being sent to Congress with vertebrae."
 The next video is Abq Councilman Rey Garduno, giving a testimonial to his support to Eric.  
And the next video is the distinguished LaDonna Harris telling us why she believes in Eric at this time for this position.
Last but not least is Lucas Griego telling us to Vote 4 his Daddy!
June 2, 2012 at 01:46 PM in Candidates & Races, Economy, Populism, Environment, Eric Griego, Events, Progressivism | Permalink
Comments
A great morning at the campaign! Go grassroots.
Posted by: bg | Jun 2, 2012 3:12:09 PM
Go Eric! Hope everyone will watch that first video. That's the next Congressman from CD-1. Yeah!!
Posted by: Lora Lucero | Jun 2, 2012 3:45:50 PM
Keep up the good work! We can rest Wednesday. Go out and do more GOTV!
Posted by: Proud Democrat | Jun 3, 2012 11:04:13 AM