« Guest Blog: Please Help Me Defend The House by Representative Brian Egolf | Main | Destination Education Tour with Hector Balderas »
Tuesday, May 22, 2012
Women Speaking to Women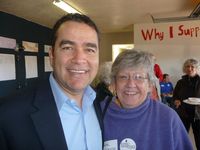 The following post is provided by Contributing writer Lora Lucero.
Eric Griego has the support of many women in the CD-1 race for the US Congress.  I gathered some of my women friends together to speak to our sisters, mothers, and daughters about why this race is so important, and why women support Eric to champion our issues in Washington DC.  Please check out my short video below.
Hear State Senator Dede Feldman share about Eric's determination to stand up for women's rights.  Eric not only supports Roe v. Wade, but also considers women's rights essential to decisions on medical privacy. As a State Senator, Eric stood up to conservative anti-women forces and opposed legislation designed to erode family planning rights, criminalize abortions, and force minor victims of even incest or rape to obtain parental permission before receiving care.
Thanks to Senator Dede Feldman, Representative Mimi Stewart, Marit Tully, Loretta Naranjo Lopez, Barbara Grothus, Melinda Smith and Deborah Marez-Baca for participating in this first video.  More to come in the next few days. 
May 22, 2012 at 02:37 PM in Eric Griego, Lora Lucero, Contributing Writer, NM-01 Congressional Race 2012, Women's Issues | Permalink
Comments