« Growing List of Dem Leaders Join Call for Freedom to Marry Plank in National Democratic Platform | Main | Congressman Heinrich Introduces Password Protection Act of 2012 »
Wednesday, May 09, 2012
President Obama: "Same Sex Couples Should Be able to get Married"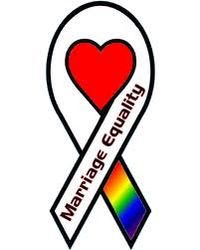 Exciting news for the gays and lesbians today, May 9, 2012. The President of the United States declared that "same sex couples should be able to get married." President Obama made this statement on ABC. ABC has a great write up about the interview and the timeline of Obama evolving acceptance of same sex marriage.
To go right to the video cut and paste this link into your browser: http://news.yahoo.com/video/us-15749625/29242313
"I have to tell you that over the course of several years as I have talked to friends and family and neighbors, when I think about members of my own staff who are in incredibly committed monogamous relationships, same-sex relationships, who are raising kids together; when I think about those soldiers or airmen or marines or sailors who are out there fighting on my behalf and yet feel constrained, even now that 'don't ask, don't tell' is gone, because they are not able to commit themselves in a marriage, at a certain point I've just concluded that for me personally it is important for me to go ahead and affirm that I think same sex couples should be able to get married," Obama told Roberts in an interview to appear on ABC's "Good Morning America" Thursday.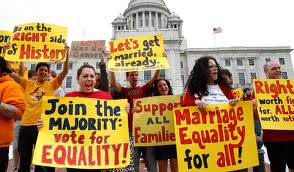 Meanwhile the Republicans remain on the wrong side of history. Republican Romney made this statement today " I do not favor marriage between people of the same gender, and I do not favor civil unions if they are identical to marriage other than by name." Romney made his statement in Colorado. You can see his interview along with video here: http://kdvr.com/2012/05/08/romney-to-speak-on-energy-in-fort-lupton-wednesday/. Also, Huff post has a great article here regarding today's Marriage Equality developments.
After last nights North Carolina vote to write into their constitution that marriage is between a man and woman. This comes as welcome news. Here is a link to another Huff Post article describing the vote which occurred in North Carolina yesterday. It looks like this hateful vote yesterday in NC could have spurred the POTUS on to come out in favor of same sex marriage. So maybe there is a silver lining to this horrible result in North Carolina.
As for me, a lesbian having a committed relationship for 23 years only to have Barb pass away only 4 1/2 short months ago, I feel regret and joy with this historical news. Regret that Barb and I could never marry, regret that we could not share in each others life savings in social security as committed married couples can. Regret that when I picked up my lovers death certificate, it said "Never Married" which is the biggest slap in the face of all, because Barb was the most committed loving protective partner marriage could ever find. Most of all regret Barb is not here to enjoy President Obama's words of acceptance with me.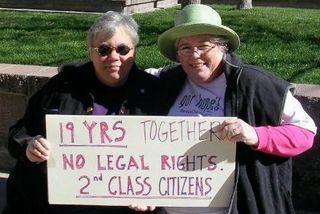 Barb and I: 4 years ago at rally on civic plaza abq protesting against CA Prop 8.
Joy for young lovers and old lovers. Joy that we are one step closer to normalization of our relationships. Joy that the children of these couples are one step closer to being accepted. Joy that gay and lesbian couples know that our President Obama sees us and hears us, acknowledges us. We are accepted as part of the committed to another loving human community.
This truely is a "It gets better" day.
May 9, 2012 at 03:29 PM in Civil Liberties, Democratic Party, GLBT Rights, Human Rights, Obama Administration, Republican Party | Permalink
Comments
This following question is for the LGBT community. Would you choose Griego to carry a same-sex marriage bill in the US House of Representatives? He was not the person who carried the Domestic Partnership Bill in the New Mexico State Senate.

There is a reason he was not chosen. It is because a Senator who is called the tip of the spear angers fellow Senators. When a controversial bill is working its way through the legislative process, the last thing needed is a block of senators who are angry or hate the sponsor. Hate makes people work against a legislator's legislation instead of just voting against it.

More at the following link.
http://griegovskeller.blogspot.com/
Posted by: Ken | May 9, 2012 7:45:53 PM
No, "Ken," it means that different members of a team have different roles. Carrying that bill wasn't Griego's role as a junior senator. Advocating for it? Oh hell yes!
Take your broken record, bogus talking point and say something original for once, you ignorant sock puppet.
I know that's not polite, but I could care less.
Posted by: Proud Democrat | May 9, 2012 9:30:13 PM
Mary Ellen,
I am sorry too that Barb was not here to see and hear the President. I sympathize with your emotions, and the financial implications of your denied relationship. It hurts. Thinking of you... but you are right, eventually for so many people it will be a better day and life. And you and Barb helped pave the way for that in your activism.
Posted by: Cheryl Harris | May 10, 2012 8:57:41 AM
I am happy for all of the people in our country who are a giant step closer to being first class citizens. President Obama is truly a great leader!
Terry Riley
Posted by: Terry Riley | May 10, 2012 9:55:32 AM
This declaration this late in the game is hardly an act of leadership. The Dems have had to drag the president kicking and screaming to this pronouncement.
Still, It's a great thing.
Posted by: qofdisks | May 10, 2012 1:13:02 PM
Ken's statement reminds me of the guy who, no matter what the conversation is about, turns it to talk about his new car.
ME, Barb is probably dancing a jig right now, just like we are. This is a really nice column about a long-awaited development. It isn't law, but it makes it more mainstream. I'd just as soon he hadn't given the states' rights qualifier, but okay: it's a step forward. Someone said the main power a president has is the power of persuasion. This president, articulate as he is, hasn't used that power to great effect on very many issues. But I'm glad that he followed the lead of his VP and made this statement. It's a start.
Posted by: John McAndrew | May 11, 2012 7:34:50 AM
It IS a start, and about damn time! I'm so glad Biden jumped the gun, and so glad BO followed suit(likely choreographed that way). Next, can we please get Biden to talk about drastic reductions in greenhouse gases?! We have pitiful little time left. The science is clear. The longer we wait, the worse for future generations. Civilization is at stake. We need bold leadership and we need it now.
Posted by: nancy galloway | May 11, 2012 12:38:17 PM
Mary Ellen, if Barb can see us, she's totally dancing for joy. Although a bittersweet celebration for you both, it's so very sweet that justice and equality have taken a huge step forward. It's in no small part due to the persistent hard work of activist couples like you and Barb. There's still work to do to make marriage equality seamless from state to state, but Obama's statement is huge progress.
Posted by: nancy galloway | May 11, 2012 12:52:07 PM