« April 2012 | Main | June 2012 »
Tuesday, May 22, 2012
Women Speaking to Women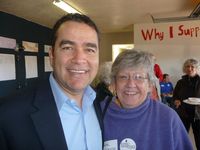 The following post is provided by Contributing writer Lora Lucero.
Eric Griego has the support of many women in the CD-1 race for the US Congress.  I gathered some of my women friends together to speak to our sisters, mothers, and daughters about why this race is so important, and why women support Eric to champion our issues in Washington DC.  Please check out my short video below.
Hear State Senator Dede Feldman share about Eric's determination to stand up for women's rights.  Eric not only supports Roe v. Wade, but also considers women's rights essential to decisions on medical privacy. As a State Senator, Eric stood up to conservative anti-women forces and opposed legislation designed to erode family planning rights, criminalize abortions, and force minor victims of even incest or rape to obtain parental permission before receiving care.
Thanks to Senator Dede Feldman, Representative Mimi Stewart, Marit Tully, Loretta Naranjo Lopez, Barbara Grothus, Melinda Smith and Deborah Marez-Baca for participating in this first video.  More to come in the next few days. 
May 22, 2012 at 02:37 PM in Eric Griego, Lora Lucero, Contributing Writer, NM-01 Congressional Race 2012, Women's Issues | Permalink | Comments (0)
Monday, May 21, 2012
Guest Blog: Please Help Me Defend The House by Representative Brian Egolf


An important message from Rep. Brian Egolf.
May 16, 2012,  Dear Friends,
New Mexico is at a critical crossroads, and I am writing to ask for your urgent help. In this last session, Democrats held only a narrow margin in the State House of Representatives: 36:34. With the upcoming November election, that slim majority is under dire threat. Democrats already lost one seat in redistricting, so we must gain seats in November or there will be a Republican Speaker of the House, and Governor Martinez will have the rubber stamp legislature she wants. We cannot risk losing control to a Tea Party-controlled Republican majority.
Because this threat is so serious, I have started a PAC, called the New Mexico Defense Fund. Its mission is to preserve and grow our House Majority and thus stop the divisive political agenda pushed by Republicans around the country today – the war on women, the deep cuts in critical education funding, the elimination of important programs to support a strong middle class, the restriction of minority voting rights and the denial of civil rights to citizens. I cannot sit back and just wait for this to happen in here, so I am asking you to join me in a very important fight. All funds raised will directly support Democratic State House candidates in critical seats this fall.
If Republicans pick up even one seat, I will lose Chairmanship of the House Energy & Natural Resources Committee and be replaced by an anti-conservation Republican. I would no longer be able to use my position to stop Governor Martinez's overt efforts to roll back common sense environmental protections that keep our water and natural resources safe. Other important committees would also be chaired by Republicans, and that means the Governor's Tea-Party agenda will sail through the legislature.
Please stand with me on May 29 at our kick-off fundraiser and be as generous as possible. It will be at the home of Debbie Fleischaker & Kathleen Fontaine from 5:30 - 7:00 (details are in the invitation, attached here). I know that the demands on political donors right now are as high as ever. Nevertheless, raising funds and using them strategically and deliberately to hold onto the State House is critically important to our future.
Your invitation to the event is enclosed along with a remittance envelope in case you are unable to attend but would like to contribute. Please note that the envelopes are addressed to my campaign, but if you make you check payable to the New Mexico Defense Fund or make a similar notation for credit card payment on the envelope, your generous contribution will be used directly to support other worthy Democrats in key races.
As always, I am grateful for your support and your help with this critical endeavor.
Sincerely, Brian
P.S. In the span of 15 years, Texas quickly became a Red state after nearly 120 years of solid Democratic control. Please don't think that it couldn't happen here and make your contribution today to the New Mexico Defense Fund.
May 21, 2012 at 03:24 PM in 2012 Legislature Races, Brian Egolf, Candidates & Races, Democrat | Permalink | Comments (4)
KAFB Jet Fuel Spill 3 Times Larger at 24,000,000 Gallons? by David McCoy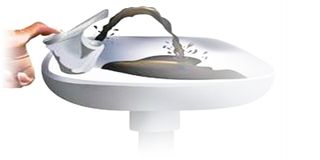 Photo above from Save the Water website.
From David McCoy, Executive Director of Citizen Action New Mexico wrote on Thursday, May 17, 2012;

Thanks for your continuing interest in the KAFB jet fuel crisis. I've attached an affadavit to what I heard Mr. William Moats, a geologist from the New Mexico Environment Department say. I received information that Dr. Davis (NMED) confirmed hearing Mr. William Moats' statement to me, but says nobody really knows the size and they don't know Mr. Moats' basis...

At 8,000,000 gallons the spill is still the largest, deepest and greatest threat to any City's drinking water aquifer in the history of the nation. 24,000,000 gallons may represent Armageddon for Albuquerque's Aquifer. I am hoping the Water Utility Authority seriously gets on top of the need for saving the Ridgecrest wells by 1.) demanding a plan for water treatment now from the Air Force and 2.) demanding that the LNAPL plume be stopped. If water treatment is not installed at Ridgecrest and the wells are simply shut off, the plume may travel to 40 city wells to the north. Surely, the economic benefit brought to ABQ by the Air Force cannot be greater than the value of our drinking water for homes, businesses, health and a future.

There is a WUA meeting next Wednesday May, 23 in the City Council chambers. The public can speak although the limit is usually 2 minutes. It would be good to turn out a lot of people.

The WUA should demand that the Air Force state NOW how it will treat the Ridgecrest wells. Shutting down Ridgecrest is not an option because the plume may continue to be drawn to the north to 40 other wells. Water treatment needs to be put at Ridgecrest starting immediately. If the LNAPL plume is not stopped, the water will be worthless, unless no one minds the taste of diesel fuel.
Inaccurate statements were made to the WUA at the last presentation by KAFB.
First, the movement of the LNAPL plume will not be stopped by the SVE equipment since it is not volatile. SVE is not recommended for dealing with diesel fuel. (US EPA Office of Underground Storage Tanks EPA 510-B-95-007). EPA also states: "Injection of heated air can be used to enhance the volatility of these heavier petroleum products because vapor pressure generally increases with temperature. However, energy requirements for volatility enhancement may be so large as to be economically prohibitive."

Second, there is no plan for the LNAPL containment. On April 2, 2010 the NMED ordered an Interim Measures Plan to be produced by KAFB. Three additional letters followed up that order.
From April 2, 2010:
"Therefore, on or before June 7, 2010, the permittee must submit to the Department for its review and approval an Interim Measures ("IM") Plan that describes what immediate actions it will take to remediate and stop the migration of the LNAPL plume. ... The IM Plan must also include an implementation schedule showing that remediation of the LNAPL plume will be completed within five years of the Department's approval of the IM Plan."

At the June 23, 2010 NMED presentation to the ABCWUA, Mr. Bearzi's handout stated:
"CURRENT REMEDIATION EFFORTS ARE INADEQUATE; Without doing something different, could take over 50 years to remove fuel from vadose zone and LNAPL plume."

Two years after NMED's order and there is still no approved IM Plan! There is also no enforcement of the 4/2/2010 Order.

Third, given the mass of liquid jet fuel floating on the aquifer, there is no evidence that using SVE equipment will keep the liquid from dissolving into the ground water or keep the LNAPL plume from moving. The bulk of the fuel on the aquifer is not aviation gas. It is JP-4 and JP-8 that are non-volatile fuels. So SVE won't stop the floating liquid plume's migration north. SVE will only remove whatever aviation gas is left down there and will not recover any of the JP4 and JP8 or keep it from moving. The LNAPL plume will reach a tipping point ust as the dissolved plume did. The vacuum for the SVE is 3 ft above the floating plume and cannot be put into the water.

The Colonel is not an environmental expert and the vacuum cannot come in contact with the 3 ft thick layer of the Jet Fuel. Moreover, the vacuum is only being applied on the Base and the leading edge of the dissolved plume is already 3/4 into the City and the LNAPL is 1/2 into the City. KAFB has let the plume leave the base which is 12 years of failed policy of both NMED and the AF. The two plumes in the City must be dealt with immediately. The liquid plume is 3 ft thick, one-half mile wide and one mile long. The dissolved plume with 100s of millions of gallons of aviation gas is three times the size of the LNAPL plume, 85 ft thick and contains Ethylene Dibromide (EDB), a potent carcinogen. The dissolved plume cannot be stopped from arriving at the Ridgecrest wells. Every gallon of aviation gas has 1/2 teaspoon of EDB. Every gallon of aviation gas is capable of contaminating millions of gallons of water.

Colonel Conley just doesn't understand that the vacuum which is only operating on the AF Base will only have a radius 100 ft. That is far distant from the leading edge of the plume and there are no remediation wells in the City. There will be zero effect on stopping the LNAPL because the vacuum can't touch the top of the water. There will no effect on the leading edge of the LNAPL plume heading for KAFB #3 well. Adding monitoring wells and vacuum will not stop the plume.

Citizens and the WUA should ask when the 1st gallon of jet fuel will be pumped. Otherwise, the only thing is that there will be more years of studies and we've already had 15 years of delay with no clean up. The thermal oxidizer is only a burner and doesn't pull vacuum. But again that will only be used on the AF Base. There is nothing stopping movement of the front end of the dissolved or liquid edge of the plume that is already far off the AF Base. The dissolved plume will hit the wells and we need water treatment. We need a plan for stopping the LNAPL movement.

One last item: Automatic federal budget cuts will go into effect on January 1, 2013 across all agencies. WUA needs to assure how this expensive problem of water treatment will be paid for.

Sincerely,
David B. McCoy, Executive Director, Citizen Action New Mexico
POB 4276, Albuquerque, NM 87196-4276
505 262-1862  dave@radfreenm.org    www.radfreenm.org
May 21, 2012 at 12:19 PM in Action Alerts, Environment, Guest Blogger, Water Issues | Permalink | Comments (2)
Saturday, May 19, 2012
$642,000,000,000 (billion) for the War Machine "Ike was Right"
$642,000,000,000.00 for Fiscal Year 2013 Defense Budget, 8 billion more than what Obama or the Defense Secretary even asked for. I bet the Department of Education would love 8 bil more for their FY2013.
When will this craziness stop? CD1 Congressman Martin Heinrich voted yes, CD2 Congressman Pearce voted yes, CD3 Congressman Lujan voted no. Heinrich voting with Pearce is not good. Heinrich's press release is at the end of this post. To see how Congressional votes across the Country were cast for this bill see this article.
This kind of obscene money spent on war and defense has got to stop. 88 billion still going over to Afghanistan for 2013, that is $1.5 bill every week. Think of what this Country could do with $1.5 bil every week. The bill funds a missile defense site to be built on the east coast, that the military itself opposes, old star-wars garbage, and even Russian cold war garbage. We have gone insane, when we will fund things the military does not even want and threaten drastic cuts to social security for our seniors which is desperately needed now, we have gone insane.
Ok yes there are jobs that come from all that obscene money for people in NM. At Kirkland mainly, yes these jobs have real people working in them, but it is time we ask; do we spend our precious tax dollars on space war or fireman, Russian cold war or teachers, more nuclear weapons or solar energy, fixing the San Juan coal plant that we know is killing people which will cost $800 mil, or 1.5 bil for another week in Afghanistan?
Heinrich says in his statement below: "H.R. 4310 includes language that restores these missions, and includes $25 million for the continuation of the ORS program and $45 million for the continuation of STP. The United States Air Force (USAF) estimates that there are 68 jobs at the KAFB ORS headquarters office, not including the New Mexico small businesses that contract with and provide support to ORS. Further, the USAF estimates there are 74 jobs at the KAFB STP office." So let me do a quick calc...that is 142 jobs for $70 mil tax dollars. Not a good return I say. Maybe if it was even 1,420 jobs or 14,200 jobs for 70 mil I would be more in favor. If you are one of those 142 people working on this project you are psyched, but if you are us underemployed and unemployed, we are not so psyched.
How about the constant drum beat of the funding social security, and medicare costing the country too much money. We have paid into this fund for all the years we have been working, let's face it, it has been used as a slush fund for other war machine spending. It is time we stop being a super power around the world, rebuilding and protecting the world meanwhile our own needs go untended. Our seniors struggling, our children slipping more and more behind. Channel 7 is having a debate tonight with the CD1 Candidates I hope they ask how each of the candidates would have voted for this bill.
These are the questions we face this election. More of the same use of our money for war machine spending or funding realistic things for our citizens needed now. Like President Eisenhower said in his 1961 farewell address "restrain the "military-industrial complex." you can read the entire speech here. 51 years ago, and we are have done nothing but increase our military industrial complex to the point it is now the only budget of our country that receives more and more than requested and has very little accountability for where the funds go, and meanwhile we are out of work, kids have no food to go to school with a full belly, moms and dads are not working, no money for healthcare, no money for sustainability projects.
If the election was today who would you vote for? Who would be the most likely to not cave for star war spending, even if it does have jobs related to it in Kirkland, does it make sense for now? Is it the best use of your/our tax dollars? I do not think so. You decide.
Heinrich Fights to Save KAFB Missions and Boost New Mexico's Economy
Defense Authorization Bill to Strengthen National Security, Ease Export Controls and Promote Tech Transfer Passes House
WASHINGTON, D.C. (May 18, 2012) – Today, U.S. Representative Martin Heinrich (NM-1) announced that H.R. 4310, the National Defense Authorization Act (NDAA) for Fiscal Year 2013 passed the House by a 299 to 120 vote. The bill ensures that our military is fully prepared for threats and challenges worldwide and that our troops get the benefits they deserve and have earned. This year's NDAA includes several important provisions authored by Rep. Heinrich that support U.S. service members and their families, create jobs, and spur economic growth in New Mexico.
"I will keep working to ensure that our national laboratories and military installations have the resources they need to perform their critical national security missions," said Rep. Heinrich.
In February, as part of the President's Budget for Fiscal Year 2013, the Department of Defense recommended eliminating funding and terminating the Operationally Responsive Space (ORS) program and the Space Test Program (STP), both of which are headquartered at Kirtland Air Force Base (KAFB). Since that time, Rep. Heinrich, a Member of the House Strategic Forces Subcommittee, has led the fight in the House to restore the ORS and STP missions.
As a result of Rep. Heinrich's work, H.R. 4310 includes language that restores these missions, and includes $25 million for the continuation of the ORS program and $45 million for the continuation of STP. The United States Air Force (USAF) estimates that there are 68 jobs at the KAFB ORS headquarters office, not including the New Mexico small businesses that contract with and provide support to ORS. Further, the USAF estimates there are 74 jobs at the KAFB STP office.
"I asked the tough questions and I worked with my colleagues, both Democrat and Republican, to protect these missions at Kirtland," said Rep. Heinrich. "As the Department of Defense looks for ways to cut spending across the country, I am committed to fight for New Mexico and ensure that jobs remain intact."
House Armed Services Committee Ranking Member Adam Smith (WA-9) added, "I applaud Congressman Heinrich for his hard work in bringing the committee to a more sensible approach that prevents the loss of the ORS and STP missions and their personnel."
Additional provisions included in the NDAA that are positive for New Mexico:
Preserved Directed Energy jobs at KAFB. NDAA provided an increase of $30 million to preserve the skilled workforce that was involved in the Airborne Laser Test Bed program and to accelerate experimentation with next generation directed energy system development.
Increased Technology Transfer. Rep. Heinrich successfully offered an amendment that would authorize a pilot program between one national laboratory and one non-profit entity for the purpose of accelerating technology transfer from national laboratories to marketplace.
Ease Satellite Export Controls To Boost NM Small Business. An amendment, based on legislation Rep. Heinrich introduced last year to ease satellite export controls, was accepted. Easing export controls will provide a strong boost to New Mexico's aerospace industry.
Possible 2013 and 2015 BRAC Rejected. KAFB, Cannon Air Force Base, Holloman Air Force Base, and White Sands Missile Range would be protected from a 2013 or 2015 Defense Base Closure and Realignment Commission (BRAC).
May 19, 2012 at 11:19 AM in 2012 NM Senate Race, Candidates & Races, Eric Griego, Hector Balderas, Martin Chavez, Michelle Lujan Grisham, Military Affairs, NM-01 Congressional Race 2012, Rep. Ben Ray Lujan (NM-03), Rep. Martin Heinrich (NM-01) | Permalink | Comments (8)
Friday, May 18, 2012
Mary Ellen Broderick Formally Announces Candidacy for NM House Distrist 30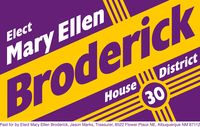 My Name is Mary Ellen Broderick and I am very proud to be running as a Democrat for NM House District 30.
It is my intention to be a citizen legislator, not a career politician; I wish to bring a fresh voice of an average citizen to the roundhouse.
My professional career is as a licensed architect. I have worked on a number of wonderful projects in the 30 years I have practiced. My career has taught me to listen, to be detail oriented, and to know who my client is. I have managed very large complex projects, and through this process I have learned excellent negotiating skills. I have worked on many public projects in my career and consider myself a very good steward of our tax dollars when building any project.
I am a lesbian who has been in a 23 year committed relationship. Recently, in December 2011 my life partner, Barbara Wold, passed away do to colon cancer. It was a short 3 months from diagnosis to death, and I was blessed to be able to be by her side every day the last weeks and days of her life. Now I enter a new phase of my life.
Barb and I had been involved with local grassroots activism for many years here in Albuquerque. Together we founded Democracy for New Mexico.com in 2004, also in 2004 we began the Democracy for New Mexico monthly meet ups which continue to this current day.



Now is the time to bring my life experiences together for a purpose. As a woman along with my architectural background and minority status as a lesbian and my involvement in issues and activism has brought me to this point of running for NM State Representative.  You cannot change things by being on the sidelines; you have to be on the field. And most people I talk to in my district whether Democrat's or Republican's agree there is much to change in politics at this time.
People in HD 30 are suffering from the same problems other communities and citizens of our great state of NM are suffering from: Lack of jobs, stagnant pay, deteriorating homes, crime, serious health problems, education concerns, and the political climate being stuck and toxic.
It is my hope I can work on these very real problems facing my neighbors and community, to produce real solutions, and bring dignity and fairness back to New Mexicans residing in House District 30. My sincere hope is that my votes and voice at the legislature will help other struggling New Mexicans across this great state.
Please come and celebrate with me and help me embark on this new path. I will be having a launch party on May 25, 2012. See invite here. Mark your calendars. Also if you cannot attend please donate to my campaign by following this ActBlue link.
May 18, 2012 at 05:00 AM in 2012 Legislature Races, Candidates & Races, Democrat | Permalink | Comments (7)
Thursday, May 17, 2012
Heinrich in New TV Ad: I'll Never Stop Fighting for New Mexico
Martin Heinrich released his third television ad in three weeks today, one that assures voters that he will "fight for the things New Mexicans have worked so hard for." The new spot highlights the jobs Heinrich saved at Kirtland Air Force Base and his effort to stand up for seniors and stop Republican attempts to weaken Social Security and Medicare. The ad will air in both the Albuquerque and El Paso media markets.
Since he was elected to Congress in 2008, Martin Heinrich travels home almost every weekend to meet with the people of New Mexico. From day one, Martin has put the interests of his constituents before the special interests and knows that the best ideas don't come from Washington, they come from the folks back home. That is why he organizes job fairs, speaks directly with small business owners, visits with veterans at the VA hospital in Albuquerque, and meets with seniors to discuss how he's protecting their Social Security and Medicare.
May 17, 2012 at 02:06 PM in 2012 NM Senate Race, Candidates & Races, Jobs, Political Ads, Rep. Martin Heinrich (NM-01), Social Security, Television | Permalink | Comments (0)
House Republicans Abandon Bipartisanship on Reauthorization of the Violence Against Women Act
Congressman Ben Ray Luján of New Mexico's Third District spoke on the House floor today in opposition to a partisan House Republican bill to reauthorize the Violence Against Women Act. Below are his remarks as prepared.
"Madam Speaker, it is with great disappointment that I rise today in opposition to this bill, not because the issue of violence against women is not real, but because this House bill does not do enough to address domestic violence and to protect women.
"Sadly, instead of taking action on the bipartisan bill that has passed the Senate and that meets the need to protect America's women, the Republican majority has chosen confrontation over compromise with a bill that is seriously limited, including in the protections it offers to Native American women.
"The Senate version is a comprehensive bill that addresses the seriousness of violent crimes targeted toward women, including in Indian Country. I represent 17 of the 22 Native American tribes in New Mexico and I will tell you that tribal families are all too often ravaged by domestic violence. Unfortunately, violent crimes committed on tribal lands go unprosecuted more often than they should because of loopholes in existing law and neither this bill nor the manager's amendment adequately protect Tribal communities.
"It was my great hope that House Republicans would rise to do the right thing. Don't hide behind excuses. Do the right thing. Let's close the loopholes that allow abusers to get away with violence, especially against Native American women. It is not right that abusers game these loopholes to abuse their victims. Reject this bill and take up the bipartisan Senate bill."
May 17, 2012 at 10:56 AM in Domestic Violence, Rep. Ben Ray Lujan (NM-03), Women's Issues | Permalink | Comments (2)
Chavez for Congress New TV Ad: Marty Can Take the "Hits"
Today, former Albuquerque Mayor and current Congressional candidate Marty Chavez debuted a new television ad titled "Hits."
Set in the historical Jack Candelaria/San Jose gym and filmed with local professional boxer Josh "Pit Bull" Torres (7-1-1, 5KOs), the spot reinforces that to get things done in Congress, you have to be able to take the hits from powerful interests.
Throughout his career, Marty has always taken the hits on behalf of New Mexican families. Whether it was as the ONLY elected official to testify to save Kirtland Air Force Base and nearly 7,000 jobsi, standing up to developers to pass one of the toughest green building codes in the nationii, suing the Bush Administration over greenhouse gas emissionsiii or supporting President Obama's fuel efficiency standardsiv, Marty has proved tough enough to get things done, even in the most hostile environments.
As President Bill Clinton said in endorsing Marty earlier this year, "I know that Marty will take on our big challenges, stand up to special interests, and fight to create clean energy jobs in New Mexico because he's proven time and again that he can get the job done."
May 17, 2012 at 09:53 AM in Candidates & Races, Martin Chavez, NM-01 Congressional Race 2012, Political Ads, Television | Permalink | Comments (4)
Tuesday, May 15, 2012
"Senator Phil Griego, Stop Hiding and Come Clean"
Yesterday marked the end of the 15 days the Secretary of State gave Senator Phil Griego to respond to the formal ethics complaint filed by challenger Jack Sullivan. Sullivan filed the ethics complaint against Griego for violating New Mexico campaign finance laws. Rather than answer the complaint, Griego has asked for more time, giving no indication how much time he needs to respond to the questions raised.
On April 27, 2012 Jack Sullivan submitted a letter to the Secretary of State's Ethics Division outlining incidents which Senator Griego unlawfully used his campaign account for personal expenses.
Specifically mentioned were expenditures of $955 for NFL Bronco tickets reported as a "constituent event," $7500 for new office furniture, and $2100 in credit card payments.
"Griego's delay is a stalling tactic. I believe the public has a right to know how they were served by the NFL tickets, golf trips or expensive new office furniture the Senator purchased," says Jack Sullivan, a former Santa Fe County Commissioner. "Now is the time for the Senator to come clean and answer the charges: is he illegally using lobbyist contributions to pay for his personal expenses?"
In the last two years, Senator Griego, who was not up for an election, received $92,000 thousand in lobbyist and corporate contributions and spent $83,000 thousand. He is the top democratic recipient of lobbyist campaign contributions, according to New Mexico Watchdog.com. The allegation suggests Senator Griego used much of his campaign funds on personal expenses like golfing, trips, and fixing his car.
Voter Conci Bokum, said, "I am sorry to hear the Senator's response.  I would hope he would respect voters and make the information available very soon."
New Mexico State Law [Sections 1-19-29.1 (A.2) NMSA 1978] forbids legislators from using their campaign account for personal expenses.
The law states that penalties for violating the Campaign Reporting Act should be referred to the attorney general or district attorney for further investigation and may include a civil penalty of two hundred fifty dollars for each violation not to exceed five thousand dollars. (Campaign Reporting Act, 1-19-34.6 Civil Penalties NMSA 1978.)
Jack Sullivan is challenging Senator Phil Griego and Nicole Castellano in the June 5 Democratic Primary. Jack Sullivan has the backing of the American Federation of Teachers, Planned Parenthood New Mexico, Conservation Voters New Mexico and the Sierra Club.
For a copy of the complaint Jack Sullivan filed, go here.
For a copy of Phil Griego's campaign contributions for 2010-2011, go here.
May 15, 2012 at 06:42 PM in 2012 Legislature Races, Candidates & Races, Ethics & Campaign Reform, Transparency | Permalink | Comments (0)
New Mexican Attitudes On Marriage Evolving With President's
From ProgressNow New Mexico:
Recent polling shows that New Mexican opinions on marriage equality are evolving much like those of President Barack Obama who today courageously announced his support for endinging marriage discrimination in the United States.
Polling shows a consistent increase in support for marriage equality, particularly in New Mexico. In 2010, a Bendixen & Amandi poll found that 74% of Hispanics (a group that comprises 46% of New Mexico's population) support either marriage or marriage-like legal recognition for gay and lesbian couples. According to a 2012 PEW poll, a full 63% of young Americans say they favor same-sex marriage.
A December 2011 poll of New Mexicans found that support for same-sex marriage had increased 8 points over six-months and was nearing a majority. From the poll:
New Mexico joins its northern neighbor Colorado and nearby Nevada in a growing list of Southwestern states in favor of same-sex marriage.  When PPP last polled the state in June, voters were against legalizing it by a 42-48 margin.  In the intervening half-year, opinion has moved eight points, with 45% now wanting gay couples to be able to legally marry in the state, and 43% still against it.  The reason for the shift is that Democrats (from 34% to 28%) and independents (44% to 37%) have lowered their opposition by six or seven points.  Further, two-thirds of New Mexicans also still favor these relationships being recognized with at least the legal equality of civil unions.  That includes 78% of Democrats, 71% of independents, and 41% of Republicans.
Since late last year, two cabinet members (HUD Secretary Shaun Donovan and Education Secretary Arne Duncan) and Vice President Joe Biden have publicly endorsed ending marriage discrimination. Today, President Obama threw his support behind what is perhaps the most important civil rights issue in a generation, becoming the first sitting president ever to do so.
Speaking to ABC News' Robin Roberts, President Obama said that, "for me personally it is important for me to go ahead and affirm that I think same sex couples should be able to get married."
With his statement today, President Obama has shown that he is in-touch with America's changing attitudes on this issue.
"All families matter, plain and simple," said Pat Davis, Executive Director of ProgressNow New Mexico. "Nobody should be discriminated against because of who they love or how they choose to live their private lives. President Obama's statement affirms the American values of equality and mutual respect and the families of New Mexico applaud this final step in his evolution on this issue."
May 15, 2012 at 04:15 PM in Civil Liberties, GLBT Rights, ProgressNow New Mexico | Permalink | Comments (0)
NM Job Growth Last in West, Trending Downward Neighboring States Add Jobs at 4x, 5x NM Rate
For the second straight month, job growth in New Mexico came in a full point behind the national average and is now the lowest in the West, according to statistics compiled by the federal Department of Labor Statistics and published by the Martinez administration.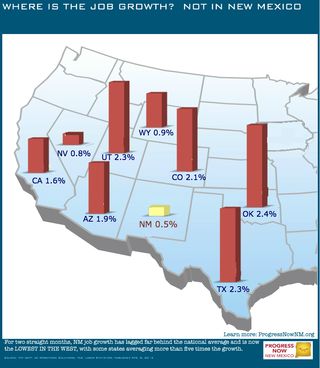 The latest job reports numbers show that New Mexico added just 804 jobs in March 2012; virtually unchanged from March 2011 (800).  By comparison, our neighboring states have continued to add jobs at a rate near or above the national average of 1.5%.  Oklahoma: 2.4%, Texas 2.3%, Colorado 2.1%, etc.
Even Utah, with a similar population and rural density far surpassed New Mexico with job growth coming in at 2.3%, a full 0.8% more than the national average.
Despite Martinez's claims that New Mexico is more business friendly under her watch, corporate CEO's recently lowered New Mexico's business friendly rating in its first reporting of New Mexico's business climate judged entirely by policies under a Martinez administration. 
"This governor has had almost eighteen months to turn jobs around.  While the rest of the West as a whole is leading job creation in the nation, New Mexico is bucking the trend," says ProgressNow NM's Pat Davis.  
"It's not enough to talk about jobs anymore.  We have to level the playing field for local businesses to incentivize Main Street job creation and stop vetoing critical public programs which create jobs in our small towns."
"Governor Martinez has spent more time in office talking about her next job in Washington than the one she has now in Santa Fe.  It's time to shelve the rhetoric and veto pen and get money back into our communities where people need to work."
A full analysis and links to the data is available online at ProgressNowNM.org
May 15, 2012 at 11:40 AM in Economy, Populism, Jobs, ProgressNow New Mexico, Susana Martinez | Permalink | Comments (2)
Eric Griego Launches New TV Ad Calling for Wall Street Accountability
Today, Democratic congressional candidate Eric Griego became the first congressional candidate in the nation to air a TV ad calling for Wall Street bankers to be held accountable for their actions.  Griego also released his platform to strengthen Wall Street reform and to prosecute bankers who broke the law.
The ad features Westside Albuquerque residents Alan and Melinda Witt.  A month after Alan Witt retired, the economy crashed and he and his wife lost much of their savings, which they will never be able to recover.
"To this day, not one Wall Street banker who broke the law, tanked the economy, and took away people's homes and savings are in jail," Griego said.  "Sadly, Wall Street bankers are still playing by their own rules, and we need tough reforms to hold them accountable.  We need to break up the Wall Street-Washington romance by electing more reform-minded Democrats who will not sell out the public to appease Wall Street lobbyists."
"If candidates like Elizabeth Warren and me win this year, it will send a signal to the political establishment that it's time for real Wall Street reform."
In Congress, Griego will fight for the following five reforms:
Fight to increase 20-fold the number of investigators for the financial crimes federal task force led by New York Attorney General Eric Schneiderman.  Right now, this task force only has 55 investigators and prosecutors.  The Savings and Loan crisis of the 1980s was staffed with over 1,000 investigators, experts, and prosecutors.  That effort yielded more than 600 convictions and $130,000,000 for taxpayers.  One of the first bills that Griego will sponsor will be to increase the funding and staffing for this financial crimes task force.
Push for increased funding for the Consumer Financial Protection Bureau – the federal watchdog on Wall Street, created by Elizabeth Warren – to strengthen its investigative capabilities.  Even a small additional investment can avert billions, or trillions, of dollars in economic damage by Wall Street.
Push the U.S. Justice Department to more aggressively prosecute white-collar crimes by Wall Street bankers.  Members of Congress can exert key leverage with the Justice Department to make investigations and prosecutions happen.
Strengthen the Dodd-Frank Wall Street Reform and Consumer Protection Act, and close the loophole in the legislation's "Volcker Rule" that was exploited by JPMorgan recently – when their risky bets lost $2 billion.  Many of the legislation's provisions are designed to go in effect in 2014, so the rules are still being written.  Congress can't allow Wall Street bankers to write their own rules – we need Wall Street reform to stay on the agenda in Congress.
Pass a new Glass-Steagall Act to separate investment banks from traditional banking – so people's life savings are not gambled away by Wall Street. Elizabeth Warren and the Progressive Change Campaign Committee started a grassroots campaign for a new Glass-Steagall yesterday, and within hours over 40,000 people joined the cause.  I'm proud to be one of those people – and passing a new Glass-Steagall will be a priority of mine in Congress.
May 15, 2012 at 09:11 AM in Candidates & Races, Eric Griego, NM-01 Congressional Race 2012, Television | Permalink | Comments (10)