« Eric Griego Launches New TV Ad Calling for Wall Street Accountability | Main | New Mexican Attitudes On Marriage Evolving With President's »
Tuesday, May 15, 2012
NM Job Growth Last in West, Trending Downward Neighboring States Add Jobs at 4x, 5x NM Rate
For the second straight month, job growth in New Mexico came in a full point behind the national average and is now the lowest in the West, according to statistics compiled by the federal Department of Labor Statistics and published by the Martinez administration.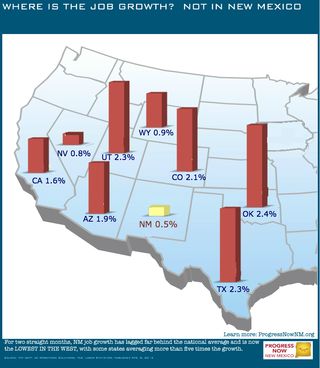 The latest job reports numbers show that New Mexico added just 804 jobs in March 2012; virtually unchanged from March 2011 (800).  By comparison, our neighboring states have continued to add jobs at a rate near or above the national average of 1.5%.  Oklahoma: 2.4%, Texas 2.3%, Colorado 2.1%, etc.
Even Utah, with a similar population and rural density far surpassed New Mexico with job growth coming in at 2.3%, a full 0.8% more than the national average.
Despite Martinez's claims that New Mexico is more business friendly under her watch, corporate CEO's recently lowered New Mexico's business friendly rating in its first reporting of New Mexico's business climate judged entirely by policies under a Martinez administration. 
"This governor has had almost eighteen months to turn jobs around.  While the rest of the West as a whole is leading job creation in the nation, New Mexico is bucking the trend," says ProgressNow NM's Pat Davis.  
"It's not enough to talk about jobs anymore.  We have to level the playing field for local businesses to incentivize Main Street job creation and stop vetoing critical public programs which create jobs in our small towns."
"Governor Martinez has spent more time in office talking about her next job in Washington than the one she has now in Santa Fe.  It's time to shelve the rhetoric and veto pen and get money back into our communities where people need to work."
A full analysis and links to the data is available online at ProgressNowNM.org
May 15, 2012 at 11:40 AM in Economy, Populism, Jobs, ProgressNow New Mexico, Susana Martinez | Permalink
Comments
I wonder how that number, 800 compares to number of high school grads and number of college grads and even the number of births we had this year in NM?
Posted by: qofdisks | May 16, 2012 4:34:29 PM
Probably about the same as for Walker in WI, same playbook. Martinez is terrible for NM.
Posted by: bg | May 17, 2012 8:22:12 AM