« Women Speaking to Women | Main | Congressional District 1 Race Latest Poll Results »
Tuesday, May 22, 2012
Destination Education Tour with Hector Balderas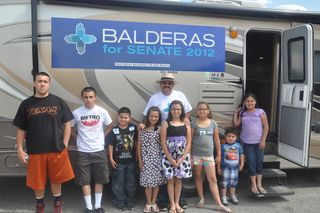 On Friday May 18, I accompanied New Mexico State Auditor and U.S Senate candidate Hector Balderas as he traveled across the state on his "Destination Education" tour.  Balderas had students from Wagon Mound—many of whom were featured in Balderas' recent ad—with him.  UFC fighter John Dodson, another New Mexico native, also traveled with us on the campaign bus.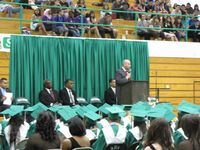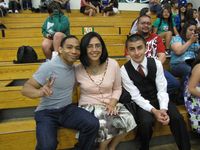 Balderas to grads                    John Dodson w Mrs.B 

Our first stop was at Albuquerque High School, where Auditor Balderas gave the keynote address at the farewell assembly for the graduating seniors.  Balderas' touching and inspiration speech to over 1,500 students and staff congratulated the seniors for overcoming great adversity in order to graduate.  Balderas also challenged the students to never let the obstacles ahead stop them from achieving their dreams.  "If you have a plan, work at that plan, and never give up, the world will get out of your way.  I know this because I lived it," Balderas said.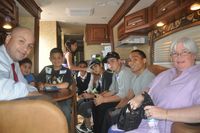 After Balderas' speech I had the opportunity to get on the campaign bus with Balderas, the students, and Dodson.  It was great getting a chance to talk to the kids from Wagon Mound and hearing why they are so inspired by Balderas' candidacy.  These Wagon Mound kids were very excited and very proud of their home legend Hector Balderas. The kids were also thrilled to hear about Dodson's path and career. I asked the kids what they liked about Hector and the video is below.
After about an hour drive we arrived in Santa Fe and met with Representative Luciano "Lucky" Varela and Santa Fe School Board Member Linda Trujillo outside the State Capitol.  The students delivered the letters they had all written explaining what education means to them.  A couple students even read their letters aloud.  Varela and Trujillo were clearly touched and inspired that students traveled so far to express their thoughts and concerns.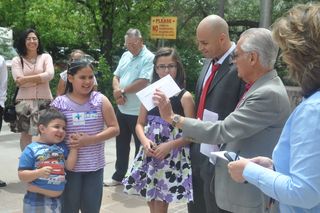 After only two stops on the tour I was exhausted and headed back home. The campaign, on the other hand, was forging ahead, heading to Las Vegas, Taos and Española.                
May 22, 2012 at 11:15 PM in 2012 NM Senate Race, Candidates & Races, Education, Hector Balderas | Permalink
Comments