« Fact vs. Fiction: Ending Race Horse Doping | Main | Trouble with the DFNM Blog and Happy Easter »
Friday, April 06, 2012
SWOP Mailers in the News (Again)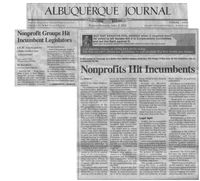 Since January, SWOP and our friends at the Center for Civic Policy have communicated directly several times with New Mexicans about Senate Bill 9, which addresses corporate tax loopholes. Prior to the session, we sent mailers to constituents of key legislators who sit on powerful legislative committees, to let their legislators know that they supported the bill. In a victory for New Mexicans, SB9 passed the NM Legislature this year, requiring "big box" corporations to pay income taxes on profits made in New Mexico. Unfortunately, though, Governor Susana Martinez vetoed the bill.
To follow up on the session, we communicated with the constituents of the legislators who didn't listen on SB 9, when it mattered most. One of those legislators, Sen. Phil Griego, voted 'no' on passing it out of the Senate Corporations Committee which he chairs. Griego has voted 'no' many times before, making the bill dead in the water once it made it to his committee, year in and year out. This year, enough legislators voted to let it pass on to the floor, despite Griego's efforts. When SB 9 made it to the floor, Griego himself voted for it. We felt it was important to let his constituents know how Griego voted in committee. It's a story not only about SB 9, but about the important steps in the journey of a bill becoming law. It's important for New Mexicans to know not only the positions their legislators take in very public floor votes, but also in crucial votes being made in committee rooms.
Once again, the Albuquerque Journal decided to highlight our educational efforts in an article about whether or not nonprofits should have the right to speak freely about public official's actions on key policy issues. Unfortunately, the article leaves out our history of public education, year in and year out. But it does point out the clear legal victory we achieved in 2010, when a federal appellate court upheld our right to free speech. SWOP has been sending out educational mailers to New Mexicans almost every year throughout our history, and our membership has always supported these endeavors. Transparency in government will always be opposed by elected officials who carry water for large corporations, and we appreciate your support in our right to educate New Mexicans.
April 6, 2012 at 08:48 AM in Current Affairs, Education, NM Legislature 2012 | Permalink
Comments
I would love to know where the funding is coming from for these groups' "educational" campaign.
Although I may agree with this particular "education", if the tables were turned and there was a group sending mailers out to constituents in swing districts purporting to educate voters on conservative issues, I would want to know whose purse-strings were involved.
Posted by: Lora Lucero | Apr 7, 2012 9:37:01 AM
I noticed this was written in the first person. Is Mary Ellen speaking for SWOP, or is it a guest editorial?
By the way, I'm a member of SWOP, and I remember when Marty Chavez called them terrorists. It was part of his disrespect for young poor people while he was mayor.
Posted by: Michelle Meaders | Apr 8, 2012 9:08:35 PM