« Rep. Ben Ray Lujan: Equal Pay Day Is a Reminder of the Need to Close the Wage Gap Between Women and Men | Main | KOB TV Calls NM Congressional District 1 Race a Two Person Race »
Thursday, April 19, 2012
State Rep. Rick Miera on Romney's Secret Plan to Cut Education in New Mexico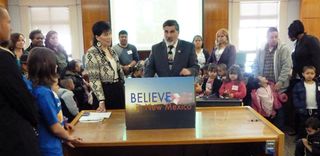 Photo above from Rep. Sheryl Williams Stapleton.org
At a high dollar fundraiser on Sunday night in Florida, Governor Romney revealed that he's got a secret plan to make deep cuts in programs essential to the middle class, like education, in order to fund his $5 trillion tax cuts for the wealthiest Americans.  From his policy positions to his taxes, this recent revelation continues a long-standing pattern of secrecy from the Romney campaign.
While presidential candidates of both parties have for decades disclosed many years' worth of tax returns, Romney will not share with the American people the returns he gave to Senator McCain as he was being considered for Vice President.  Romney has failed to explain why he opened a Swiss bank account, established a corporation offshore in Bermuda or provide tax returns that could shed light on those actions.  The Romney campaign continues to refuse to disclose his major fundraisers, although President Obama, President Bush, and Senator McCain all did.  These inactions further a pattern of secrecy that began as he exited the Governor's office, when his staff walked out the door with records that will now never be shared with voters.
"Throughout this campaign, Mitt Romney has tried to play by a different set of rules," said State Representative Rick Miera, a longtime champion on education issues.  "Americans have always expected to be able to review a presidential candidate's records and plans, and be given the chance to lift up the hood and kick the tires.  It's time for Governor Romney to come clean."
In New Mexico, Romney's secret plan to "gut" the Department of Education will have a significant impact on thousands of children and families.  New Mexicans rely on the Education Department to help provide a quality public education, including help for thousands of special education students and Pell Grants and student loans to help thousands students receive the critical support they need to access and afford college.
"Every child in New Mexico deserves a quality education and Romney needs to be honest with students and families," said Miera. "When President Obama took office, he made education a national priority, working to make college more affordable so students can access the education they need to compete in the global economy.  If Mitt Romney has a different plan for education, Americans deserve to know what it is."
April 19, 2012 at 07:30 AM in Education, Mitt Romney | Permalink
Comments
BTW, Democratic candidate John Kerry released TWENTY years of his tax returns, according to the Rachel Maddow show. Romney has been declaring that he only released two. Lost a zero. Dang those little zeros... they mean nothing anyway, says Mittens.
Posted by: Ellen Wedum | Apr 19, 2012 8:23:17 AM
The truth means nothing to Mittens.
Posted by: Proud Democrat | Apr 19, 2012 3:05:00 PM
Romney is toast. I think conservatives are generally narrow minded and ignorant but one thing they don't do is waiver on what they believe no matter how wrong it is. Supporting Romney for them is like taking antibiotics. Nobody likes them, but when you have an infection not taking them is worse.
Posted by: Tila | Apr 25, 2012 2:41:02 PM