« Celebrating the Life and Legacy of César Chavez | Main | EXPOSED: Dona Ana & Otero County Rep. Represents District Where He Doesn't Live »
Tuesday, April 03, 2012
Sen. Tim Keller's Energetic Campaign Kick Off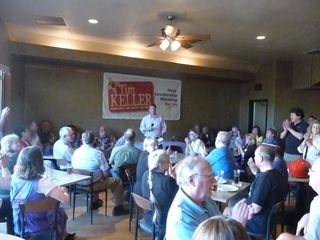 A boisterous crowd of 200+ cheered State Senator Tim Keller (SD-17) as he announced his candidacy for reelection for East Central Albuquerque and the International District. He thanked the friends, family, colleagues and even a few GOPers present for their encouragement of his efforts to shake things up in Santa Fe and fight for meaningful change in our state.
Below: Land Commissioner Ray Powell and City Councilor Rey Garduno warm up the crowd for Keller
Above: Senator Keller discussing his initial run, the past 4 years and future ideas regarding a vision for NM and restoration of the American Dream
Tim faces former 20 year senator Shannon Robinson in this year's general election. Robinson, who was famously plagued with multiple ethics scandals in his last term, switched parties to run as a Republican against Democratic Sen. Tim Keller, who won the primary election against Robinson four years ago. Robinson's change of party was colored by the fact that his registrant was former GOP chair Harvey Yates. Word is Republicans are funding opposition to young Keller because he is seen as a rising threat for higher office runs down the road.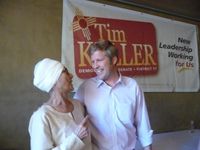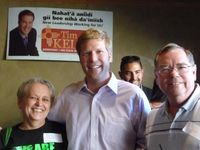 Keller has been a breadth of fresh air in state politics fighting for social justice and working families. He has been a prolific lawmaker, working hard with both sides of the aisle passing impactful legislation including the in state business preference, local food purchasing requirements, 40% renewable solar tax credit, children's safety, community schools, PRC reform and reshaping the state investment council.
From day one, Senator Tim Keller developed a reputation for responsiveness to his diverse constituent base and personally bringing together community leaders to revitalize the SE Heights and champion the "International District" brand. His website has great info, photos, restaurant picks, videos as well as legislation details at www.timkellerfornewmexico.com
April 3, 2012 at 01:59 PM in 2012 Legislature Races, Democrat, Tim Keller | Permalink
Comments