« KOB TV Calls NM Congressional District 1 Race a Two Person Race | Main | New Mexico Telegram the New Independent Non-Corporate News Website »
Thursday, April 19, 2012
Rodefer Issues Challenge to Sapien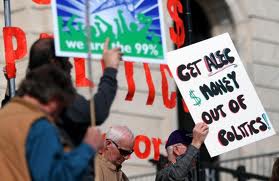 "Sign the New Mexico Anti-ALEC Pledge!"
There is an ongoing Country wide abandoning of the ALEC ship including major corporate supporters such as Coke and McDonald's to Politicians republicans and democrats. Please follow this link if you want to read more about ALEC and what they are about.
Yesterday, Ben Rodefer issued a challenge to State Senator John Sapien to sign the New Mexico Anti-ALEC Pledge. Rodefer is challenging Sapien in the Democratic Primary election for State Senate District 9.
The American Legislative Exchange Council (ALEC) is a corporate and conservative funded think tank that creates model legislation for companies such as Phillip Morris Corporation, Pharmaceutical Research and Manufacturers of America, R.J. Reynolds Tobacco Company, State Farm Insurance Companies, Cargill, Inc. and others. ALEC's funding comes from sources such as the Charles G. Koch Foundation (of the Koch Brothers), ExxonMobil, the Coors family and others.
Rodefer stated, "New Mexicans deserve better than ALEC, which has tried hard to push anti-New Mexico legislation through our legislature. It's time we stood up to ALEC. I have fought long and hard against ALEC-like legislation so we can protect consumers, protect our environment and protect New Mexico's working families from well-funded but misguided insurance, oil and tobacco companies."
Rodefer continued, "I urge my opponent, State Senator John Sapien, who has a long history of supporting ALEC-like bills, to immediately repudiate both ALEC and his previous support for ALEC-type bills, and sign my New Mexico Anti-ALEC pledge."
Sapien, who was reported to have attended an ALEC dinner as recently as January 2012 (http://www.progressnownm.org/blog/2012/01/occupy-alec-progressnow-nm-was-there.html), introduced legislation in 2012 to let big, out-of-state corporations make up their own rules and choose their own tax rates. He is supported by and has taken thousands from big, out-of-state corporations and powerful lobbyists, including Chevron, Philip Morris, Walmart, Conoco, and Helena Chemical.
Sapien is a State Farm insurance agent, and the State Farm Insurance Companies are a longtime defender of ALEC and have benefited from ALEC's model legislation designed to strengthen the insurance industry (http://www.prwatch.org/news/2012/04/11439/state-farm-insurance-claims-no-fault-bankrolling-alec).
April 19, 2012 at 12:00 PM in 2012 Legislature Races, Candidates & Races, Corporatism | Permalink
Comments
Attacking the way a candidate puts food on the table is the lowest form of Politics . Shame on you Rodefer!
Posted by: Memba | Apr 19, 2012 6:41:07 PM
What are you talking about, Memba? The link between being a State Farm agent and State Farm's support of ALEC is tenuous, but Sen. Sapien actually attended ALEC events, including a dinner in 2012. It is completely reasonable for Rep. Rodefer to attack Sen. Sapien on those grounds, particularly since Rep. Rodefer wants to highlight the fact that he is much more liberal than Sen. Sapien.
Posted by: Proud Democrat | Apr 19, 2012 9:12:00 PM
Rodefer has posted an open and worthwhile challenge, at the same time he has educated folks regarding ALEC!
Sapien will be a better candidate if he accepts this open challenge good naturedly. Keep it coming. I look forward to Sapiens comments either way.
Posted by: easternwestern | Apr 19, 2012 10:40:36 PM
Has anyone asked Senator Sapien directly about his views re: ALEC or read his public statement, or are we relying on his opponent to tell us the truth?
John Sapien is actively engaged in asking State Farm to reconsider its relationship with ALEC. Excerpt:
In light of model legislation and the impact that we have seen of similar legislation adapted in other states, it is time for relationships with ALEC to be reconsidered. The suggested solutions to issues which ALEC has supported are not right for New Mexicans."
Rodefer's attack relies on guilt by association and the deliberate confusing of an independant insurance agent with State Farm itself, and is nothing but a cheap campaign tactic.
To become "educated" about ALEC, one need only watch/read news about the effects of its "model laws" in other states. Coke, Pepsi, and others who have led the exodus from ALEC have done a good job of educating folks without wantonly impugning a good Senator's motives in the process.
In reporting on the "Rodefer-Griego press call urging Democrats to Dump Alec" sponsored by boldprogressives.org, Matthew Reichbach (nmtelegram.com) ended by commenting: "An interesting note is that Griego refrained from speaking about his congressional run while on the call, but rather used the call as a way to talk about the state Senate while Rodefer pointedly went after Sapien."
In the audio from today's call, Rodefer actually claimed credit for John Sapien's Media Release:
"Yesterday in response to our challenge to sign the pledge, he did not sign the pledge, but he did issue a press release distancing himself from ALEC and seriously questioning their agenda and motives," Rodefer said. "That was a good start for us." (!)
John Sapien was the only NM Democrat targeted.
He commented today that "I feel that it is important that I once again point out that I have never been a member of ALEC and I have been in contact with local leaders long before my opponent proposed a challenge about this issue. It's shameful that my opponent would take this opportunity to use a national phone call to distort my record and misinform the national press. If anyone wants the real story about my record please email me at john@sapienforsenate.com"
I, for one, prefer to educate myself rather than to accept "education" from a former one-term House member who wants John Sapien's Senate seat and is willing to distort the facts to get it. His tactics are reminiscent of those of Mitt Romney.

Posted by: sos | Apr 20, 2012 5:01:37 PM