« March 2012 | Main | May 2012 »
Tuesday, April 24, 2012
Sierra Club Rio Grande Chapter Endorses Vigil for Public Regulation Commission

The Rio Grande Chapter of the Sierra Club today announced its endorsement of Virginia Vigil for Public Regulation Commissioner in District 3, which includes Santa Fe, Los Alamos, Rio Rancho and Española.
After reviewing responses to the chapter's extensive questionnaire and co-hosting a forum of all District 3 candidates, it was the consensus of the chapter's Executive Committee that Santa Fe County Commissioner Vigil outshone the other candidates for her grasp of the material and potential to deal with technical issues coming before the PRC.
The PRC's importance to New Mexicans cannot be overstated. Beyond its responsibility to regulate insurance, transportation and telecommunication, the commission plays a crucial role in determining whether our electricity sources sicken or enrich us.
From the New Mexicans paying millions in medical costs from coal pollution to our children threatened by increased drought and disease from climate change, we depend on a PRC that can work with regulated utilities on a smooth transition from coal to renewable energy. Vigil's experience as an attorney and county commissioner will be assets in analyzing the wide range of issues the commission oversees and in working with stakeholders to benefit New Mexico's economy, health and future.
As a county commissioner, Vigil has been a champion for preserving natural resources and creating forward-thinking solutions. She advocated for the Sustainable Growth Management Plan, which includes energy efficiency, water conservation and managing growth in line with available resources; she served as chair and vice chair of the Buckman Direct Diversion Board and supported the solar installation that will help run the project; and she supported placement of a wind turbine and passive solar design at Santa Fe Public Works Building.
"Having been born and raised in Santa Fe, there is no mission more important to me than protecting our environment, preserving our history and nurturing our diverse cultures by providing leadership toward a 21st-century green economy," Vigil said.
The Rio Grande Chapter includes about 7,000 Sierra Club members in New Mexico and El Paso, Texas.
April 24, 2012 at 02:00 PM in 2012 NM PRC Races, Candidates & Races | Permalink | Comments (0)
AFSCME and Albuquerque Area Firefighters Union Endorse Al Park for Public Regulation Commissioner
Al Park's campaign for Public Regulation Commissioner is proud to announce it has received the endorsement of American Federation of State, County and Municipal Employees (AFSCME) and the Albuquerque Area Firefighters Union (IAFF Local 244).  "These unions represent thousands of hardworking men and women across the state and I am honored they have endorsed my candidacy" commented Al Park.
Diego Arencón President of the IAFF 244 explained, "Representative Park always made public safety a priority as legislator." Mr. Arencón continued, "Al really understands the significant role the firefighters and paramedics our union represents play in making New Mexico a safer place". The PRC oversees the office of the State Fire Marshall as well as other public safety offices such as the Pipeline Safety Bureau.
On AFSCME's endorsement AFSCME Political/Legislative Director Carter Bundy said, "As a Representative, Al Park was a tireless defender for the hard working men and women of New Mexico and their families." Al Park helped pass numerous bills in the legislature protecting consumers, increasing funding for education, funding worker retraining programs, and cutting wasteful government spending. Mr. Bundy continued, "The PRC would be lucky to have someone with his drive to make New Mexico a better place for all of us".
AFSCME is the largest union in the AFL-CIO, and is one of the two largest unions in New Mexico, representing over 15,000 workers in a broad range of occupations including corrections officers, janitors, police officers, nurses, water utility workers, and dozens of other jobs that are crucial to the everyday running of our state and its cities.
April 24, 2012 at 12:25 PM in 2012 NM PRC Races, Candidates & Races, Unions | Permalink | Comments (0)
Free Speech Not For Sale by Contributing Writer Lora Lucero
By Contributing Writer Lora Lucero.
The US foreign policy of using sanctions against Iraq in the 1980s-1990s and currently against Iran  is designed to be the kinder, gentler, antiseptic tool of aggression.  I heard last week from Richard Becker (ANSWER Coalition) about the impact of our sanctions on Iraq.  More than 500,000 Iraqi children died as a result of these sanctions.  And now we are following that same path in Iran.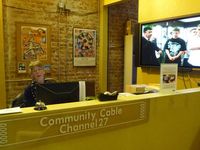 Where was Becker speaking?   Unless you attended the presentation at UNM on Saturday afternoon, you only would have heard him or seen the video "Genocide by Sanctions" if you watched the IndyMedia show on Albuquerque's public access TV Ch. 27 on Thursday evening (7-8 pm).  The mainstream corporate stations did not cover this serious discussion.  It didn't fit within the sanitized commercial programming of KOB, KOAT, KASA or KRQE.  The Albuquerque Journal certainly didn't cover it.
Albuquerque's public access channels 26 and 27 have been run efficiently and economically for thirty-plus years by Quote-Unquote but now city government may lock the doors and turn off the lights.  There is a very real threat that the community will lose its public access channels, the only media that provides free studios, equipment and training to the public so that our voices can be heard, and the stories we care about can be aired.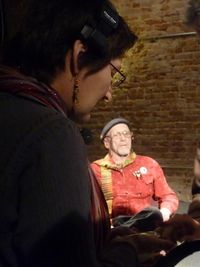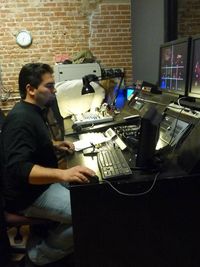 I naively thought public access channels were guaranteed by some FCC regulation, but in recent weeks I've learned there is a nationwide campaign by phone companies --- including AT&T Inc,  Verizon Communications Inc, and Qwest Communications International Inc. --- to move into the cable market.  They have their sights on PEG (public, education and government) channels.   Albuquerque is part of a much larger battle being waged in Los Angeles; Troy, NY; Tampa, FL; and elsewhere around the country.
The corporate takeover is a bit convoluted, but here's the skinny as I understand it today.  Comcast wants the cable TV channels which were reserved for public use in the ABQ/Comcast 2002 Franchise Agreement.  That agreement doesn't expire until October 2017, and it was codified as a city ordinance.   That means Mayor Berry and the City Administration cannot simply turn the keys over to Comcast;  the City Council must approve any amendments to the agreement first.  The battle is currently in the city council chambers where free speech advocates have eloquently pled their case.  The final decision is expected Monday, May 7.
The deal being secretly negotiated with the country's largest and most powerful cable television operator by the Berry Administration is the transfer of operating rights of six of the nine digital cable channels reserved for public use for a small fraction of their worth.  To illustrate the size of the giveaway, note that the last sale of two commercial channels approached $30 million, but the Comcast offer for six channels is reported to be a total of $250,000.
The arithmetic stinks, but so do the bedfellows.  Mayor Berry and the Administration bypassed the Cable Franchise and Hearing Board recommendation to award the public access contract to Quote-Unquote, by creating an ad hoc group which recommended that uPublic receive the contract – the same group that was effectively "gifted" the Education Channel 95 nearly a year ago but has kept the channel dark ever since.
Another fishy piece of this puzzle.  Rick Metz, President of uPublic, had a meeting with Rob Perry, the city's Chief Administrative Officer, prior to the city issuing the RFP to operate the public access channels.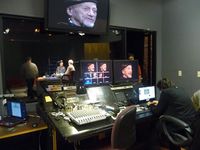 It appears to me that uPublic is the front man for Comcast in this "deal." If the City Council approves the amendment to the ABQ/Comcast 2002 Franchise Agreement and uPublic is awarded the public access channels, then the "deal" will strip ordinary citizens of a valuable 1st Amendment platform in Albuquerque.
This is CHINATOWN, only the battle is for broadband real estate, and not water rights; for freedom of speech, not a glass of water.  And many, many more cities around the country are also under siege, or have already lost to the Cable/Media giants.
Time for the public to rise up and tell the City Council that free speech in Albuquerque is not for sale.
April 24, 2012 at 06:14 AM in Corporatism, Government, Lora Lucero, Contributing Writer, Television | Permalink | Comments (3)
Saturday, April 21, 2012
300 Youth Partake in Earth Day Service Activities at new Youth & Community Garden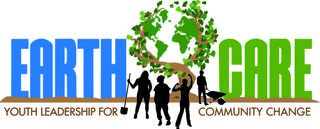 Earth Care, Santa Fe, NM – (April 20, 2012) – Three hundred students from Amy Biehl, Capital High, Cesar Chavez, Ortiz Middle School, the Master's Program, Nava, Salazar, and Tesuque Elementary schools, walked and bussed to Earth Care's new location at the Zona del Sol building in the Tierra Contenta neighborhood for a day of environmental service projects. The event marked Earth Day and Global Youth Service Days.
The day included construction of an adobe horno, planting over 30 trees, constructing garden beds, and erecting fencing for the new Earth Care Youth & Community Garden at Zona del Sol. Partner organizations also hosted activities such as solar oven baked cookies, solar spun art, trash art, recycling relays, and the blessing of a medicine wheel garden.
Congressman Ben Ray Lujan attended and helped mix mud and wire fencing with the students.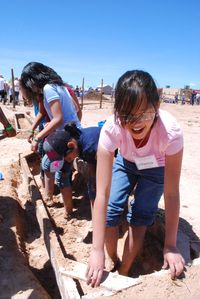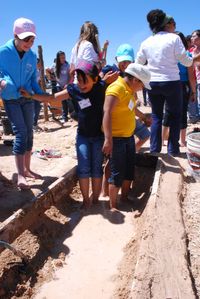 "This was the best field trip ever" said a 3rd grade student from Amy Biehl Elementary school.
At lunch, the 2012 Sustainable Santa Fe and Eco Schools Awards were presented, recognizing projects such as the infill condominium building project on Shoofly in the Green Building category and the Quivira Coalition for their "Carbon Ranch" conference in the Ecological Adaptation category. Thirteen schools received Eco Schools Awards for campus beautification, waste reduction, sustainable food, and water conservation. The event was hosted by Earth Care in partnership with s Zona Del Sol, The City of Santa Fe, and the Santa Fe Public School District.
About Earth Care
Earth Care's mission is to educate and engage youth to create healthy, just and sustainable communities. We have been providing programming for young people in Santa Fe since 2001. www.earthcarenm.org
About Global Youth Service Day (GYSD)
Established in 1988, GYSD is the largest service event in the world and is now celebrated in over 100 countries. On GYSD, children and youth address the world's most critical issues in partnership with families, schools, community and faith-based organizations, businesses, and governments. GYSD is an annual campaign that celebrates and mobilizes millions of children and youth who improve their communities each day of the year through service and service-learning. As a Lead Agency, Earth Care received a grant from Youth Service America to coordinate GYSD projects, promoting the idea that children and youth are assets and resources to their communities. www.gysd.org.
April 21, 2012 at 08:14 PM in Environment, Youth | Permalink | Comments (0)
Chavez Supported By Mayors From Across NM & Around the Country
It's Time for Practical Solutions to Our Problems, Not Extremism
Today, Marty announced the support of former Estancia Mayor Marty Hibbs and Edgewood Mayor Brad Hill.
These Mayors join dozens of other New Mexico officials and Mayors from around the nation in supporting Marty's campaign to bring tough leadership that can deliver results to Congress.
"There is a demand in New Mexico and hroughout the country for sustainable and responsible growth. Marty is that rare politician who has done both," added Mayor Hill. "The people of Edgewood have a desire for that kind of vision in their Congressman and Marty is the one who can get it done. As Mayor of Edgewood, I would like to give my enthusiastic support for Marty Chavez for Congress."
Chavez noted, "It's an honor to have the support of local Mayors like Marty Hibbs, Brad Hill and Jack Torres as well as national figures such as Antonio Villaraigosa, Federico Pena and Paul Soglin because Mayors like these understand the need to get real about our economic situation and offer practical solutions to the problem we face. This Congress has been threatened by government shutdowns, defaults and an overall rejection of common sense compromise. We've clearly seen that extremism doesn't get the job done and that we need Mayors in Congress, who know how to offer practical solutions to get the economy moving."
"I'm endorsing Marty Chavez in my capacity as a former Mayor and as someone who has worked with him closely for years. Marty understands that what Torrance County needs most in Washington right now is someone who can meet the needs of our rural communities and break through the clutter to solve the problems we face," said Hibbs. "Marty has always been a friend to Estancia and his priorities are a perfect match to the needs of Torrance County families. As a former Mayor myself, I'm very aware of the need to get things done for your community. Marty always delivered for the people of Albuquerque whether it was on water conservation, helping to create jobs or just making Albuquerque a great place to live for New Mexican families."
The list of Mayors who have endorsed Marty Chavez can be seen here.
April 21, 2012 at 01:05 PM in Candidates & Races, Martin Chavez, NM-01 Congressional Race 2012 | Permalink | Comments (0)
Friday, April 20, 2012
LasVegas, New Mexico, Adopts Community Bill of Rights; Bans Corporations from Fracking for Shale Gas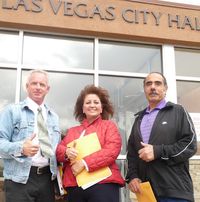 Photo to the right from Drilling Mora County. The three Councilors: Councilman Feldman, Councilwoman Tonita Gurule Giron and Councilman Romero voted in favor of the Ordinance.
"Revolutions always start small—we know that. The Abolitionists started with 12 kids in the 1840s.This one has started small as well with a handful of communities intent on turning the existing system upside down. Hopefully, if we move forward it will make it OK for others to follow in the path. And we must make that path by actually walking it."
Andrew Feldman, sponsor of "Las Vegas Community Water Rights and Self-Government Ordinance"

(Monday, April 2, 2012- Las Vegas, NM) In front of a standing-room only crowd of residents, by a vote of 3-1, the City Council, Las Vegas New Mexico enacted the Las Vegas Community Water Rights and Local Self-Government Ordinance, drafted by the Community Environmental Legal Defense Fund, which places into law a local Bill of Rights, including the right of all residents, natural communities and ecosystems to water from natural sources, the right of residents to unpolluted water for use in agriculture, the rights of natural ecosystems to exist, and flourish and of residents to protect their environment by enforcing these rights. Also enumerated is the right to a sustainable energy future, and the right to local self-government.
To protect these rights, the ordinance makes it unlawful "for any corporation to engage in the extraction of oil, natural gas, or other hydrocarbons within the City of Las Vegas and its watersheds, for any corporation to engage in the extraction of water from any surface or subsurface source within the City of Las Vegas and its watersheds for use in the extraction of subsurface oil, natural gas, or other hydrocarbons, to import water or any other substance…used in the extraction of oil, natural gas, or other hydrocarbons, into the City of Las Vegas or its watersheds for use in the extraction of subsurface oil, natural gas or other hydrocarbons within the City of Las Vegas and its watersheds."
It is now also unlawful  "for any corporation…to deposit,store, transport or process waste water, produced water, frack water, brine or other materials, chemicals or by-products used in the extraction of oil, natural gas, or other hydrocarbons, into the land, air or waters within the City of Las Vegas," or to "use a corporation to construct or maintain infrastructure related to the extraction of oil, natural gas, or other hydrocarbons within the City of Las Vegas or its watershed."
The process for adoption of this local law was punctuated by drama. On February 15th Council member Andrew Feldman introduced the bill and the Council voted unanimously to advertise the ordinance and to place it on the agenda for a final hearing and vote on passage at the regularly scheduled March 21st Council meeting.
Mr. Feldman stated: "Along with the City of Pittsburgh, this is how we change federal law, folks. It starts at the bottom. We do this, and other cities do it. It starts a ball rolling that hopefully will not stop. We change our laws in this great country that protect us instead of protecting corporations."

At the hearing, no one spoke in opposition to the proposed law, but numerous voices rose in support. From the 115 community members in attendance, some spoke eloquently of the revolutionary nature of this bill. Local proponent for the ordinance Miguel Pacheco commented "This is a time we have to take a stand. This is not going to be easy, but it is the right thing to do. Our congress is holding us back. Our federal government makes the wrong choices for us in many instances. That's why this ordinance gives rights to nature, to us human beings. It elevates life. It puts corporations down where they should be. This ordinance is protecting innocents, all those who can't speak for themselves. Profit is not what human beings are about.  We need to care for one another, to take care of our environment, future generations and all living life forms."

Lee Einer of Las Vegas stated that "Our minds have been colonized, just as our land has been colonized. We live with in a legal framework that considers corporations to be persons, and Mother Nature to be property. I think that's strange! I think we have it backwards! I think Mother Nature is a person!  I think corporations are property! I think it's time to construct our laws differently."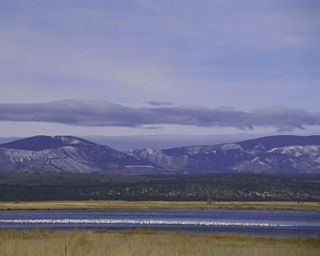 Photo above: Las Vegas NM National Wildlife Refuge
Mayor Alfonso Ortiz waxed eloquently in favor of the proposed law, saying: "Be serious about what is going on here. We are challenging the establishment, federal laws. If people are looking for profit--money isn't going to mean anything if we have no drinking water. It's not just important to vote for this ordinance, but to follow through and make sure other communities do as well.  If we pass this, we will set a model for the county to pass it easily, for Mora County to pass it easily--and hopefully other counties--we need to emphasize this to the New Mexico Association of Counties and the Municipal League."

However, at the meeting on March 21st, Council and community members were dismayed to learn that the mayor and Alfonso Ortiz and the City attorney, David Romero, decided to omit the question from the agenda, so that a vote could not take place. Residents were told there would be a second hearing and a motion for a second advertisement only.

At that meeting, the mayor, who stands for re-election on April 17th, stated "I feel very comfortable with the ordinance. I just want you to understand it…we're not against it. We're in favor of it. You're dealing with friends. It's a given we want to do the right thing. I'm already convinced. The ultimate goal is that the ordinance passes."
Mr. Romero had this to say: "I'm in full favor of working with you to strengthen this ordinance. The administration is not against this ordinance."
None-the-less, a vote was prevented. There was further discussion and testimony from community members and against the protests of the mayor and city attorney, a unanimous vote by Council scheduled a special meeting for the vote on adoption within two weeks, prior to the upcoming election. And again, the agenda was manipulated and the special meeting scheduled for three weeks out, rather than the two weeks voted upon by Council. Supporters of the ordinance discovered the change and notified the bill's sponsor, Council Member Andrew Feldman, and the meeting date was corrected to April 2nd.
At the April 2nd meeting, with more than 100 residents in attendance, as well as Karin Forster, attorney and executive director of the New Mexico Oil and Gas Association, the mayor and city attorney exposed their opposition to the ordinance publicly.

Mr. Romero stated that the ordinance "is preempted by state law and it has language which implies if this law is challenged, the city could consider seceding from the union or acting as a sovereign nation. That type of language in any ordinance is inappropriate. I would like to note that does not mean that from what I've heard that the average person is against the ordinance… And there is a 2nd part: the Community Bill of Rights… that section is just out of bounds with the laws as we know it…I feel so strongly about this that if it is passed by the council, under my oath as city attorney, I may have to challenge the issue myself as part of my duties to…"
At this point the attorney's comments became inaudible as the residents shouted "Resign, Resign!"
Mayor Ortiz stated, "I'm concerned about this ordinance because of the significance…If we were to look at this ordinance and look at elements of it, and maybe include some things, exclude some things…I think that the majority of the people are in favor of it, but there's little flaws, little clues in there that can be readin different ways…"
When the vote came, Councilor Tonita Gurule Giron voted yes, Councilor Vince Howell no, Councilor David Romero voted yes, and Councilor Andrew Feldman voted yes.
After the vote the New Mexico Oil and Gas Association's Karin Forster told the city attorney the oil companies would be filing suit against the City of Las Vegas.
As a final "protest" against adoption of the ordinance, the mayor has so far refused to sign it, although he has no legal authority to halt or veto the law.

The Community Environmental Legal Defense Fund, located in Chambersburg, has been working with people in Pennsylvania since 1995 to assert their fundamental rights to democratic local self-governance, and to enact laws which end destructive and rights-denying corporate action aided and abetted by state and federal governments.
April 20, 2012 at 01:06 PM in Corporatism, Fracking, Land Issues, Water Issues | Permalink | Comments (6)
New Mexico State Federation of Labor, AFL-CIO Endorses Martin Heinrich for U.S. Senate

Yesterday, the New Mexico Federation of Labor, AFL-CIO Executive Board voted to endorse Martin Heinrich in his race for U.S. Senate. The NMFL, AFL-CIO is New Mexico's largest federation of labor organizations representing more than 171,000 union members and their families and 36 unions throughout New Mexico.
In a statement, New Mexico Federation of Labor President Jon Hendry credited Heinrich's unwavering commitment to fighting for working families as the reason for the endorsement.
"The NMFL, AFL-CIO endorses Martin Heinrich because he is the best person to represent the 171,000 union members and their families in New Mexico who are looking for someone to fight for jobs and stand up for working and middle-class families," said President Hendry. "We value hard work. Martin comes from a union family and will fight for us and hold corporations and Wall Street bankers accountable."
"It's an incredible honor to receive the endorsement of the New Mexico NMFL, AFL-CIO," said Martin Heinrich. "My dad was an I.B.E.W. lineman and my mother worked in a factory. Growing up, I saw how important organized labor was to my family and the respect that it has brought to working people across this country. I'll never stop fighting for working families and I look forward to working alongside the NMFL, AFL-CIO in this important campaign."
Martin Heinrich has received overwhelming support from New Mexico's labor community but the endorsement of the NMFL, AFL-CIO is the most significant to date. The NMFL, AFL-CIO mobilizes hundreds of volunteers to organize voter registration drives and get-out-the vote campaigns on behalf of their endorsed candidates. For more information on the NMFL, AFL-CIO you can visit www.nmfl.org.
April 20, 2012 at 08:32 AM in 2012 NM Senate Race, Candidates & Races, Rep. Martin Heinrich (NM-01), Unions | Permalink | Comments (0)
Thursday, April 19, 2012
Senator Sapien and Insurance Agent to State Farm: ALEC not right for me, you or New Mexicans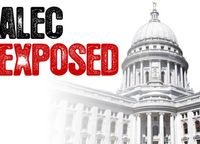 Earlier today DFNM had a post up regarding a challenge NM Senate Candidate Ben Rodefer had for existing Senator John Sapien of Senate District 9. Rodefer was asking Sapien to sign this anti-ALEC Pledge to rebute ALEC and it's pushing of legislation on to States like NM. In case you have not been following this story many major corporate fat cats are dumping ALEC right now. Glad to see Senator Sapien is standing up for the people of New Mexico.
The following links describe ALEC and describe this anti-ALEC campaign. And to read the previous dfnm post on this matter see here.
Below is from ProgressNow New Mexico.
Earlier this week, ProgressNow New Mexico called on New Mexico's state legislators of both parties to join legislators and companies across the country in denouncing ALEC, the shadowy corporate special interest group behind legislation like the deadly "Stand Your Ground" laws and voter suppression laws across the country.
To date, twelve household name companies, including Coca-Cola, Pepsi Co, Kraft and Mars have abruptly cancelled their memberships in ALEC, as have many state legislators across the country.
This afternoon, New Mexico's State Senator John Sapien, who is also a State Farm insurance agent, replied to our action by releasing a public statement calling on State Farm to follow suit. 
"Over the past several weeks I have been speaking with State Farm urging the company to reconsider their relationship with the American Legislative Education Council (ALEC).  In light of model legislation and the impact that we have seen of similar legislation adopted in other states it is time for relationships with ALEC to be reconsidered.  The suggested solutions to issues in which ALEC has supported are not right for New Mexicans."...   
…While Senator Sapien has never been a member of ALEC.  His exposure to the organization on a social level and the negative results in other States, provides a basis for calling on State Farm and his fellow legislators to withdraw support of ALEC. 
Pat Davis of ProgressNow NM issued this statement in response to Senator Sapien's release:  "We commend Senator Sapien for standing against ALEC and for challenging his own corporate headquarters to do right by New Mexicans.  We hope other state legislators will follow suit and answer our call to end their association with ALEC."
The American Legislative Exchange Council, ALEC, is a corporate-funded group which provides model legislation to legislators to advance conservative political positions across the country.
April 19, 2012 at 07:02 PM in 2012 Legislature Races, Candidates & Races, Corporatism, ProgressNow New Mexico | Permalink | Comments (5)
Luján Offers Bipartisan Legislation to Address Fire Hazards in National Forests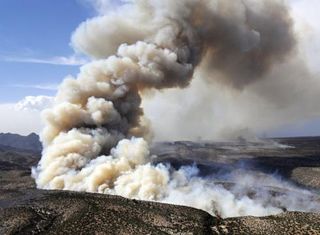 One of the huge NM wildfires from last year: The Los Conchas Wildfire above from USA Today.
To see all the NM wildfires which happened just last year 2011 see this link.
Congressman Ben Ray Luján of New Mexico's Third District introduced legislation to help protect national forests from wildfires while creating jobs in local communities. The Forest Stewardship and Fire Fuels Reduction Act of 2012 is a 10-year reauthorization of a federal program that funds efforts to reduce overgrown vegetation in forests that contributes to the intensity and devastation of wildfires. The bipartisan bill is cosponsored by Congressman Paul Gosar of Arizona.
"Last year our national forests were devastated by wildfires. In New Mexico alone, wildfires destroyed hundreds of thousands of acres of national forests and public lands and ruined watersheds and destroyed other vital natural resources for numerous communities," Congressman Luján said. "The most extensive and serious problem related to the health of our national forests is the over-accumulation of vegetation, which has caused an increasing number of large, intense, and uncontrollable wildfires. Without the removal of hazardous organic fuel material, overgrown forests and organic fuel material increase the risk of wildfires and pose a significant threat to our national forests. Our national forests are one of our country's greatest treasures. This legislation can help restore and maintain healthy forest ecosystems and support a continuing source of local income and employment for rural communities by providing contracts to help maintain healthy forests."
"The Wallow Fire proved that thinning initiatives, such as the White Mountain Stewardship project, can neutralize wildfire and save communities but that significantly more of them need to be implemented," said Congressman Gosar. "Arizonans are tired of being victims of avoidable wildfire conditions. Extending this important tool allows the government to partner with private industry in order to restore the environment, improve public safety, and put people back to work in our national forests. "
Currently, the United States Forest Service (USFS) and the Bureau of Land Management (BLM) are authorized to enter into Stewardship End Result Contracting Projects to improve land management and remove these hazardous organic fuel materials from our national forests. USFS and BLM have used Stewardship End Result Contracting Projects over the last 10 years to reduce the hazard of overgrown vegetation in national forests, however, the authorization for this contracting process is scheduled to end in 2013. The loss of these agreements will limit the ability of the USFS and BLM to carry out fuels reduction and thinning projects in national forests, resulting in increased fire danger and the loss of jobs in the local economies.
Luján introduced similar legislation last year to provide a permanent reauthorization of the contracting process. After working with the Natural Resources Committee and his Republican colleagues, Luján is introducing an updated version with a 10-year reauthorization that has earned bipartisan support. Stewardship End Result Contracting promotes sustainable natural resource management practices in a broad range of activities that improve land conditions including fire fuels reduction and forest thinning projects to help protect forests from wildfires. As an added benefit to local communities, stewardship contracting encourages a closer working relationship between rural communities and federal agencies by promoting economic development through contract opportunities.
April 19, 2012 at 04:30 PM in Los Alamos, Rep. Ben Ray Lujan (NM-03) | Permalink | Comments (0)
New Mexico Telegram the New Independent Non-Corporate News Website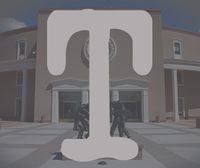 New Mexico Telegram, an independent, non-corporate news website run by a native New Mexican needs your help.
NM Telegram is completely funded by readers (and, eventually, advertisements). NM Telegram is also my sole job -- as you can see, donating to NM Telegram is an important part of keeping the website alive and whole.
And it is easy to do. The donation widget is on the right side of the home page and you can donate with just a few clicks -- anywhere from $10 to $250 to help an independent website with original reporting keep doing its work.
For example, I strike down anywhere from 15-30 obvious spam comments a day -- a service called Akismet can do this for $60 a year for the site. But for now it is up to me to wade through the comments and make sure these comments don't see the light of day.
In the five weeks that NM Telegram has existed, the site has featured interviews with candidates for 1st congressional district (and will feature another one next week), followed the saga of which candidates are tossed from the ballots and which candidates are allowed by the courts to stay on the primary ballot.
And in less than two months, NM Telegram will be covering the primary elections that will have major consequences on the makeup of the state legislature as well as who will go to Washington D.C. to represent the state.
The goal of raising just $5,000 by the end of June is easily doable with the readership that NM Telegram has already gained -- and with the support, NM Telegram will be able to expand its readership even further.
But to get things kicked off, I'm setting a smaller goal: get to the $500 threshold by this time next week. That is (just about) noon on the 25. With $20 already in the bank, that means a little less than $70 a day.
In the five weeks that NM Telegram has existed, the site has featured interviews with candidates for 1st congressional district (and will feature another one next week), followed the saga of which candidates are tossed from the ballots and which candidates are allowed by the courts to stay on the primary ballot and covered a number of other important New Mexico politics stories.
Matthew Reichbach is the editor and publisher of New Mexico Telegram. Matthew previously worked at the New Mexico Independent where he covered New Mexico politics, then at Clearly New Mexico where he covered state policy and the legislative session. You also may know Matthew as @fbihop on Twitter or through his previous blog, the confusingly named New Mexico FBIHOP. Matthew is also a native New Mexican, born in Albuquerque and raised in Rio Rancho.
April 19, 2012 at 01:30 PM in Action Alerts, Guest Blogger, Weblogs | Permalink | Comments (0)
Rodefer Issues Challenge to Sapien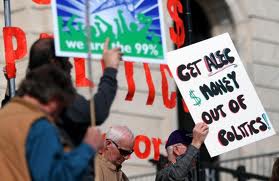 "Sign the New Mexico Anti-ALEC Pledge!"
There is an ongoing Country wide abandoning of the ALEC ship including major corporate supporters such as Coke and McDonald's to Politicians republicans and democrats. Please follow this link if you want to read more about ALEC and what they are about.
Yesterday, Ben Rodefer issued a challenge to State Senator John Sapien to sign the New Mexico Anti-ALEC Pledge. Rodefer is challenging Sapien in the Democratic Primary election for State Senate District 9.
The American Legislative Exchange Council (ALEC) is a corporate and conservative funded think tank that creates model legislation for companies such as Phillip Morris Corporation, Pharmaceutical Research and Manufacturers of America, R.J. Reynolds Tobacco Company, State Farm Insurance Companies, Cargill, Inc. and others. ALEC's funding comes from sources such as the Charles G. Koch Foundation (of the Koch Brothers), ExxonMobil, the Coors family and others.
Rodefer stated, "New Mexicans deserve better than ALEC, which has tried hard to push anti-New Mexico legislation through our legislature. It's time we stood up to ALEC. I have fought long and hard against ALEC-like legislation so we can protect consumers, protect our environment and protect New Mexico's working families from well-funded but misguided insurance, oil and tobacco companies."
Rodefer continued, "I urge my opponent, State Senator John Sapien, who has a long history of supporting ALEC-like bills, to immediately repudiate both ALEC and his previous support for ALEC-type bills, and sign my New Mexico Anti-ALEC pledge."
Sapien, who was reported to have attended an ALEC dinner as recently as January 2012 (http://www.progressnownm.org/blog/2012/01/occupy-alec-progressnow-nm-was-there.html), introduced legislation in 2012 to let big, out-of-state corporations make up their own rules and choose their own tax rates. He is supported by and has taken thousands from big, out-of-state corporations and powerful lobbyists, including Chevron, Philip Morris, Walmart, Conoco, and Helena Chemical.
Sapien is a State Farm insurance agent, and the State Farm Insurance Companies are a longtime defender of ALEC and have benefited from ALEC's model legislation designed to strengthen the insurance industry (http://www.prwatch.org/news/2012/04/11439/state-farm-insurance-claims-no-fault-bankrolling-alec).
April 19, 2012 at 12:00 PM in 2012 Legislature Races, Candidates & Races, Corporatism | Permalink | Comments (4)
KOB TV Calls NM Congressional District 1 Race a Two Person Race

From Michelle Lujan Grisham's Campaign:
Michelle's campaign has the most momentum heading into the final 7 weeks.  Just this week it became clear this is now a two-person race and Michelle is best positioned to win in June and keep this seat in Democratic hands come November, but we still have a lot of work to do... starting right now.
We are just days away from the start of voting and we need the investment of 100 supporters by Friday at 5pm to help us reach residents of the 1st Congressional District before the votes are cast.  Whether it's talking with seniors or dancing in a parade, Michelle is the hardest working candidate in this race.  She has the ability to convince voters on the spot to support her.
We have set an aggressive online goal and I hope you will chip in and join with the thousands of supporters of the campaign today with your first donation or an additional gift.  We need the support of 100 donors by FRIDAY at 5pm to make sure we are able to lay the groundwork for success.
We are talking with hundreds of voters every day and your help will put us over the top on June 5th. Your support of $ or whatever you can means the world to Michelle and will allow her to spend more time out meeting voters... where she belongs.  You are the force behind this campaign and without your help today we may not hit our aggressive goals.
April 19, 2012 at 10:33 AM in Candidates & Races, Michelle Lujan Grisham, NM-01 Congressional Race 2012 | Permalink | Comments (0)