« What if GE Paid Their Fair Share in Taxes? | Main | Matt David Munoz Democratic Candidate for NM HD 15 »
Saturday, April 14, 2012
New Mexicans Deliver 3,000 Petitions to PNM Demanding Investment in Clean Energy, Decrying Large Corporate Profits and Dirty Coal Plants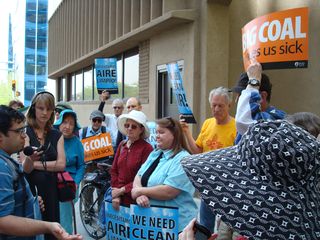 Photo Above: Juan Reynosa with SouthWest Organizing Project (SWOP) addressing the crowd outside P NM
On Tuesday, April 10, dozens of New Mexicans rallied outside Public Service Co. of New Mexico (PNM) headquarters demanding that the utility begin directing their large corporate profits towards clean energy instead of relying on old, dirty coal-fired power plants. Members of environmental, health, Native American, and community groups including the Sierra Club, SouthWest Organizing Project, Dine CARE, 350NM, and CREDO Action rallied outside the building at noon, then delivered more than 3,000 petition signatures addressed to PNM CEO Pat Vincent-Collawn. PNM spokesperson Valerie Smith accepted the petitions on the company's behalf.
"New Mexicans are upset that PNM is raking in huge corporate profits while operating dirty, dangerous coal plants and hiking rates," said Shrayas Jatkar, Sierra Club organizing representative in New Mexico. "It's time for PNM to claim responsibly as the state's largest utility, and invest in New Mexico's abundant sun, wind, and efficiency resources."
The petition signatures were collected online in response to a recent report from the organizations called "Perspective on PNM," which found that since 2008, PNM's electricity rates have increased by 41 percent, adding $250 per year to the average residential ratepayer's bill. At the same time, the report revealed that PNM directed 79% of the revenue from rate increases towards corporate profits, and less than 6% to efficiency and renewable energy programs.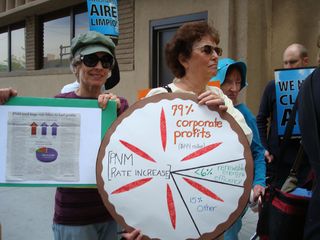 Photo Above: Sierra Club members Sallie McCarthy and Susanna de Falla demonstrate against PNM's practice of prioritizing profits ahead of clean energy investments.
"While PNM funnels huge profits to its Wall Street shareholders, New Mexico's working families are struggling," said Juan Reynosa, organizer with SouthWest Organizing Project. "The bonuses given to PNM top brass are related to an increase in profits for shareholders, but they contrast sharply with the rate increases imposed on New Mexico families."
The Perspective on PNM report revealed that, despite a corporate profit increase of 2500% – $144 million – between 2008 and 2010, PNM continues to fall short of meeting the state's requirement that utilities provide 10% of their electricity from renewable energy sources by 2010. PNM currently provides just 7.3% of its power from renewable sources. Moreover, PNM achieved savings of just 1.6% from energy efficiency programs through 2010, below the 5% target of New Mexico's Efficient Use of Energy Act.
In response to the report, the Sierra Club and CREDO Action collected more than 3,000 online petitions from New Mexicans telling PNM CEO Vincent-Collawn, "PNM should invest its earnings in real clean energy solutions rather than dirty coal. I urge you to protect New Mexicans' health by submitting a renewable energy plan to the Public Regulation Commission that exceeds the minimum requirements set forth in the NM Renewable Energy Act." The petitions also asked that PNM ramp up investment in clean energy and efficiency programs like its Solar Incentive Program that will create jobs, cut pollution, and save people and small businesses money in New Mexico.
PNM currently operates and owns 46% of shares in the San Juan Generating Station in Farmington, which burns dirty coal, exposing Navajo communities and other local residents to toxic pollutants like nitrogen oxides and climate-disrupting carbon pollution. San Juan Generating Station also threatens New Mexico's water security, consuming twice as much clean water annually as the city of Santa Fe. PNM also owns shares in the nearby dirty Four Corners coal-fired power plant.
"The San Juan Generating Station and nearby coal mine have been making us sick, threatening our livelihoods, and desecrating our sacred sites for far too long," said Donna House with Dine Citizens Against Ruining our Environment. "It's shameful that PNM insists on a cheap and dirty plan for regional haze to keep this outdated coal-burning power plant running, while Navajo Chapters have passed resolutions calling for a transition from coal to clean energy."
Executive compensation was also an issue raised by the activists on Tuesday. Last Friday, April 6, PNM granted Vincent-Collawn a $1 million bonus for performance.
Deirdre Smith with 350NM outlined the issue, saying, "It's shameful that PNM burdens us ratepayers with the costs of dirty coal energy, while PNM CEO Pat Vincent-Collawn just cashed in literally a million dollars, and PNM pours hundreds of millions into the US Chamber of Commerce. While PNM flouts state mandates for efficiency and clean energy, it is ratepayers and taxpayers who are subsidizing their pollution. We would rather invest toward New Mexico's transition to clean, renewable energy, saving ratepayers money, cleaning our air and water, and combating the climate crisis."
April 14, 2012 at 03:24 PM in Corporatism, Energy, Environment | Permalink
Comments