« Trouble with the DFNM Blog and Happy Easter | Main | PNM Ratepayers Deliver More than 3,000 Petitions Demanding that Utility Invest Huge Profits in Clean Energy »
Sunday, April 08, 2012
New Mexicans Ask Governor Martinez Not to Veto Any More NM Jobs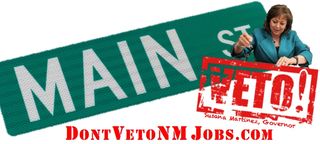 During a news conference Monday morning, several non-profit organizations will be rolling out a statewide public policy education campaign encouraging New Mexicans to ask Governor Susana Martinez not to veto any more New Mexican jobs. The paid media strategy follows the Governor's recent vetoes of three bi-partisan legislative measures in particular:
Funding for New Mexico's MainStreet program, a program credited with leveraging close to 600 jobs last year along New Mexico's main streets
Senate Bill 9, which would have both closed a massive corporate tax loophole for "big box" retailers and leveled the playing field for New Mexico's small businesses
$23 million in capital outlay spending aimed at providing vital economic development in New Mexican communities that need it most
The program strategy includes both stagnant and digital billboards across the state, as well as a radio buy and online advertisements. Each of the ads directs audiences to a "DontVetoNMJobs.com" website, where viewers and listeners can learn facts about each of the Governor's vetoes. An audio file of the radio advertisement can also be found on the website, as well as a petition encouraging visitors to ask Governor Martinez not to veto any more New Mexican jobs.
"Main Street New Mexico has been hurting," said Melinda Rand Kenefic, an Albuquerque small-business owner whose 20-year business in Nob Hill was forced to close as a result of the recession. "Governor Martinez has chosen to support mega out-of-state corporations at the expense of homegrown New Mexico small businesses and New Mexicans should know that," she added. Albuquerque's Nob Hill has been an often-touted example of how the MainStreet program's public-private partnerships can be leveraged to support private sector job growth.
In addition, the Governor vetoed a slew of capital outlay funds across the state, including money allocated by the New Mexico State Legislature for excellence training, assessment, and assistance for New Mexico businesses, and funding for the Tourism Department to promote New Mexico's adventure tourism destinations. The Governor's vetoes also included funding allocated for capital outlay in the state's poorest counties, including 71% of projects in McKinley County, 88% in Mora County, 45% in Cibola County, 33% in Rio Arriba County, and 96% in Torrance County.
The billboard image, radio ad, and detailed facts about the Governor's vetoes can be found at www.DontVetoNMJobs.com.
April 8, 2012 at 09:41 PM in Action Alerts, Jobs, Susana Martinez, Taxes | Permalink
Comments
Good idea! I hope this helps to inform New Mexicans about the TERRIBLE job that SM is doing as Governor. And just in case anyone thinks she will be a good VP candidate. . .
Buh bye, SM!
Posted by: bg | Apr 9, 2012 11:56:42 AM