« 4/11 in abq and 4/12 in sf: PRC Forums: Know Your Candidates! Public Regulation Commission Forums in Santa Fe, Albuquerque | Main | CHILE-PAC Endorses Cara Valente-Compton for House District 19 »
Tuesday, April 10, 2012
Nearly 50,000 Pounds of Toxic Chemicals Dumped into New Mexico's Waterways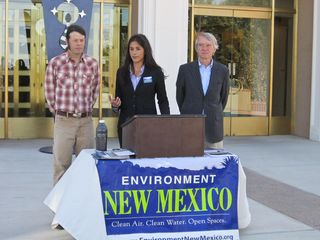 The following press release came from Environment New Mexico. Think of republicans and their anti regulation position while you read this.
Industrial facilities dumped 49,786 pounds of toxic chemicals into New Mexico's waterways," according to a new report released today by Environment New Mexico. Wasting Our Waterways: Industrial Toxic Pollution and the Unfulfilled Promise of the Clean Water Act also found that 226 million pounds of toxic chemicals were discharged into 1,400 waterways across the country.
"New Mexico's waterways are a polluter's paradise right now. Polluters dump nearly 50,000 pounds of toxic chemicals into New Mexico's lakes, rivers and streams every year," said Maxine Paul, Preservation Associate with Environment New Mexico. "We must turn the tide of toxic pollution by restoring Clean Water Act protections to our waterways."
Joe Moody, who runs Squash Blossom Farm at the end of the Santa Fe River, said of the farming business; "Weak regulations and enforcement have already done harm.  Farming in an arid region is difficult enough without the worry of toxins in our water supply." 
Francois-Marie Patorni of the Santa Fe Watershed Association stated, "To speak the obvious, not one drop of water can be taken for granted. Ever. The Santa Fe Watershed Association supports a living Santa Fe River and a green watershed through various programs. A lot was accomplished here, including the passing of an ordinance last month guaranteeing water in the river each year. But the Santa Fe River is just one river. All stewards of the environment should work together in securing clean water for all rivers in New Mexico. We support a 'NATO-like strategy': an attack on ONE river is an attack on ALL our rivers."
The Environment New Mexico report documents and analyzes the dangerous levels of pollutants discharged to America's waters by compiling toxic chemical releases reported to the U.S. EPA's Toxics Release Inventory for 2010, the most recent data available.
Major findings of the report include
The biggest polluter in the state was the department of defense, releasing over 46,000 pounds of toxics at the Holloman Air Force base near Alamogordo within one year. 
Over 1,000 pounds of toxics were discharged into the Chamas Creek in the Apache National Forest and Morgan Lake, near Farmington
Industrial facilities discharged approximately 181 pounds of chemicals linked to cancer, and 140 pounds of chemicals linked to developmental and reproductive harm into our waterways.
Environment New Mexico's report summarizes discharges of cancer-causing chemicals, chemicals that persist in the environment, and chemicals with the potential to cause reproductive problems ranging from birth defects to reduced fertility. Among the toxic chemicals discharged by facilities are arsenic, mercury, and benzene. Exposure to these chemicals is linked to cancer, developmental disorders, and reproductive disorders.
"There are common-sense steps that we can take to turn the tide against toxic pollution of our waters," added Paul.
In order to curb the toxic pollution threatening 88% of New Mexico's miles of waterways, Environment New Mexico recommends the following:
Pollution Prevention:  Industrial facilities should reduce their toxic discharges to waterways by switching from hazardous chemicals to safer alternatives. 
Protect all waters:  The Obama administration should finalize guidelines and conduct a rulemaking to clarify that the Clean Water Act applies to all of our waterways - including the 95,611 miles of streams in New Mexico and New Mexicans' drinking water for which jurisdiction under the Clean Water Act has been called into question as a result of two polluter-driven Supreme Court decisions in the last decade.
Tough permitting and enforcement:  EPA and state agencies should issue permits with tough, numeric limits for each type of toxic pollution discharged, ratchet down those limits over time, and enforce those limits with credible penalties, not just warning letters.
"The bottom line is that the land of enchantment's waterways shouldn't be a polluter's paradise, they should just be paradise. We need clean water now, and we are counting on the federal government to act to protect our health and our environment," concluded Maxine Paul.
April 10, 2012 at 09:05 AM in Environment, Water Issues | Permalink
Comments
This "report" is ridiculous. Obviously, Environment New Mexico didn't check the data, especially Table A-11, listing Holloman AFB as the major "polluter" in NM. After all, it's not really a product of Environment New Mexico. It's just got the "Environment New Mexico" logo on the front cover and an attribution on page 2, just like an identical report from Environment New Jersey. It's really a product of Environment America, but Environment New Mexico (and its other state siblings) needs to look like it produced something in order to justify and encourage donations and memberships.
Back to the assertion that Holloman AFB is the state's largest industrial polluter. This is a classic example of what happens when a history major (Rob Kerth of Frontier Group) is in charge of data-mining an EPA database. What toxic chemical is Holloman AFB "dumping" into "Lagoon G"? Is it mercury, dioxin, heavy metals? No, it's nitrates; effluent from their high-performing waste water treatment system. Effluent so clean that it's used to irrigate the base golf course, along the way also eliminating the requirement to use additional fertilizer and cutting potable water irrigation usage by over 20%. http://wrri.nmsu.edu/conf/conf11/pdf/abstract2_griffin.pdf
Why doesn't Albuquerque's Southside Water Reclamation Plant have a listing in the EPA's Toxic Release Inventory? After all, it's output is much larger than Holloman AFB's waste water treatment facility, and it discharges into the Rio Grande, not a land-locked lake. Probably because they followed the reporting requirements more closely than HAFB did, and didn't report nitrates because they are less than 1% of the total discharge. My contact at HAFB noted that HAFB shouldn't have reported the 46,267 lbs of nitrates at all for that reason.
What is Holloman AFB's "Lagoon G"? It's the "headwaters" of a series of ponds and manmade wetlands that terminate in Lake Holloman, a land-locked body of water above a naturally brackish water table. There is no "waterway", as anyone remotely familiar with the Tularosa Basin knows. Is it dangerous to wildlife? Not according to the Audubon Society, who complement HAFB on the wetlands. http://iba.audubon.org/iba/viewSiteProfile.do?siteId=622&navSite=state
So how accurate is the rest of the report and news release in regards to New Mexico? Who knows, because the report doesn't detail what the other releases really are, and Environment New Mexico was too busy thinking that they had caught HAFB (by definition part of the nasty military-industrial complex) in a major environmental snafu to do any really investigation on their own. Maybe there are some honest-to-goodness nasty polluters here in the great state of New Mexico. I have a refrigerator magnet that reads, "Computers are machines for making bigger mistakes faster". Instead of doing real research, including validating the results prior to holding a news conference, Environment New Mexico did the equivalent of copying some term paper off the web and claiming it as their own.
Posted by: Paul Lindsey | Apr 11, 2012 10:17:58 PM