« On the Move with Michelle Lujan Grisham | Main | Hector Balderas Statement on Marco Rubio's Alternative to the Dream Act »
Wednesday, April 04, 2012
Marty Chavez Meeting With Westside Small Business Owners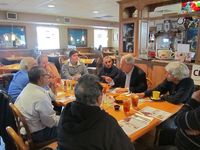 Yesterday, Democratic First Congressional District candidate Marty Chavez met with local small business owners on Albuquerque's Westside to hear about what Congress should be doing to strengthen small businesses and create jobs. Marty spent time discussing these issues with:
Larry Nelson, Owner of Nelson's Meats
Dago Ruiz, Owner of D&B U Sell It
John Battaglia, Owner of North Coors Self Storage
Anthony Nieto, Anthony M. Nieto DMD
Margy Hernandez, Co-Owner of La Mexicana Restaurant
"Small businesses are the backbone of our economy here in New Mexico," said Chavez. "The small business owners in attendance expressed unanimous concern about both the complexity of regulations and the inability to get access to credit and I fully believe Congress has a role to play in these areas. In Congress, my top priorities to help local small businesses grow will be to end the unfair tax giveaways to the mega-corporations - some of whom pay no taxes at all, streamline the regulatory process and find ways to facilitate greater access to traditional and non-traditional credit sources through micro-loan programs and strengthening local credit unions. There were no bailouts for small businesses in America, but there sure were for Wall Street. It's time we leveled the playing field." 
"Marty understands how business works and has proven that he has the problem solving ability necessary to work in Washington to get things done for small business can thrive," added John Battaglia. "He proved it as Mayor and I know that he will prove it in Congress."
Dago Ruiz noted, "What we need right now is someone who has actually helped create jobs like Marty. He is committed to making it possible for small businesses to get credit and grow and in turn create jobs. That's the kind of dedication to local business owners we need in Congress."
This is the second roundtable with local small business leaders. In October, Marty held the first of his discussions with small business owners in the East Downtown area.
April 4, 2012 at 04:36 PM in Business, Martin Chavez, NM-01 Congressional Race 2012 | Permalink
Comments