« CVNM and Organized Labor Support Eleanor Chavez for Senate District 14! | Main | Rep. Ben Ray Lujan: Equal Pay Day Is a Reminder of the Need to Close the Wage Gap Between Women and Men »
Wednesday, April 18, 2012
Guest Blog: Laura Harris for DNC Committeewoman: Why I want to represent New Mexico at the DNC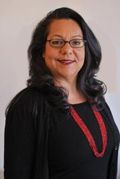 Following is a guest blog from Laura Harris. Laura is running to be the next NM DNC Committeewoman to be elected this weekend in Taos when the Dem Party meets to elect delegates to go to the DNC Convention being held in North Carolina. At this meeting in Taos the Democratic Party will also elect the next Committeeman and Comitteewoman to represent New Mexico. Laura would be NM's first Native American Committeewoman. Check out Laura's facebook page describing her activism for years within the Democratic Party. Go Laura Go!
Dear Fellow Democrat:
I am happy to announce to you that I am a candidate for NM Democratic National Committeewoman from New Mexico, and I need and will greatly appreciate your support and vote—in the meeting of the NM Democratic State Central Committee (SCC) April 21, 2012 in Taos.
I want to represent New Mexico because I have the experience to help turn and keep our state blue in 2012. I have been active in politics and the Democratic Party for more than 30 years, and I am a strong and proven fundraiser.
As I was growing up with my parents, Fred Harris and LaDonna Harris, politics was a part of my everyday life. In 1976, I accompanied my father in a Winnebago camper from Washington, D.C. to California, with hundreds of campaign stops across the country. I know the importance of participating in our political process.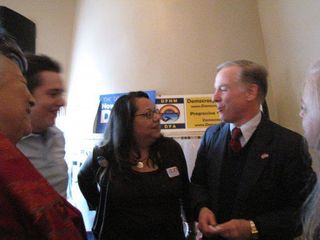 Laura and Howard Dean
Community organizing is my passion. Through my work as Executive Director of Americans for Indian Opportunity and as an active Democrat, I have helped to create meaningful and positive change. Currently, I head up an award-winning leadership development program, training young Native American professionals in community organizing, lobbying, civic participation and effective governance. In 2006, I helped strengthen the NM Democratic Party by establishing the Native American Democratic Caucus. I'm proud to report that eighty (80) Native Delegates were elected to the Pre-Primary Convention this past Saturday – a record number!
I know that each of us, working together and participating in the Democratic Party, can and do make a difference. 2012 will mark a historic election, especially for New Mexico. Listening in on the weekly conference calls of the National Native American Domestic Policy Advisory for the Obama Campaign, it is easy to hear from the DNC and national campaign officials that New Mexico is a vital battleground state – for the U.S. House, the Senate and the White House. The country will be counting on us! That's why it is more important than ever that New Mexico have a strong voice at the Democratic National Committee.
I will proudly represent New Mexico in this important election cycle and beyond. I would be humbled to be the first Native American to represent our state at the national level. I will bring my values to the national Party as a Comanche woman, as a proud New Mexican and as a Democrat. We are the Party of the people. We believe in taking care of our neighbor, in sustainable development, renewable energy and the fierce protection of our environment, and we are the Party that stands for equality for all peoples.
If you elect me to the DNC, I will make sure that New Mexico continues to play an important role in national politics so that the unique voice of New Mexico will be added to the national discussion and that New Mexican values will be a part of our national platform. The diversity and unique political landscape that make New Mexico special is a vital contribution to our national Party.
So, I ask for your support for NM Democratic National Committeewoman. I'll never forget you, and I'll never let you down. Please contact me at 505-250-8526 or Harris4DNC@gmail.com. (And check out my Facebook page: http://www.facebook.com/harris4dnc#!/harris4dnc) I look forward to hearing from you.
Best regards,
Laura Harris
April 18, 2012 at 01:30 PM in Democratic Party, Guest Blogger, Native Americans | Permalink
Comments
I have known Laura since we served together on the KUNM radio board in the 1990s, and I am an enthusiastic supporter.
Laura is truly passionate and committed to grass-roots action. She will keep us in the loop and take our issues to the DNC.
Go Laura!
Posted by: bg | Apr 18, 2012 2:10:27 PM
I have been involved with the Democratic Party when I lived in Deming in the early 80's. I moved to Tularosa in 1990 and i was elected county Vice-Chair in 1994. I was county Chair in 1996 and 1998. I am now serving my 5th term as the CD2 Regional Vice-chair and I must admit I do not know Ms. Harris. I think I may have met her one time,as an introduction only. I am sure she is a committed,passionate person. But being an active member of the democratic party I know the other candidate for DNC Committee woman Joni Gutierrez and her family for a very longtime. I have been to her house on numerous occasions as she hosted fundraisers for many candidates. Representative Gutierrez was Dona Ana County Chair and State party Chair. She served 8 years in the State legislature. She represented her district well.In my opinion, I think Representative Gutierrez's experience, party participation,her support of diversity of all ethnicities make her a perfect fit to be The Democratic National Committee Woman from New Mexico. and that is why I am voting for Rep. Joni Gutierrez.
Posted by: Stephanie DuBois | Apr 18, 2012 4:25:59 PM
I would hope in the spirit of fairness that this blog will allow Ms. Gutierrez equal space. That is the best part of this blog. Keep up the good work!
Posted by: Stephanie DuBois | Apr 18, 2012 4:47:38 PM
As the previous post mentioned, Representative Gutierrez has maintained an active role in the New Mexico Democratic Party. She is constantly opening up her home to host fundraisers for many candidates, and has a natural ability to mobilize and excite voters. I've known Representative Gutierrez for some years, and her generous nature extends to not only to her fellow candidates, but to everyone she meets. She has always made helping others a priority, particularly those less fortunate.
Gutierrez has earned an esteemed reputation as a dependable leader with a strong character. Her unique understanding of New Mexico and extensive experience make her a great representation of the party, and she would maintain a strong Democratic presence at both state and national levels. Representative Gutierrez will bring the necessary knowledge, enthusiasm, and determination to the NM Democratic National Committeewoman seat.

Posted by: Nicole Reeves | Apr 19, 2012 7:09:21 PM