« Chavez Statement on Equal Pay Day | Main | Guest Blog: Laura Harris for DNC Committeewoman: Why I want to represent New Mexico at the DNC »
Wednesday, April 18, 2012
CVNM and Organized Labor Support Eleanor Chavez for Senate District 14!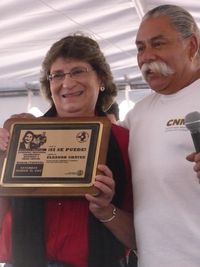 I am extremely honored and humbled to have received an endorsement from Conservation Voters New Mexico! I am proud of my record on conservation issues and have introduced legislation as your State Representative to increase transparency and accountability for oil and gas interests in our state.
If I am elected to the New Mexico State Senate, I will continue to stand up to special interests to protect our air, water and land for future generations!
To My Labor Brothers and Sisters….I would also like to send a special thank you to organized labor for their leadership and for their strong support of my campaign! So far, we've received official endorsements from:
New Mexico Federation of Labor AFL-CIO
International Association of Machinists and Aerospace Workers
CWA Local 7060 (Communications Workers of America)
OPEIU Local 251(Office and Professional Employees International Union)
Teamsters Local 492
Central New Mexico Labor Council
AFSCME Council 18 (American Federation of State, County and Municipal Employees)
New Mexico Building and Construction Trades Council
IATSE Local 480
United Food and Commercial Workers Union Local 1564 
We must continue to fight for safe and fair working conditions and for the rights of the hardworking men and women across our state. As a union and community organizer, I am committed to carrying a strong labor voice to Santa Fe on behalf of working families.
I want to thank you all again for standing with us through this campaign because we know that we can't do it alone.
As we get closer to Election Day, I would like to invite you all to get involved by emailing us or contributing online at ACTBLUE: eleanorchavez4senate.
I appreciate your support!
April 18, 2012 at 12:27 PM in 2012 Legislature Races, Candidates & Races, Unions | Permalink
Comments