« Art De La Cruz Chastised by Campaign Challenger for Being the Only Commissioner Still Defending Michael Wiener's Behavior | Main | Martinez Administration Issues New Concealed Gun Rules, Makes New Mexico Gun Law Most Restrictive in U.S. »
Monday, April 30, 2012
ALEC State Chair says ALEC Too Partisan, But Happy They Send Him Free Money
From ProgressNow New Mexico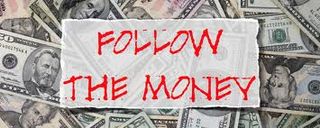 One of New Mexico's two state chairmen told constituents on Friday that thanks to ALEC he has never had to solicit a single campaign contribution. "It just shows up in the mail," he said in reply to questions from ProgressNow New Mexico.
On Friday, New Mexico State Representative Paul Bandy hosted a public forum on ALEC.  During the 90 minute session, Bandy took questions on everything ALEC and exposed, for the first time, how he as state chairman controls a corporate-sponsored slush fund he uses to pay for "scholarships" and other unreported expenses for ALEC members in the state.  
Bandy also told the group that references to ALEC are intentionally scrubbed from model legislation introduced because ALEC legislation would not pass in the state if the true origins were known. The ALEC chairman accidentally disclosed that ALEC membership is larger than has been publicly reported, though he declined to provide a full list.  New Mexico has one of the largest reported ALEC memberships in the country, formerly at 22 known members.  State Senator George Munoz resigned after ProgressNow NM called for legislators to leave the group.
In response to questions about challenges to ALEC's non-profit status, the ALEC state chairman also voiced concerns about the organization having become "too partisan."
Bandy's forum was hastily announced last week in an email from Bandy to a small group of constituents who responded to ProgressNow NM's call for constituents to call on their elected representatives to leave ALEC.  ProgressNow NM obtained a copy of the email and embarked on the 350-mile round trip to cover the event.  
A full accounting of the meeting, as well as audio clips are available online at ProgressNowNM.org .
April 30, 2012 at 03:24 PM in Corporatism, ProgressNow New Mexico | Permalink
Comments
ALEC is an assault on democracy! Pat Davis is to commended for his coverage of these unethical bastards....both the Pimps- (Corporations) and the Whores (legislators) who have done, do, &/or will do their bidding.
Posted by: PlacitasRoy | Apr 30, 2012 5:40:22 PM