« Chavez Supported By Mayors From Across NM & Around the Country | Main | Free Speech Not For Sale by Contributing Writer Lora Lucero »
Saturday, April 21, 2012
300 Youth Partake in Earth Day Service Activities at new Youth & Community Garden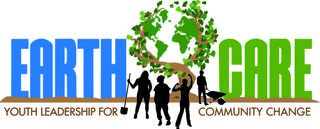 Earth Care, Santa Fe, NM – (April 20, 2012) – Three hundred students from Amy Biehl, Capital High, Cesar Chavez, Ortiz Middle School, the Master's Program, Nava, Salazar, and Tesuque Elementary schools, walked and bussed to Earth Care's new location at the Zona del Sol building in the Tierra Contenta neighborhood for a day of environmental service projects. The event marked Earth Day and Global Youth Service Days.
The day included construction of an adobe horno, planting over 30 trees, constructing garden beds, and erecting fencing for the new Earth Care Youth & Community Garden at Zona del Sol. Partner organizations also hosted activities such as solar oven baked cookies, solar spun art, trash art, recycling relays, and the blessing of a medicine wheel garden.
Congressman Ben Ray Lujan attended and helped mix mud and wire fencing with the students.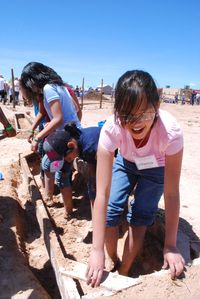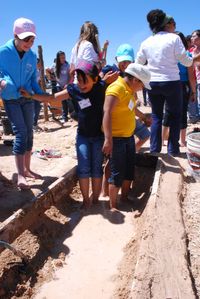 "This was the best field trip ever" said a 3rd grade student from Amy Biehl Elementary school.
At lunch, the 2012 Sustainable Santa Fe and Eco Schools Awards were presented, recognizing projects such as the infill condominium building project on Shoofly in the Green Building category and the Quivira Coalition for their "Carbon Ranch" conference in the Ecological Adaptation category. Thirteen schools received Eco Schools Awards for campus beautification, waste reduction, sustainable food, and water conservation. The event was hosted by Earth Care in partnership with s Zona Del Sol, The City of Santa Fe, and the Santa Fe Public School District.
About Earth Care
Earth Care's mission is to educate and engage youth to create healthy, just and sustainable communities. We have been providing programming for young people in Santa Fe since 2001. www.earthcarenm.org
About Global Youth Service Day (GYSD)
Established in 1988, GYSD is the largest service event in the world and is now celebrated in over 100 countries. On GYSD, children and youth address the world's most critical issues in partnership with families, schools, community and faith-based organizations, businesses, and governments. GYSD is an annual campaign that celebrates and mobilizes millions of children and youth who improve their communities each day of the year through service and service-learning. As a Lead Agency, Earth Care received a grant from Youth Service America to coordinate GYSD projects, promoting the idea that children and youth are assets and resources to their communities. www.gysd.org.
April 21, 2012 at 08:14 PM in Environment, Youth | Permalink
Comments