« 4/1: DWBC presents: Afternoon at the Movies, "Good Nite and Good Luck" | Main | 3/30 and 3/31: End of Quarter Fundraiser for Martin Heinrich »
Monday, March 26, 2012
3/27 and 3/28: Invitation to "Curbside Chat"
The public is invited to attend a Curbside Chat to talk about how we might build a stronger, more resilient community.
Can we afford to grow as we have in the past?  Why must we think and act differently to build a strong community for the future?  The answers lie in the way we have developed; the financial productivity of our places.
Chuck Marohn, Executive Director of Strong Towns, will challenge the common myths about growth, and suggest a new way of looking at the future.  His presentation is a game-changer for communities looking to grow more resilient and obtain true prosperity during changing times.
Chuck's   provides a glimpse of what he'll share with City Councilors and County Commissioners at a joint study session on Tuesday, March 27 in the Council/Commission Chambers from 1:30 - 2:30 pm.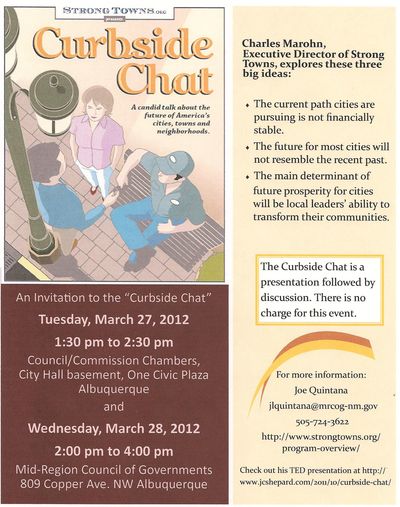 March 26, 2012 at 09:23 PM in Events, Urban Issues | Permalink
Comments
A very big "thank you" to Commissioner Maggie Hart Stebbins and Councilor Ike Benton for co-sponsoring this Curbside Chat at City Hall --- and to Councilor Rey Garduno and State Representative Rick Miera for attending.
I hope the Mayor and the other councilors and commissioners will have an opportunity to view the recording of this presentation.
Like all cities, Albuquerque is in for a very difficult future, and our leaders need to think creatively and ask some tough questions if we're going to build a strong, resilient community.
They might begin by looking at www.strongtowns.org
Posted by: Lora Lucero | Mar 28, 2012 12:54:38 AM
Sidsel Odegaard, conservation news reporter at KUNM, did a very good interview with Chuck Marohn following the Curbside Chat yesterday.
https://kunm.org/post/chuck-marohn-inevitable-end-suburbia
Posted by: Lora Lucero | Mar 28, 2012 9:50:02 AM