« Martinez Vetoes SB9; updated with Senator Peter Wirth Statement | Main | Jacob Candelaria to Launch State Senate Run in Albuquerque »
Tuesday, March 06, 2012
Susana Martinez Stands with Large Out of State Corporations over NM Small Businesses
New Mexico Small Businesses and Families Disappointed In Governor's Choice to Coddle Out-Of-State Corporations By Continuing Unfair and Unsound Tax Giveaway.
Today, Governor Susana Martinez vetoed Senate Bill 9, the "Corporate Fair Tax" bill, sponsored by Senator Peter Wirth of Santa Fe. As approved by both legislative chambers, the bill would have closed a loophole for "big box companies," lowered corporate income taxes, and leveled the playing field for New Mexico small businesses.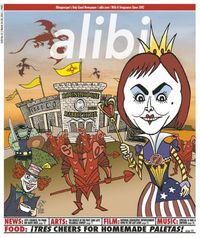 This cartoon sketch run in the Alibi April 2010 drawn by Lalo Alcaraz, could not be more true about Martinez. The Queen and her jesters outside the Roundhouse castle walls. Perfect image.
In a not so surprising but very disappointing move today Governor Martinez choose to favor big-box stores like Walmart and BestBuy over our NM stores like Baillos and many other NM businesses. In her statement she distorts the meaning of the bill which was discussed and vetted within the 30day session. Please read the bills history here, right from the legislative website, you can read what each committee did to the bill as far as amendments and who voted for the bill. It was a huge success to have this bill go through to floor votes in both the house and senate and pass in each chamber.
After nearly a decade of legislative attempts, the bill was approved by a bi-partisan vote in the 2012 New Mexico State Legislature and had been sitting on the Governor's desk for signature. Senator Wirth has been introducing the bill for the nearly decade. Senator Wirth deserves much appreciation from NM business's and citizen's for his relentless fight for tax fairness. He knows the history of the bill and can respond back to the opponents constant trickery of try this try that. Peter Wirth calmly says, "Good idea that was in the version in year 2008. And the republicans did not agree with that suggestion then." (paraphrasing). In Senator Wirth's statement of disappointment over Susana vetoing this good legislation. Senator Wirth says he will continue to fight for this bipartisan tax reform in future legislative sessions.
We are being taken advantage of
New Mexico is the last Western state that allows "big-box" companies to use this loophole to avoid taxes and shift the tax burden onto the backs of Main Street businesses. Thousands of calls were directed to the Governors office from her own citizens requesting her to sign this fair tax legislation. She has shown her true cards with this veto folks. She is not for small business. She is not for the struggling businesses and families in New Mexico. Martinez and every legislature who did not sign onto this bill is NOT for NM period. Pic to right by NM film sindication.
These large companies go to great extremes to not pay taxes in the community they are selling in. Wal-Mart, for example, created a holding company in Delaware for the purpose of transferring income in order to avoid income tax liability under New Mexico law. http://www.santafenewmexican.com/Opinion/myview/My-View--Michael-Mellon-Wirth-s-tax-bill-presents-dilemma-for-g
On Thursday, March 1, 2012, a coalition of community organizations submitted 5,000 signatures of New Mexicans urging the Governor to sign SB9. http://www.abqjournal.com/main/2012/03/01/north/gov-pressured-on-tax-measure.html
On Monday, March 5, 2012, the New Mexico Green Chamber of Commerce delivered a letter from 52 local businesses from around the state urging Governor Martinez to sign Senate Bill 9. http://www.nmgreenchamber.com/ChooseSmallBiz.
The SB9 also Lowered Taxes
A poll by Project New America demonstrated 70% of New Mexico voters support closing tax loopholes for out-of-state corporations while lowering the corporate income tax for all businesses that pay their fair share of taxes.
http://archive.constantcontact.com/fs071/1104335014834/archive/1109437937206.html
The NM Green Chamber of Commerce released this video outlining the impact of SB9 on small businesses: http://www.youtube.com/watch?v=0OSa4g9dPoA&feature=youtu.be
March 6, 2012 at 06:42 PM in Corporatism, NM Legislature 2012, Peter Wirth, Susana Martinez, Taxes | Permalink
Comments
Thanks DFNM, this absolutely should open New Mexico's eyes to what this Governor stands for, and for whom. I'm sure she was under a lot of pressure to give cover to the decent Republicans who might've voted in support of 9 had the Gov not been putting tremendous pressure on them to vote it down.
MegaloMart Martinez, Wal-Martinez, let 'em rip. NM businesses will be incensed by this veto, Democrats should be grinning ear to ear, this is the issue to sink the her GOP ship in NM.
Posted by: Miles Conway | Mar 6, 2012 7:07:36 PM
The Governatrix, Susana Wal-Martinez!
Posted by: Proud Democrat | Mar 6, 2012 7:41:06 PM
" Democrats should be grinning ear to ear, this is the issue to sink the her GOP ship in NM."
Sorry but, it is the Republicans that have finely honed the "small business" framing for many years. In the meantime, mealy-mouthed democrats will stand aside, mouths agape at the craven lies that the right-wing continues to propagate. The truth is NOT enough, no indeed not.
Posted by: qofdisks | Mar 6, 2012 11:33:32 PM
The State Democratic leadership needs to work with ALL our candidates to hone a message that they can use STATEWIDE on issues like SB9.
We need to have a message on driver's licenses and La Tejana's other bad issues that a better-informed electorate would turn away from at election time.
Those of us who saw her pandering and lock-stepping with her corporate masters and the national clown-car politics of her party need to work to get the message out. Susana is bad for NM, bad for people, bad for local businesses.
Posted by: bg | Mar 7, 2012 10:00:07 AM