« State Senator George K. Munoz Announces Film Jobs Headed to Gallup | Main | Senator Udall: Transportation Bill Good for America, New Mexico »
Thursday, March 15, 2012
Senator Udall: Contaminated Laguna Mine Proposed for 'Superfund' Cleanup Status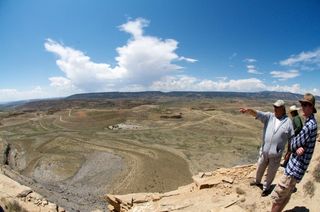 Jackpile Mine photo above by: landarts.org
U.S. Senator Tom Udall, issued a statement on Tuesday, March 13th following the Environmental Protection Agency's (EPA) proposal to list the Jackpile-Paguate Uranium Mine in Cibola County to the National List of Priorities of Superfund sites.
Udall, a member of the Environment and Public Works Committee, has been urging the EPA to expedite the cleanup of uranium contamination on Tribal lands in New Mexico.
Udall said:
"Today EPA is getting serious about the uranium contamination cleanup that the Pueblo of Laguna has long recognized as vital.
"I convened a Senate Subcommittee hearing last fall to urge the federal government to move quickly to halt ongoing water and soil contamination at the Jackpile site and other abandoned uranium mines on Tribal lands and elsewhere in our state.
"I trust EPA will work closely with the pueblo, and I will be monitoring these efforts closely in the months and years ahead."
EPA has been investigating the Jackpile-Paguate mine site on Laguna Pueblo land to determine the extent of the ongoing contamination. Once a site is proposed for listing, EPA solicits community comment and responds to concerns raised. After the comment period is over, and if the site still qualifies for Superfund cleanup, EPA will make its proposed listing final.
Superfund status is given to the most complex, uncontrolled or abandoned hazardous waste sites in the nation.
March 15, 2012 at 12:20 PM in Environment, Mining, Native Americans, Sen. Tom Udall | Permalink
Comments