« 3/24: New Mexico's Conservation Community Invitation to an Evening with Martin Heinrich | Main | Is the Conservative Rio Grande Foundation Acting as a Front to Violate New Mexico Law? »
Thursday, March 15, 2012
Librotraficante Caravan Stops in New Mexico Bringing Free Speech to Arizona
From our Southern Correspondent Stephen Jones.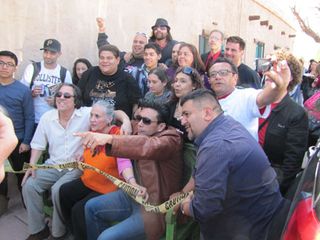 The Librotraficante Caravan made a stop at the Mesilla Cultural Center just off the Mesilla Plaza in Thursday morning. The Caravan was in southern New Mexico to bring awareness to the attempt by Arizona politicians to wipe out Hispanic cultural studies in its schools and ban books relating to Mexican American culture and history in Arizona's second largest school district. The Caravan is transporting "banned" book titles, dubbed by the group "wet books," back into Arizona to be distributed through makeshift cultural libraries.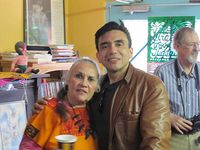 "They tried to erase our history, so we're making new history" proclaimed Tony Diaz, a writer from Houston, who is the chief organizer the effort. Denise Chávez, director of the Border Book Festival, and over a hundred other New Mexicans, including Doña Ana County Commissioner Billy Garrett, were on hand to greet the caravan as it passed through Mesilla on its way to Arizona.
The Librotraficante Caravan was organized to protest the decision of the Arizona State Legistature and the Tucson Unified School District to abolish Mexican American cultural studies programs and remove Hispanic literary, history, and civil rights titles, along with other works deemed "objectionalble" by Arizona politicians, from Tucson, Arizona area schools. Among the titles removed from Arizona schools were The House on Mango Street by Sanda Cisnero, a MacArthur Grant Literature award winner, Bless Me, Ultima by famed New Mexico author Rudolpho Anaya, the The Dictionary of Latino Civil Rights History, and even such classic works as Shakespeare's The Tempest.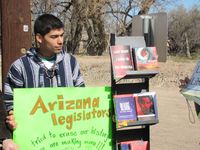 The Librotraficante Caravan launched its travel from Houston, Texas, to Tucson, Arizona, carrying a payload of contraband books with the intention creating networks of "Underground Libraries" and leaving community resources in its wake. One of many responses to Arizona's unconstitutional laws prohibiting Mexican American Studies, the Librotraficante Caravan has captured the imagination and hearts of activists, writers, educators, and students from all walks of life who want to preserve freedom of speech.
"Every great movement is sparked by outrage at a deep cultural offense," said Tony Diaz, founder of Nuestra Palabra: Latino Writers Having Their Say, which has led the charge, "When we heard that Tucson Unified School District administrators not only prohibited Mexican American Studies, but then walked into classrooms, and in front of young Latino students, during class time, removed and boxed up books by our most beloved authors – that was too much. This offended us down to our soul. We had to respond."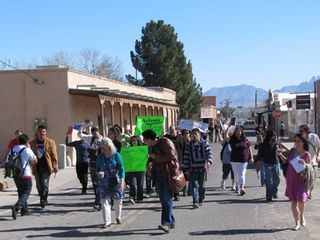 "With their record of anti-immigrant legislation, politicians in Arizona have become experts in making humans illegal. We did not do enough to stop that, thus that anti-immigrant legislation spread to other states such as Alabama and Georgia. Now, these same legislators want to make thoughts illegal. If we allow this to happen, these laws, too, will spread. Other branches of ethnic studies will be prohibited, and other states will follow suit" Diaz added.
A large group of writers have embraced the caravan, many participating along the route, including Sandra Cisneros, and Rudolpho Anaya. Others include Guggenheim Fellow Dagoberto Gilb, whose work recently appeared in the New Yorker and Harpers simultaneously, best selling author Luis Alberto Urrea, with multiple titles found on the banned book list, Other literary giants participating in the Librotraficante Caravan. Mesilla's Denise Chávez, author of Face of an Angel. Chávez, who hosted the caravan in Mesilla, organizes the Annual Border Book Festival; Lalo Alcaraz, creator of the syndicated comic La Cucaracha, and who coined the phrase "Self Deport"; and Rene Alegria, founder of Boxing Badger Media, who attended one of the impacted high schools in Tucson. In addition to southern New Mexico's Border Book Festival, institutions hosting the caravan along the way include the Guadalupe Cultural Arts Center in San Antonio, Texas, and the National Hispanic Cultural Center in Albuquerque, New Mexico.
March 15, 2012 at 05:31 PM in Books, By Stephen Jones, Contributing Writer, Hispanic Issues, Immigration | Permalink
Comments
We need to fight to keep homogeneous culture from overtaking NM. This is our children's heritage. Arizona, like NM has a centuries old tradition of Native-Hispano culture that makes our South West beautiful and unique worldwide.
This is reminiscent of China's cultural revolutionary purges.
Posted by: qofdisks | Mar 16, 2012 7:39:55 PM
Make no mistake about this! This is reminiscent, or rather an attempt to go backward, to the Jim Crow era in the United States.
Posted by: Ejército Libertador del Sur | Mar 16, 2012 11:56:32 PM