« Two Fundraisers for Eric Griego: Scalo on Thursday and Sprin Matanza on Saturday | Main | New Mexicans Can "Breathe A Little Easier" Thanks to EPA's Proposed Carbon Pollution Standard »
Wednesday, March 28, 2012
Heinrich Supports "No Budget, No Pay Act"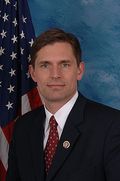 U.S. Representative Martin Heinrich (NM-1) supports legislation to cut off pay for members of Congress if they fail to pass a budget and all spending bills financing government agencies before October 1, the beginning of each fiscal year. Lawmakers couldn't be paid retroactively, either.

"Managing our nations finances—money coming in and money going out—is an essential duty of Congress," said Rep. Heinrich. "Yet a budget and the spending bills necessary to fund the government have passed on time only four times in the past 60 years. With families across New Mexico making tough decisions to budget their own finances, it's only right that Congress do the same. This is just one of many steps we must take in order to restore trust in government and bring accountability to Capitol Hill."

Rep. Heinrich, along with a bipartisan list of nearly 40 members in the House, is a cosponsor of H.R. 3643, the "No Budget, No Pay Act."
March 28, 2012 at 02:30 PM in Government, Rep. Martin Heinrich (NM-01) | Permalink
Comments