« NM01: Feldman-Stewart Letter Supporting Eric Griego for Congress | Main | Two Fundraisers for Eric Griego: Scalo on Thursday and Sprin Matanza on Saturday »
Wednesday, March 28, 2012
Guest blog: Good Jobs Green Jobs Conference Brings Together Labor and the Environment
This is a guest blog by Marianne Dickinson of Albuquerque, who is a former journalist, a lifelong community organizer and currently runs her own design/ planning/ marketing business. She has observed New Mexico politics for 30 years and still believes we could have ethical, capable, accountable government some day. See her other positions and posts on her opinion of the greening of Abq. NM here.
Two weeks ago, activists and organizers met in downtown Los Angeles for the 5th annual Good Jobs Green Jobs Conference, one of four held around the country this year in order to highlight local and regional accomplishments in greening the economy. In a time when the "Jobs VS the Environment" red herring is being hauled out to portray the Keystone XL pipeline battle, it was inspiring to see teamsters, steel workers and the Sierra Club on the same stage and at the same rally calling for the fair treatment of truckers and recycling workers. I attended as part of a Sierra Club NM delegation, the national organization being one of the many sponsors under the umbrella of the BlueGreen Alliance. (See www.bluegreenalliance.org)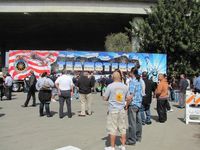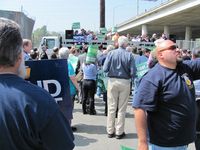 While we heard a lot of good news about how far LA and San Francisco have come in meeting their state's Zero Waste and clean air goals and mandates, the "real world" issues of unsafe, dirty, difficult and degrading conditions endured by workers in many sectors we want "to green" engendered the most passion in attendees. A few hundred of us were bussed to a rally at a privately-owned reclamation center where workers told the crowd how they: had to eat in a roach- and rat-infested lunchroom; had no hand-cleaning facilities, no training, and no safety equipment; sorted recyclables from trash containing dead animals and used syringes; how the collection trucks leaked a nasty brew of mystery fluids on neighborhood streets; and how workers were fired in retaliation for complaining or attempting to unionize. Their own signs said, "Somos humanos, no basura." (We are humans, not garbage.)
The plight of the recycling workers was the most outrageous, but it wasn't the only situation we had to consider when making policies without listening to workers and solving problems those policies could present. For instance, will janitorial workers be compensated for the extra work required to sort recyclables or use green cleaning products? Shouldn't unfair labor practices (like designating regular workers "contract labor" to avoid employer responsibilities) be addressed at the same time?
The rally speakers made me wonder what Albuquerque's recycling workers' situation is presently, and what it will be when the private contractor takes over. When I visited the City's sorting facility many years ago, the sorters were low-wage transient workers (homeless perhaps?) They didn't have to sort through mixed waste however, just what had been collected as recyclables. (Something progressives may want to look into….)
While the workshops barely touched on some green economy sectors---agriculture, green home building and financing, safer chemicals---there was discussion of a much wider array of green economic opportunities than the mainstream media usually covers. The green economy doesn't have to mean just solar panels and recycling; we could green a lot more of our local economy when labor, appropriate technology, and environmental advocates all work together!
This is a guest blog by Marianne Dickinson. If you'd like to submit a piece for consideration as a guest blog, contact me by clicking on the Email Me link at the upper left-hand corner of the page.
March 28, 2012 at 01:00 PM in Energy, Environment, Green Economy, Guest Blogger | Permalink
Comments
This is a guest blog by Marianne Dickinson of Albuquerque.
Posted by: Holiday rep jobs  | Mar 29, 2012 11:56:04 PM
First sockpuppets, and now spammers. Great. /snark
Posted by: Proud Democrat | Mar 30, 2012 10:37:15 AM