« 03/10: The DPNM Pre-primary Convention | Main | Luján Supports Legislation to Clean Up Abandoned Uranium Mines »
Thursday, March 01, 2012
Court Denies Attempt by Gov. Martinez and PNM to Stall Pollution Controls for Coal-burning Plant
A BIG WIN for the people's health in the four corners.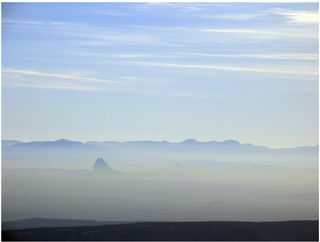 Photo from New Energy Economy; (photo: Smog in Shiprock, New Mexico – credit: Jane Partiger/EcoFlight)
A federal court ruled today that PNM must comply with a decision last fall requiring the utility to install pollution controls to significantly cut the 16,000 tons a year of harmful haze, ozone, and fine particle-producing nitrogen pollution that pours from the smokestacks each year at the San Juan Generating Station near Farmington, N.M.
Gov. Susana Martinez and PNM had petitioned the court to delay the EPA's pollution-control requirement from taking effect while they challenge the agency's decision in court. Today's 10th Circuit decision denies the Martinez-PNM delay, at the same time sending a positive signal that EPA's decision stands on solid legal ground.
"Now it's really time for PNM and Gov. Martinez to stop standing against the health of our communities who breathe this coal plant's pollution day in and day out," said Sarah Jane White with the Navajo group Diné CARE. "It's time they start standing instead where the people of New Mexico stand – on the side of energy from clean sources that create jobs and protect health, land, air and water."
The San Juan plant sits just outside the borders of Navajo tribal land near Farmington. "As long as San Juan Generating Station is running, it needs the best pollution controls possible," said White, "but when you look at the smartest use of precious ratepayer dollars, moving off coal to renewable energy is the answer."
The federal court's decision comes on the heels of a report released earlier in the week that revealed that while PNM has been fighting EPA's pollution control requirements, the utility has raised average residential rates 41 percent since 2008, and steered the large majority of the money into corporate profits.
"PNM is already irresponsibly funneling over a hundred million dollars of New Mexicans' hard-earned money into skyrocketing corporate profits during a tough recession," said New Energy Economy Executive Director Mariel Nanasi. "Now Governor Martinez and the utility should immediately stop wasting more ratepayer and taxpayer money fighting clean air and public health in court, and start investing in cleanenergy."
For decades, nitrogen emissions from coal-burning power plantshave been a major source of harmful haze in the Four Corners region, clouding the air and views in economically important national parks. Premature deaths, asthma attacks, heart attacks, chronic bronchitis, and hospital visits from San Juan Generating Station's pollution cost an estimated $255 million a year, according to the Clean Air Task Force.
Nitrogen oxide reacts with other compounds to form small particles that penetrate deeply into sensitive parts of the lungs. It is also a raw ingredient in the formation of ground-level ozone, which leads to asthma attacks, respiratory problems, lung damage, and even premature death.
Western Environmental Law Center and Earthjustice represented the following groups contesting the request by PNM and Gov. Martinez to delay implementation of the pollution controls: New Energy Economy, San Juan Citizens Alliance, National Park Conservation Association, Diné Citizens Against Ruining our Environment, and Sierra Club.
March 1, 2012 at 09:00 PM in Environment, Regulation, Susana Martinez | Permalink
Comments
I feel that the polution will always be around. I praise Gov. Martinez for attempting to revitalize our economy. Imposing higher fees on our power generation stations is dangerous to the stability of our economy. I feel we need to have to have mediation studies done on our air pollution in the Four Corners area to back up the claims of the EPA. then we can make a common sense argument and present viable programs to affect corrections. In cases like this I think that the courts should stay out of it. Seems to me the court decision was based on bias. And you know what there are no winners we all lose and wedge is only driven deeper and our communities suffer because of a minority concern. I feel we a can resolve issues where there is a win, win.
As a Navajo in who resides in the Four Corners, I would have to say to the non indigeneous (non residence out of staters). Butt out and leave us alone. We know what needs to be done. I do not need anyone telling me how to live much less those of you who have nothing but your own self interest in mind. You do not give a damn about us. all of this is to serve you own interest and the social cast of do gooders who think they know what is best for me and my community.
Gov. Martinez, keep pushing and make the changes. Take the lead a make a stand, and we will stand behind you and stand with you. there are more of us who will stand with you then those who oppose progress.
Posted by: geo. Murphy | Mar 2, 2012 10:02:25 AM
It's sadly ironic that PNM, as its CEO said, is spending ratepayer dollars to argue in court that EPA is violating the Clean Air Act. Excuse me? EPA isn't dumping any pollution into New Mexico's skies and into the lungs of residents.
PNM was already given a chance to make the San Juan coal-burning plant as clean as possible and to help protect the health of New Mexicans from the toxic pollution that comes from its smokestacks. PNM chose the Band-Aid approach back then and spent just enough to get by for a few years. Now, the company is once again taking the same approach. It's more important to them to protect shareholders than it is to protect the air we breathe.
The bottom line is that there is a minimum safeguard for the amount of pollution that should be coming out of San Juan and that can only be achieved by the SCR technology that EPA has set as a requirement. By the way, SCR is already in place at more than 200 coal-burning plants around the country. New Mexico should not be forced to accept less than other states simply because executives at PNM such as Pat Vincent-Collawn are more interested in padding their paychecks and shareholder dividends by taking a few shortcuts.
Posted by: Energyski | Mar 2, 2012 3:50:15 PM