« CD1 Candidate Eric Griego at NM Democratic Pre-primary Convention | Main | Health Groups to Parents: Affordable Care Act Can Be Real Life Saver »
Monday, March 19, 2012
CD1 Former Abq Mayor Marty Chavez Candidate at Pre-primary Convention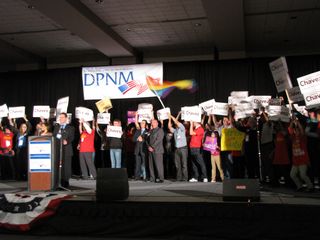 With a crowd of supporters on the stage dancing to the ole favorite "Won't stop til you get enough", Former Mayor Marty Chavez was nominated by City Councilor Ken Sanchez and the second nomination speech was by Marty's daughter. A spirited group with signs waving, and a rainbow flag waving were dancing on the stage.
To a loud cheer, Mr Sanchez started off with, "In November it will be Democrats who will elect Democrats, and Democrats who will defeat Republicans."
Ken Sanchez describes the low approval rating of 13%, and goes on to say, "with Washington in constant gridlock, we need a proven leader with vision and a proven record and action, and that individual is Marty Chavez."
In the video above after City Councilor Ken Sanchez spoke, Marty Chavez's daughter Martinique spoke as the second nominating speech. Her speech focused on Marty as a Dad, not as the general public know him as a mayor for the city. She highlighted her fathers dedication, and as a young woman her father showed her, "Her responsibilities as a citizen and her rights as a woman."
Then Marty Chavez comes to the stage to a robust cheer. First mentioning the lady Lobos! Then Thanking Speaker Lujan who was in attendance and the convention planners.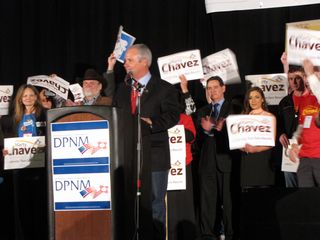 Marty launches into his accomplishments as a Mayor in the video above. The fact that Albuquerque, received several titles such as the greatest city in America and the best city in the Country for jobs while he was the Mayor. The former Mayor has been a leader in green jobs and sustainable cities as well. He mentioned the progress for the LGBT community before it was politically convenient passing the first time ordinance to cover sexual orientation. Marty then did a shout out for Sam Bregman thanking Sam as a city councilor for sponsoring that ordinance.
In the video above Marty speaks about the outrage of a panel of men convening in Washington recently to tell women what they can and cannot do with their bodies. Marty states "Our young women have the right to decide what is best for their own health." Marty goes on to say, " Our core values are under attack and we need tough leaders who can stand strong against the tea party activists, I am that kind of leader."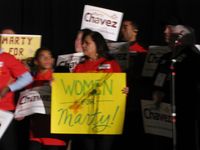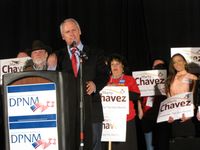 Marty described how the primary is bound to get more negative. He waved a flier that was on cars that morning, stating lies about him. No one has come forth and their is still no identification of who put those fliers out, DFNM did not see the flier. Marty goes on to describe the challenge he has offered his opponents, Eric and Michelle. The challenge is similar to what Elizabeth Warren in Massachusetts did, "she challenged her republican incumbent senator, to just say no to third party expenditures."
The Chavez Campaign sent out the following press release following the convention.
Strong Showing for Chavez at Convention
Yesterday, at the Democratic Party of New Mexico's Pre-Primary Convention, Marty Chavez nearly upended the activist favorite.
"This shows the strength of our people-powered, grassroots campaign. It's clear that my message is resonating and New Mexicans understand that we need tough leaders who can deliver the results our families need in Congress," said Chavez. "Talk is cheap. If we're going to get serious about creating clean energy jobs in New Mexico, building modern educational infrastructure and truly protecting our environment, we must elect leaders who can actually get things done."
Marty's campaign has been buoyed in recent weeks by major endorsements including President Bill Clinton. "Marty is a strong, visionary leader who created jobs and delivered the results New Mexican families needed as Mayor of Albuquerque," said the President. "In Congress, I know that Marty will take on our big challenges, stand up to special interests, and fight to create clean energy jobs in New Mexico because he's proven time and again that he can get the job done."
Historically, these conventions, essentially a poll of insiders, have not been accurate in predicting eventual primary winners. Some notable examples of candidates winning this vote but failing to capitalize include the 2006 Attorney General race between Gary King and Geno Zamora where Zamora's 36-31 convention win was followed by a 47-32 landslide for King on election day, the 2000 First Congressional District race between John Wertheim, John Kelly and Sam Bregman in which previous nominee Wertheim easily won the convention 35-27 but came in third on election day with just 24 percent, and the 2006 Land Commissioner race where Ray Powell took an incredible 74 percent at the convention but lost the election to Jim Baca just months later.
"We're really pleased with the strong show of grassroots support for Marty's campaign," said Campaign Manager Alan Packman. "These conventions have always been dominated by the types of insiders most likely to support Sen. Griego. Marty's strength is with everyday people who know his record delivering results for New Mexico's families as Mayor. We put up a tremendous fight against the insider favorite due to the tireless work of our staff and volunteers who put in countless hours at our headquarters to make this happen. As we head into the homestretch of this primary campaign, our battle-tested team is ready to hit the streets and reach out to Democrats all across central New Mexico."
The Primary Election will be held on June 5th.
March 19, 2012 at 02:03 PM in 2012 DPNM Pre-Primary Convention, Candidates & Races, Martin Chavez, NM-01 Congressional Race 2012 | Permalink
Comments