« 3/19: New Mexico Seniors to Rep. Steve Pearce: We LOVE the Affordable Care Act! | Main | CD1 Former Abq Mayor Marty Chavez Candidate at Pre-primary Convention »
Monday, March 19, 2012
CD1 Candidate Eric Griego at NM Democratic Pre-primary Convention
On March 10th the Democratic Party of New Mexico Pre-primary Convention was held. There was lots of fun and great speeches, DFNM took many photos and lots of video. This is our continued coverage of our great Convention of 2012.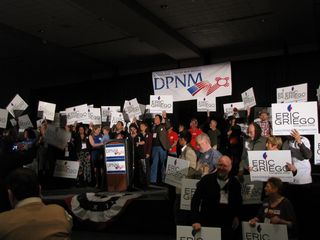 CD1 Candidate Eric Griego had a very strong contingent at the Pre-primary convention. Being escorted to the stage with his supporters and accompanied by the old popular song "Stand by Me". Eric came down the long aisle of the convention hall strumming a guitar to the podium.
In the video above Eric Griego takes the stage with Stand by Me playing. AFT President Christine Trujillo delivered Griego's nomination speech and the delegates in the hall seconded the nomination. Christine spoke about Eric's steadfast progressivism, and how it is time we elect someone with cajones!
Eric Griego explains about the American Dream and how each of us should be able to succeed if we work hard. And as Paul Wellstone would say "We all do better, when we all do better." He spoke about retiring with dignity, and that he will not stand for cutting medicare or social security. Eric spoke about the common good and how corporations are not people to a big cheer from the crowd.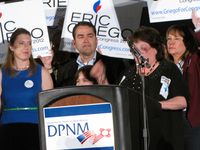 The following press releases came from the Griego campaign shortly after being told they were the winners of the most number of delegates for the CD1 pre-primary.
NM-1: Eric Griego Wins the Democratic Pre-Primary Convention!
Albuquerque, NM – In a powerful show of organizational strength and momentum for his people-powered campaign for Congress, Eric Griego won the Democratic Pre-Primary Convention today against his two rivals for the nomination with more than 40% of the delegates.
Griego handily defeated the heavy early favorite for the contest, Marty Chavez, who could not overcome Griego's organizational superiority and growing grassroots momentum despite being the favorite of the establishment.  Griego defeated Chavez by 7 points.
In an even more powerful demonstration of comparative organizational strength, Griego trounced Michelle Lujan Grisham by 14 points.
Victory Statement by Eric Griego
 "New Mexican Democrats spoke loudly through their votes today about their desire to send to Washington a proven champion for our children, seniors, veterans and working families.  They are tired of conventional politicians working to protect the status quo, and are even less interested in politicians with only rhetoric without a proven track record.  They are looking for a fighter whose record they can trust to stand by ordinary families and push for reform against powerful corporate interests.
"My victory today reinforces the Democrats' desire to nominate a candidate with the broadest Democratic coalition, solid progressive record, and strong campaign organization.  I will win this seat against Tea Party Republicans and fight to restore the American Dream for all."
March 19, 2012 at 12:11 PM in 2012 DPNM Pre-Primary Convention, Democratic Party, Eric Griego, NM-01 Congressional Race 2012 | Permalink
Comments