« Is the Conservative Rio Grande Foundation Acting as a Front to Violate New Mexico Law? | Main | One out of Two New Mexicans Live in Areas Hit by Recent Weather Disasters »
Friday, March 16, 2012
Bill Tallman Launches NM SD18 Campaign To Focus on Job Creation, Fixing State's Education System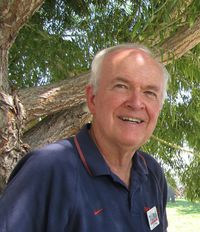 On Thursday, Bill Tallman, announced his candidacy for State Senate District 18 in Albuquerque's NE Heights, after collecting more than the required number of nominating petitions. Nominating petitions for the 2012 Primary Election are due March 20. Tallman will run for the Democratic Primary election on June 5.
 "I am running for State Senate, because our State is at a critical crossroads," said Tallman. "My number one priority is to grow our local economy by retaining and creating new jobs. We have to develop a regional job-creation plan that invests in our locally-owned businesses and embraces innovation."
"As a State Senator, I will work daily on improving our State's education system and helping create a better prepared workforce. Our children and grandchildren deserve the best education system in the world," said Tallman. "I will also dedicate my efforts to responsibly manage our tax dollars so that we can tackle the critical infrastructure needs within Senate District 18."
Tallman has over 33 years experience managing city governments across the United States.
"Because of my experience in financial management, productivity improvement, budgeting and economic development, I am ready to hit the grown running ensuring a balanced budget for state government and to create a true economic development plan that brings jobs to our residents of New Mexico," said Tallman. "I have the proven track record to ensure governments run efficiently and provide the resources to ensure job creation."
Tallman received his MA in Public Administration from the University of Cincinnatti and his BA from Syracuse Univesity. He was Deputy City Manager for the City of Santa Fe; Town Manager for Smithfield, Rhode Island; City Manager for Norwich, Conn.; City Administrator for Moline, Ill.; and City Administrator for New Castle, Penn.
Tallman is a member of the Finance Committee for the Roadrunner Food Bank; a member of the MRCOG Metro Transportation Board Public Involvement Committee; was a member of the Mayor's Recycling Task Force; a Vice President of the Academy Hills Park Neighborhood Association; and a Volunteer Mediator for the Metropolitan Court. Tallman and his wife, Becky, have two grown children.
March 16, 2012 at 03:14 PM in 2012 Legislature Races, Candidates & Races, Democrat | Permalink
Comments