« Pueblo of Laguna Tribal Council Votes Unanimously To Endorse Martin Heinrich for U.S. Senate | Main | NM01: Feldman-Stewart Letter Supporting Eric Griego for Congress »
Wednesday, March 28, 2012
3/30: from Denise Balderas - See you at the Q!
From Denise Balderas, Hector's lovely wife: Please join me and my husband, Hector Balderas, for a celebration at the Q Bar.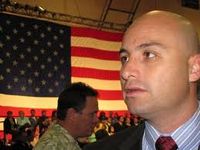 In Support of Hon. Hector Balderas
Our Candidate for the United States Senate
Date: Friday, March 30th
Time: 5:00 – 6:30 PM
Location: Q Bar
Hotel Albuquerque
8oo Rio Grande NW
GUEST $50
SPONSOR $100
SUGGESTED CONTRIBUTIONS GRATEFULLY ACCEPTED BUT NOT REQUIRED
RSVP: brian@hectorbalderas.com
Check out Hector's nominating convention speech: http://bit.ly/HBConvention
For more information or questions, please contact Brian Colón at (505) 270-2154 or email brian@hectorbalderas.com 
P.S.  Your contribution TODAY of $250, $100, $50 or whatever amount you can afford will make a difference with just 4 days left in our fundraising quarter!  I'm all in and I hope you will join me.  In fact, I'm so committed—I went BALD for Balderas! Check out this video and make a contribution today at BALD for Balderas!
March 28, 2012 at 08:44 AM in 2012 NM Senate Race, Candidates & Races, Hector Balderas | Permalink
Comments