« 02/02: "Protecting New Mexico: Elevating Community Rights Above Corporate Rights | Main | NM-1: Strong Momentum for Eric Griego's Progressive Leadership »
Wednesday, February 01, 2012
The Hypocrisy of Rep. David Chavez to Question Other People's Right to Marriage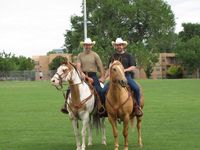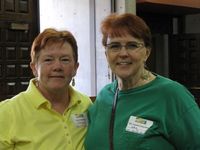 Warning: Loving gay and lesbian (same sex) homosexual couples above have possible marriage certificate from another state. Consider these couples armed with love and dangerous with commitment to each other.
On the other hand: Accused domestic abuse predator is on the loose in the roundhouse making laws. This law maker and accused law breaker wants to make love and commitment illegal. Furthermore, if you are in love do not bring your healthy loving commitment to this state of New Mexico.
The Ultimate Hypocrisy
Representative David Chavez felt compelled to introduce a Defense of Marriage Act (DOMA) Resolution during this short 30 day session. House Joint Resolution 22 (HJR22) was introduced by Rep. David Chavez on 1/24/12. This resolution is certainly not germane to the budget of the state of New Mexico.  This resolution is introduced for the sole purpose of discrimination and bigotry of a segment of our population, of which I am a part of.
Following is the exact language from HJR22: "Marriage in this state shall consist only of the union of one man and one woman. A marriage, civil union or similar relationship entered into by persons of the same sex that is recognized by another state or foreign jurisdiction is void and shall not be recognized for any purpose in this state. In the exercise of the state's police power and recognizing the state's strong interest in governing the relationships between married persons, the provisions of this section shall apply retroactively."
Representative David Chavez has no respect for the institution of marriage. He is a failure on the topic by all accounts. Records show Rep. Chavez was accused by his wife of Domestic Abuse in mid October 2010, the beloved wife of Rep. Chavez filed a "Petition for order from Domestic abuse", and a "Petition for Dissolution of Marriage" on that very same day in October 2010. The loving couple were joined in "Holy Matrimony" on July 27, 2006. Under the eyes of God, and the blessing of their community and family, these two humans entered into the institution of holy matrimony. Their marriage or "civil union" lasted 4 years and 2 months.
I suggest Rep. Chavez leave his hands off any definition of marriage since he obviously does not understand marriage and is a failure in understanding the commitment and love and trust.
Many people know Barbara, my partner, lover, soul mate, passed away a short time ago. Barb and I were together 22 years. Through thick and thin, through sickness and health till death do us part, type togetherness. More of a marriage than Rep. Chavez may ever be able to even recognize. I am grateful for this love I shared with Barb. It is hard to find and work through all the matters when two people join hearts. But we did it. Why - because we loved each other. Because we believed in working together and communicating and showed each other respect.
What really got to me was when I picked up Barb's death certificate, and under marital status it said "Never Married". Never Married after 22 years, never married because of hypocrites like Rep. Chavez. Never married because of the hate filled rhetoric of too many. Never Married because of the desire for some to use the gay marriage issue as a divisive tool to get their own agenda across. Never married because of closed minds and hearts.
Lastly, I would like to see the reaction that a heterosexual, male female couple would have if when they crossed into the state of New Mexico's their marriage would dissolve. Poof gone. Kaput.
There is no date on the Legislative website that this HJR is being heard and in what committee and when. Please call your legislature and say this has no business being heard. Discrimination is not part of America's values.
February 1, 2012 at 11:15 AM in Civil Liberties, GLBT Rights, NM Legislature 2012 | Permalink
Comments
Mary Ellen, thank you for showing us again what it means to be committed. For showing what it means to be in a marriage that is not recognized. Those words, "never married" are there to prove that there should be no after-life benefit to your love at death. What an outrage, how damaging.
This poor man is in need of help, but I am sure he will not find it.
Keep strong, keep fighting. We are here in life, and after death, and we are fighting for civil rights. For all.
Posted by: bg | Feb 1, 2012 5:40:50 PM
Youth on the issue: majority support marriage equality. Buh bye, to those who don't "get" it.
http://pamshouseblend.firedoglake.com/2012/02/01/over-71-percent-of-college-freshmen-support-same-sex-marriage/
Posted by: bg | Feb 1, 2012 6:48:10 PM
Thank you and Barb for showing the way, Mary Ellen. My own experience of that kind of love was short and I will treasure it always every single day.
Why don't the Republicans stop maliciously interfering with individual New Mexican lives and concentrate on job creation at dignified wages? Big government indeed.
Posted by: qofdisks | Feb 4, 2012 11:08:23 PM