« Luján Votes to Reform Washington by Strengthening Rules Against Insider Trading | Main | EMILY's List Endorses Michelle Lujan Grisham for Congress »
Friday, February 10, 2012
Rep. Kintigh; Introduced Two Separate Legislative Items to Reinstate Death Penalty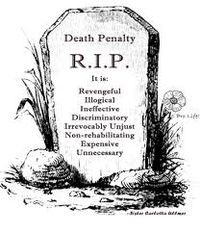 Representative Dennis Kintigh (HD57) introduced two peices of legislation to Reinstate the Death Penalty; HB 237 Reinstate Death Penalty and HJR 6 Death Penalty for Certain Crimes, CA.
DFNM became aware of this legislation earlier this week. As we understand the legislation has like a snowballs chance in hell of going forward. However, it is troubling to even have the topic come back up for any discussion.
The Reinstate Death Penalty is scheduled to be heard in the House Consumer and Public Affairs Committee at 8:30 tomorrow (Saturday) morning.
February 10, 2012 at 12:52 PM in Crime, NM Legislature 2012 | Permalink
Comments
Why are they wasting time? Get on with meaningful legislation. The death penalty is so third world. Seriously, it is regressive to the primitive and does not reflect a civilized culture at all. It is very expensive too. I bet the private prisons get an extra cut for keeping death row inmates on ice.
Please, pay attention to the real economy.
Posted by: qofdisks | Feb 10, 2012 1:07:21 PM
Kintigh Is representing the third world minded constituancy that elected him. The real economy to him is propecting him and his while cutting everyone and everything else.
Posted by: LarryNM | Feb 10, 2012 9:24:49 PM
Oops - that's protecting
Posted by: LarryNM | Feb 10, 2012 9:30:01 PM