« District Judge Releases New State House Redistricting Maps for Supreme Court Consideration | Main | Governor Martinez, Can't You See the Elephant in the Room? »
Thursday, February 23, 2012
Planed Parenthood Action Fund Endorses Martin Heinrich for U.S. Senate
PHOTO at right: Planned Parenthood of New Mexico CEO
Jenny Black talks prevention with Martin Heinrich, February 10, 2012.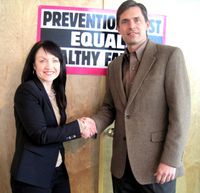 The Planned Parenthood Action Fund announced its endorsement today of Democratic candidate Martin Heinrich in his race for the U.S. Senate in New Mexico. The Planned Parenthood Action Fund is the advocacy and political arm of Planned Parenthood Federation of America, the nation's leading reproductive health care provider and advocate.

"You have been a strong supporter of women's health and we know you will continue to be a dedicated advocate for our organization," said President of the Planned Parenthood Action Fund Cecile Richards in a letter to Heinrich.
"For 95 years Planned Parenthood has provided women and families in New Mexico with vital health care services and education and it is truly an honor to receive their endorsement," said Heinrich. "New Mexicans can count on me to continue to stand up for women's health and reproductive rights, and support policies based on commonsense and science, not the demands of the special interests and ideological crusaders."
Martin Heinrich is a longtime champion of women's rights. From his earliest days in Congress, Heinrich has stood up for women's health and equality, including a woman's right to affordable health care and the right to choose. When Republicans in the House sought to restrict how women with private insurance could spend private dollars through the Stupak-Pitts amendment to the Affordable Health Care Act, Heinrich voted no. When the Republican majority tried to cut off federal funding to Planned Parenthood, which provides essential health services to one in five women at some point in their life, Heinrich fought back.
February 23, 2012 at 03:22 AM in 2012 NM Senate Race, Candidates & Races, Human Rights, Rep. Martin Heinrich (NM-01), Women's Issues, Women's Right to Choose | Permalink
Comments
I still think that Balderas will be our next senator. Money alone will not be enough for Heinrich.
Posted by: New Mexican | Feb 23, 2012 8:46:19 AM
I am a Latina on Medicaid. I've NEVER had the need for Planned Parenthood. There are plenty of other places to go to get women's health services. Even when I didn't qualify for Medicaid, but had no insurance, I still did not use Planned Parenthood because they do abortions there. It's pretty sick. I'll never ever go there and I can't stand how the Black and Latino communities are especially targeted by them. Wake up people! They want to keep us down, and promote promiscuity so that they can stay in business. This "poor" Latina say's NO THANK YOU to Planned Parenthood.
Posted by: S.L. | Feb 23, 2012 1:04:01 PM
SL Latina
You are brain washed.
PP a woman's best friend and was mine when I was a young woman. Believe it or not, most women of modest means do not qualify for medicaid.
PP provides vital health services to both men and women that otherwise could not have health care of any kind. As for your grossly misogynistic notion that only promiscuous women seek health care, many if not most of the women that access PP are married. You see, married women have sex believe it or not. Actually, it is immoral for any woman, to NOT take care of herself by any means possible for her sake and for the sake of her family.
Abortion is not sick, it is legal. Abortion is a legal AND a moral act. If a pregnant woman can not take care of a baby and raise it properly. The act of abortion should be accompanied by righteous feelings of gratitude and honor for the sacrifice that makes life more qualitative and sustainable for the living.
I am very very grateful for the fact that abortion is legal and safe in this nation and I am also grateful and honored to be in a civilized society that makes birth control and reproductive health care readily available to all the citizens. Reproductive control is indicative of a higher order of sentience and divinity as all the lower animals can reproduce but can only cull after the fact of birth. Advanced civilized human beings can cull before the fact of birth by way of reproductive control in a spectrum from condoms to abortion. Any species that does not cull degenerates. Every child born should be wanted and provided the time, energy and resources for that being to reach his or her fullest potential. Otherwise, human life is cheapened and wasted and degenerate more often than not.
Latino communities are NOT targeted, they are SERVED by PP much to their benefit. Thank you PP for helping poor Latinos obtain vital health services by caring and knowledgeable medical professionals.
Posted by: qofdisks | Feb 23, 2012 10:53:50 PM
@ the comment above: SPEECHLESS. WOW.
As a Latino, I'm proud of the work and the services PP provides to ALL people. I'm also a PROUD progressive, who is supporting Hector Balderas - a staunch supporter of women's rights and reproductive health. Congrats to Martin Heinrich on this endorsement! I think the endorsement could have gone to either one. See ya at the state convention!
Posted by: Javier | Feb 23, 2012 10:54:02 PM